Barbie donuts are at Krispy Kreme... just not for US
Krispy Kreme Phillipines is celebrating Greta Gerwig's Barbie with two specialty donuts and a Cotton Candy chiller
July 21 has come and gone; it's Barbie's world now.
With the Greta-Gerwig directed, Margot Robbie-starring, Ryan Gosling-canonizing Barbie movie now officially in theaters, you might be tempted to think that marketing for the film would begin to back away.
Well, you'd be wrong, dead wrong. Case in point: Krispy Kreme Phillipines is launching their own Barbie promotional menu, consisting of two new, specialty donuts and one smoothie drink called a chiller.
Better get used to the pink and the glitter, friends. It's not going anywhere.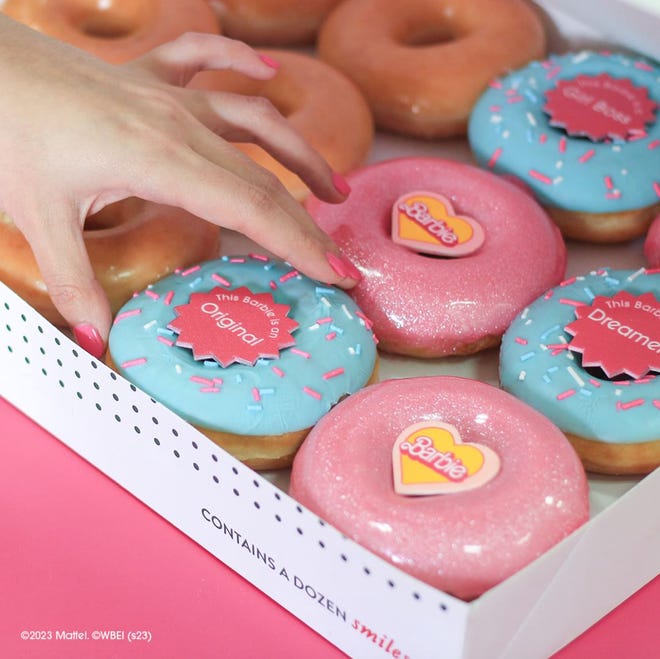 One of the first things I'm going to reiterate before getting into more descriptions of the menu is that this treat is not available to you if you're reading this from the US. Again, its from Krispy Kreme Phillippines, so if you're stateside and need to check this out, the cost is going to include a plane ticket.
Alright, now that that's out of the way, let's break this down.
The first way Barbie is making her mark at Krispy Kreme PH is the 'Barbie Donut,' which is the pink one in the picture above. This donut is more about the visuals than the flavor; though it's just a regular donut, it's topped with a icing that includes edible glitter.
Well, safe edible glitter. I suppose it's all edible, technically.
The second donut, the one with the blue icing, is for especially sweettoothed samplers. It's called the 'Barbie Original Donut,' and it's filled with bubble gum flavoring. This one's got a special visual component as well; each one is topped not just with blue icing and sprinkles but an edible message, customizable to fit the customer's personality. Buyers can choose between having their donuts read 'This Barbie is an Original,' 'This Barbie is a Dreamer,' and 'This Barbie is a Girl Boss.'
And finally, KKPH completes this terminal case of Barbie-fever with the Barbie Cotton Candy Chiller, a milkshake colored pink and blue, swirled, and topped with whipped cream and sprinkles. Because before that, it wasn't festive enough.
Anyone who's been following Popverse or the just the geneeral Barbification of our generation and perhaps reality knows that Krispy Kreme isn't the first international fast food chain to put on the glitter in honor of the film. Burker King Brazil is offering a Barbie combo meal, complete with a pink-sauced burger and, coincidentally, incorporating a donut into its desert portion.
If you've got the cash, time, and willingness to forever alter your body chemistry by trying both of these items on the same day, please let us know.
---
Sadly, because of its focus solely on the titular character, the Krispy Kreme Phillippines Barbie menu may be suffering from a lack of Kenergy.