Burger King now has a Barbie Burger (complete with Pink Sauce), but you'll have to travel to try it
Burger King Brazil is offering a combo meal to coincide with Barbie's premiere, featuring hot pink sauce and "Ken's potatoes."
2023 will likely go down in history as the year everyone tried to out-Barbie each other. And not just in the United States. Companies across the world have hopped on Mattel's MVP movie ahead of its global July 21 release date. Case in point: Burger King Brazil has come to the table, literally, with a hot pink burger and combo meal to match.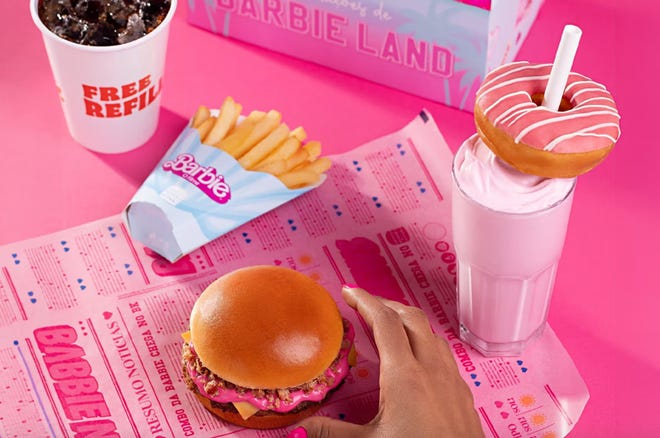 The fast food chain's Brazilian chapter recently took to Instagram to map out just what the Barbie combo meal entails; here's what we can learn from the post.
Headlining the quirky cuisine collab is, of course, the Barbie burger. Not just regular BK cheeseburger, this item comes topped with a "smoky" hot pink sauce and bacon bits.
Next we have the desert portion of the combo, the Barbie Shake. Flavored with Nesquick strawberry milk powder and blended to pink perfection, this delictable drink is topped with a full donut, itself topped with icing that matches the rest of the meal and, presumably, the customer's blood.
Then there's Ken's potatoes, which are just fries.
Huh.
Finally, the meal is packaged in a glamorous take-out box that would make Lisa Frank jealous. If you're eating in, however, the Instagram ad appears to confirm free refills with the combo meal, in case you've got time to kill before your theatrical showing of Barbie.
As we said, this latest piece of Barbi-ganda is only available in Brazil, but Burger King regulars know that their US locations were also no stranger to tie-in combo meals. Just this past summer, fans got to treat themselves to a red-bunned, Miles-Morales-themed burger to celebrate the opening of Spider-Man: Across the Spider-Verse.
As of this writing, we are still waiting on the inevitable SAW X tie-in meal.
Buy tickets for Barbie on Fandango or Atom Tickets.
---
Can't get enough Barbie? Well, maybe you can, actually. Check out Popverse's watch order of the many, many animated Barbie films.