Burger King's Spider-Verse Burger: We ate it, so you don't have to
Is the Burger King Spider-Verse Whopper any good? Popverse investigates.
Have you ever gone to a fast-food restaurant and found yourself wishing the buns were red? Probably not, because that would be completely random and chaotic. However, if you like chaos in your fast-food meals, Burger King is ready to help you have it your way.
Spider-Man: Across the Spider-Verse swings into theaters on June 2, which means it's time for another grand superhero movie tradition – fast food tie-ins.
Burger King has launched a special Spider-Verse Whopper (and special Spider-Verse themed restaurants in a few, special locations), with a red bun and black sesame seeds. This burger will be available at restaurants nationwide through June 21. As a Spider-Man fan, I naturally had to try this. Here's what I experienced.
Value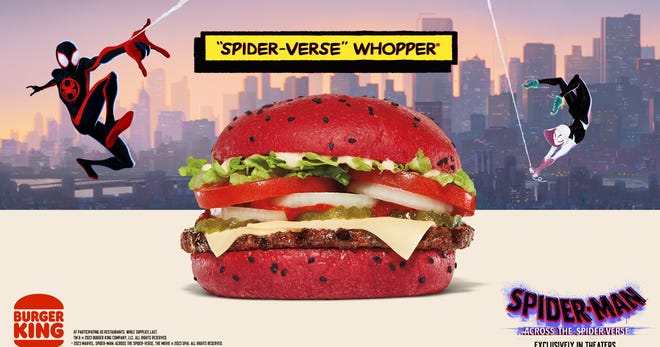 Grade: 10/10
The Spider-Verse Whopper is priced the same as a regular Whopper, which seems reasonable, as it would've been easy to put some unnecessary upcharge on this experience. Prices will vary depending on your market, but I ordered a large Spider-Verse Whopper meal, and a Spider-Verse sundae, which cost me $11.92. As I placed my order, the cashier looked at me cautiously and asked if I really wanted to try that red bun. That was unsettling, but nevertheless, I persisted.
Packaging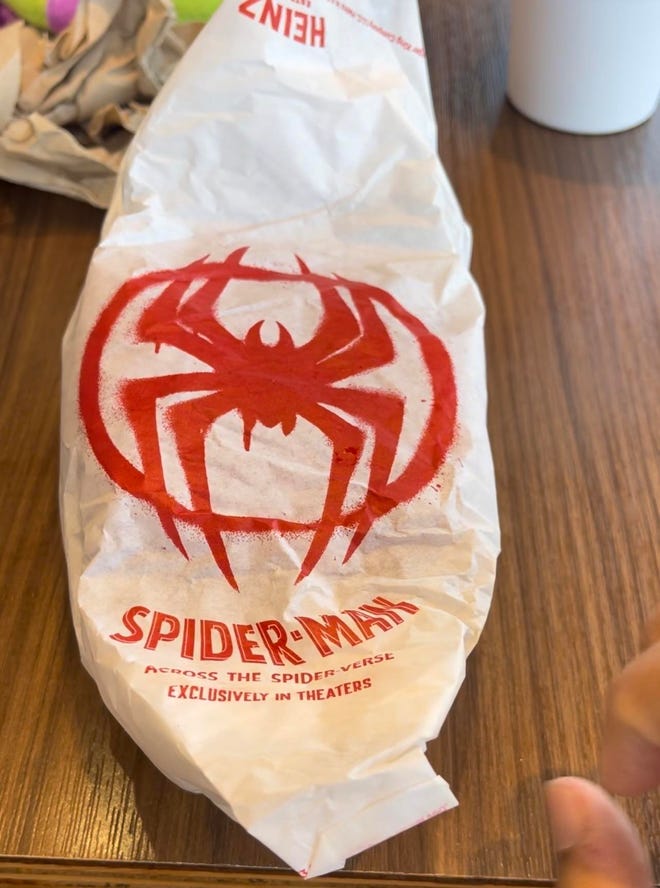 Grade: 5/10
For such a colorful burger, I was surprised to see it packaged in such a bland way. My Spider-Verse Whopper was packaged in a white wrapper that seemed to match the standard ones used with their regular sandwiches. It wasn't until I unwrapped the packaging that I noticed the Spider-Man logo on the bottom: it was pretty much hidden under the wrapper flaps.
If you're going to theme a burger after Spider-Man, why not go all the way? Make the wrapper red and black as well! Maybe the cost doesn't justify the ends, but let the Burger King accountants worry about that. I want a full Spider-Man experience, profits be damned!
Presentation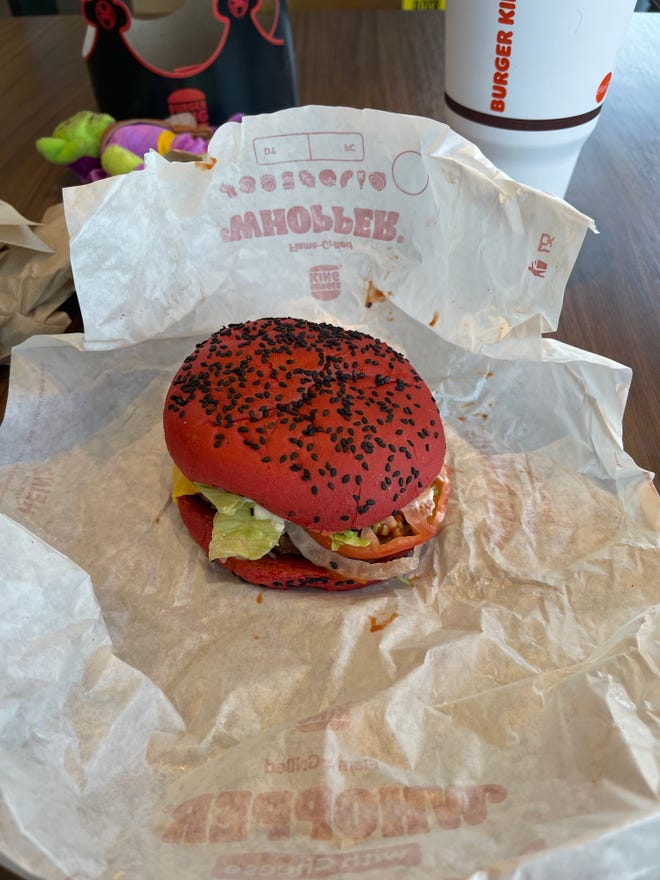 Grade: 7/10
The Spider-Verse Whopper has a red bun (thanks to food dye) and black sesame seeds. According to a press release from Burger King, this is meant to evoke Miles Morales' Spider-Man costume. This seems odd, since red is the dominant color of the burger, while Miles' costume is predominantly black. It's possible that Burger King opted for a red bun to avoid comparisons to the black bun used in their 2015 Halloween Whopper which alarmed consumers when the black food dye caused their waste to have alarming (but ultimately harmless) colors.
I have to imagine that Burger King had this in mind as they workshopped the Spider-Verse Whopper and took steps to avoid the same problems. (But enough bathroom talk in an article about eating.) While it's true that black is the color most associated with Miles' superhero costume, his costume does have a tinge of red on it. Plus, red is pretty much one of the primary Spider-Man colors anyway. The theming could be more distinctive, but it does its job. It's eye-catching and looks good enough to eat.
Taste
Grade: 10/10
Have you ever had a regular Whopper? Then congratulations, you know what the Spider-Verse Whopper tastes like. The red bun and black sesame seeds don't add anything to the flavor, and that's okay. Burger King promised a Spider-Man themed Whopper, and that's exactly what you're getting. As I ate this, there were times I forgot it was a Spider-Verse Whopper, and thought I was eating one of their regular sandwiches. Whether that's a pro or a con depends on if you like Whoppers in the first place. I do, so I'll give this a good score.
But wait – there's more! Fancy some Spider-Man ice cream?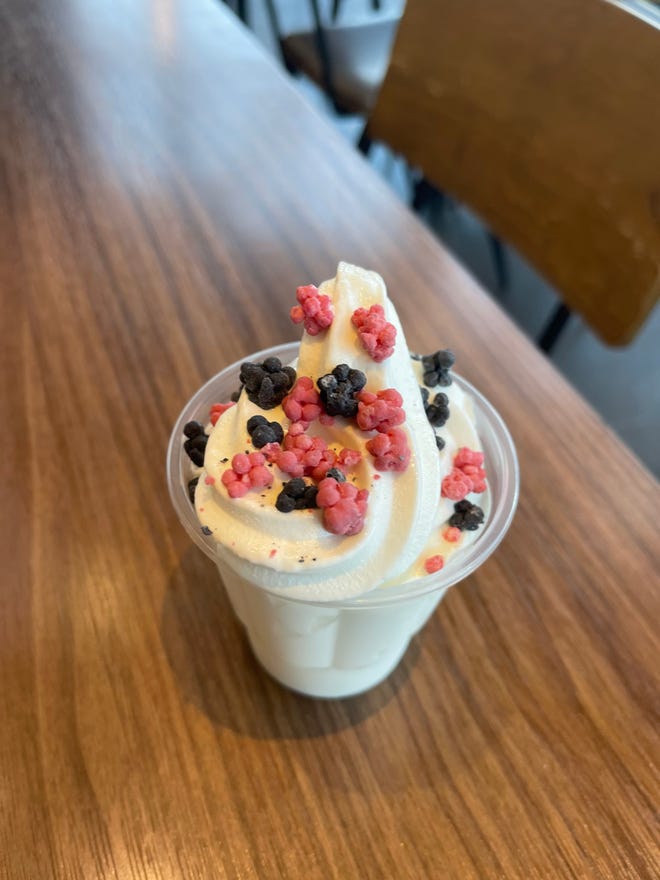 Grade: 10/10
Everyone is talking about the Spider-Verse Whopper, but don't sleep on the Spider-Verse Sundae.
To make my Spider-Verse themed lunch complete, I ordered Burger King's Spider-Verse Sundae. The dessert is a cup of soft serve ice cream with candy toppings. The candy is red and black, which is how they get away with calling it a Spider-Verse Sundae. Ice cream is ice cream, you either love it or hate it, but the candy topping was phenomenal.
Spider-Verse Themed Restaurants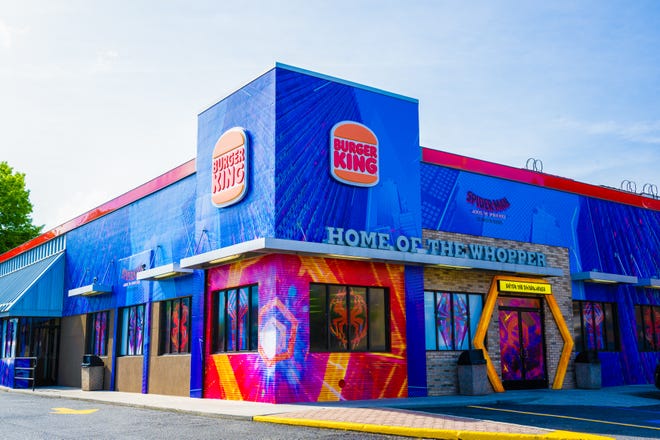 Grade: N/A
According to a press release from Burger King, the Spider-Verse promotion will also include selected restaurants getting Spider-Man makeovers. This will include interactive designs, dining room and drive-thru theming, and an "Instagram-able area." This will be limited to restaurants located in New York City, France, United Arab Emirates, Brazil, and selected others.
The Burger King I went to was in Tampa, Florida, so no Spider-Verse dining room for me.
Overall verdict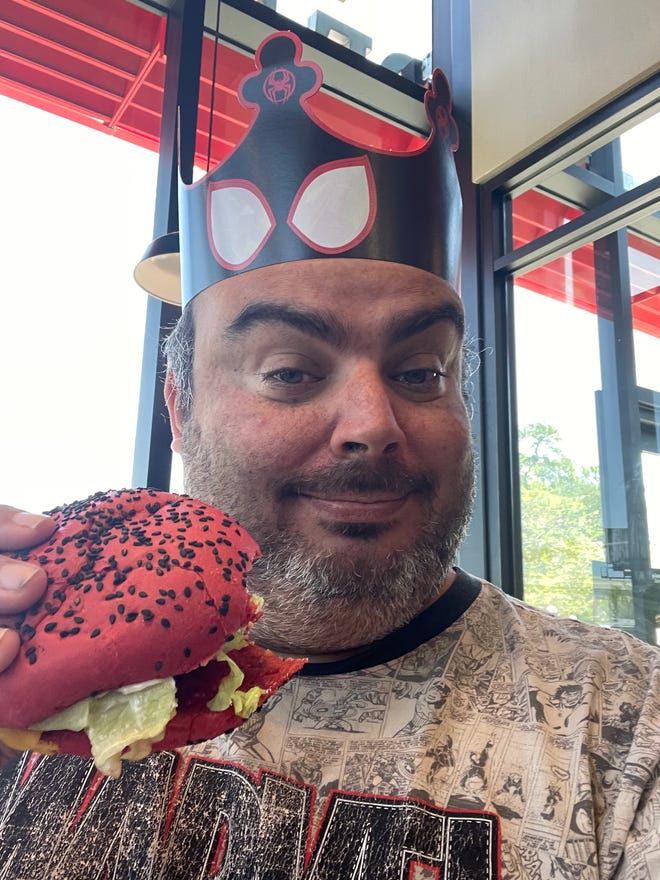 Overall grade:
8/10
Don't walk into this with any grand expectations. This is a regular Whopper with red food dye. It's fun, and it will remind you of Spider-Verse, and it isn't the worst fast-food promotion I've seen. I did get to wear a cool Miles Morales Burger King crown though. That was fun.
---
Spider-Man: Across the Spider-Verse is coming to a theater near you in June. Grab your tickets at Fandango or Atom Tickets. Need to catch up with Spidey-Cinema before hitting the movie theaters this summer? Check out our guide to watching all of the Spider-Man movies. Or, if you're more of a comics person, check out of list of top ten Spider-Man comics.
Upcoming Marvel movies & TV shows: All the release dates for every MCU project on the horizon