Spider-Man: Across the Spider-Verse - Everything you need to know about Miles Morales' latest screen adventure
Doesn't great power come with great responsibility...?
Spider-Man: Across the Spider-Verse, the much-anticipated follow-up to 2018's hit Spider-Man: Into the Spider-Verse has hit theaters, and Miles Morales is primed to take center stage in a fight that crosses at least six universes, according to filmmakers — but what else should we expect from the new movie? Here are some answers to the most asked questions about the latest chapter in the Spider-Saga.
What will Spider-Verse 2 be about?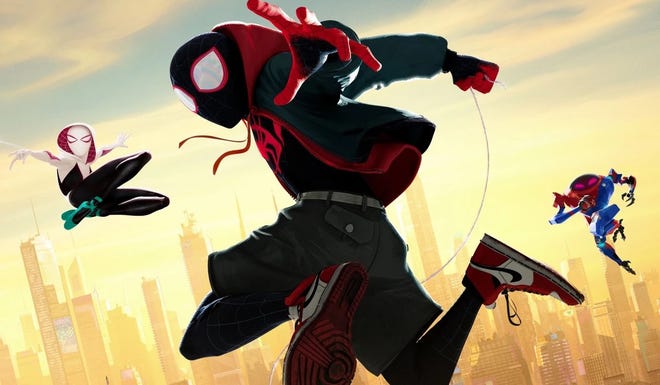 A year after discovering the existence of the multiverse in Spider-Man: Into the Spider-Verse, Miles Morales is still juggling life as a regular high schooler and the wall-crawling hero known as Spider-Man. His grades are at risk — and things are going to get even more complicated when Gwen Stacy shows up and introduces him to the Spider-Society… a group of multiverses Spider-Men and Women led by Spider-Man 2099, out to save reality from the threat posed by… the Spot…? That can't be right. And yet…
What are the Spider-Verse 2 trailers I should watch?
I'm glad you asked, because there are two. Here they are, in order of release:
Things really aren't looking good for Miles' dad, are they…? Still, it's not as if Spider-Man stories have a long history of killing off male authority figures as way of motivating their heroes. (Checks notes.) Oh.
Who is in the Spider-Man: Across the Spider-Verse cast?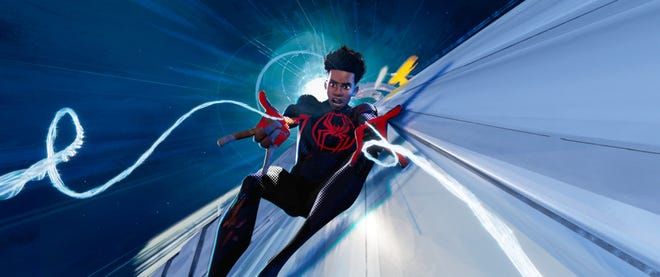 A number of actors reprise their roles from Spider-Man: Into the Spider-Verse in this movie, amongst them:
Shameik Moore as Miles Morales/Spider-Man
Hailee Steinfeld as Gwen Stacy/Spider-Woman
Jake Johnson as Peter B. Parker/Spider-Man
Brian Tyree Henry as Jefferson Davis, Miles' father
Luna Lauren Vélez as Rio Morales, Miles' mother
Oscar Isaac as Miguel O'Hara, Spider-Man (2099)
Greta Lee as Lyla, Miguel's artificially intelligent virtual assistant
There are also a host of all-new, all-amazing characters — many of them Spider-People — showing up for the first time in this movie. Of particular note, there are:
Issa Rae as Jessica Drew/Spider-Woman
Daniel Kaluuya as Hobie Brown/Spider-Punk
Andy Samberg as Ben Reilly/Scarlet Spider
Karan Soni as Pavitr Prabhakar/Spider-Man (India)
Jason Schwartzman as Jonathan Ohnn/The Spot
Shea Whigham as George Stacy, Gwen's father
Jorma Taccone as the Vulture (Taccone previously voiced Norman Osborne in Into the Spider-Verse, but he's an entirely different character here)
Metro Boomin as Metro Spider
That's not all; there's a whole host of additional Spiders to be seen in the movie, even if voice actors haven't been named yet. Amongst them are:
Lego Spider-Man
Spider-Cat
Spider-Therapist (We actually do know who voices that character: it's Mike Rianda, from The Mitchells vs. The Machines)
Takuya Yamashiro / Spider-Man from the 1978 Spider-Man TV show
Peter Parker/Spider-Man from The Spectacular Spider-Man animated series
Peter Parkedcar/Spider-Mobile
Otto Octavius/The Superior Spider-Man
…and many, many more. Look at those trailers again; the Spider-Verse definitely looks very packed.
Is Spider-Man: Across the Spider-Verse PG-13?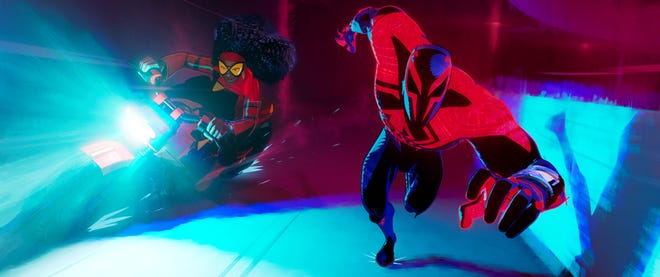 Nope! The MPAA has rated the movie PG, for "frenetic sequences of animated action violence, some language and thematic elements." (For those wondering, Spider-Man: Into the Spider-Verse was also rated PG back in 2018.)
Is Spider-Man: Across the Spider-Verse for kids?
I mean, it is rated PG, which pretty much answers that question, surely…? Assume that there's not going to be anything too offensive to young ears or eyes — but also bear in mind that, as a movie that we know is going to lead into a third installment already, there might be a downbeat or cliffhanger ending that might leave some young viewers unhappy.
Will there be a Spider-Verse 3?

It's been officially announced that Across the Spider-Verse will be continued in a sequel, currently titled Spider-Man: Beyond the Spider-Verse, which is scheduled for release March 29, 2024. The third feature was created simultaneously with the second, and originally started life as part of the second installment; for awhile, the second and third movies were called Across the Spider-Verse Parts 1 and 2, before the current titles were announced in April 2022.
Beyond the Spider-Verse isn't the only continuation of the franchise under discussion; in 2018, it was announced that a Spider-Women movie was also in development, featuring three generations of women with spider-powers.
When will Spider-Man: Across the Spider-Verse be streaming?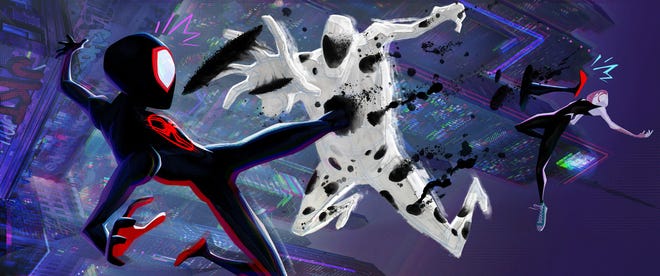 Woah there, tiger; the movie's not even in theaters yet. Given the traditional leg between theatrical and digital release, fans shouldn't expect to see Spider-Man: Across the Spider-Verse online until the end of the summer at the very earliest, outside of exceptional circumstances.
Is Spider-Man: Across the Spider-Verse a Marvel movie?
While Marvel Entertainment — not Marvel Studios, which is technically a separate division of the Walt Disney Company entirely — is involved in the production of Spider-Man: Across the Spider-Verse, the movie is actually produced by Sony Pictures Animation and Columbia Pictures for Sony.
Is Tom Holland in Spider-Verse 2?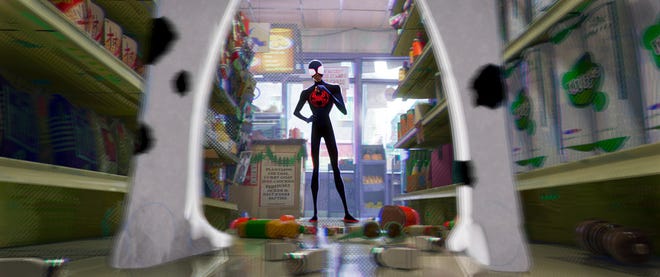 Well, that is a question that many people are asking ahead of the movie's release. It's certainly been rumors for some time, and there's a piece of information that has many people thinking it might actually be the case: the movie is rumored to have a live-action segment… but, curiously enough, it's a live-action segment featuring Peggy Lu, who plays the store owner from the Venom movies. Does that mean we might have a Tom Hardy cameo, never mind a Tom Holland one…? We'll all find out pretty soon, I guess.
When is the Spider-Man: Across the Spider-Verse release date?
Spider-Man: Across the Spider-Verse is released in the U.S. June 2. You can buy tickets at Fandango or Atom Tickets.
Keep track of this and all the other super-movies with our superhero movie release schedule.
---
We're certainly excited about Spider-Man: Across the Spider-Verse. So much so that we've written about Miles swinging into Fortnite, covered the Spider-Verse Burger King takeover, looked into the new Spider-Jordans, and even eaten a Spider-Whopper.
If you want to get up to date on all Spider-movies before watching this one, check out our Spider-Man movies watch order. Or maybe you want to go a little more complex with our comprehensive Spider-Verse watch order (it has EVERYTHING). If that isn't enough Spider-writing for you, check out Five Spider-hero comics to read that aren't about Peter Parker's Spider-Man.