Spider-Man Nike: Miles Morales has some new Air Jordans for Across the Spider-Verse (and a stunning Times Square billboard to go with it)
The first Spider-Verse film saw a Air Jordan 1 collab called "Origin Story," now it's time for the next chapter
In the 2018 animated movie Spider-Man: Into the Spider-Verse, Miles Morales a.k.a. Spider-Man sports a pair of Air Jordan 1 High 'Chicago's. With the film's release, came a real-world shoe in honor of Miles and the film called 'Origin Story.' Now, with the debut of Into the Spider-Verse's highly anticipated sequel, Spider-Man: Across the Spider-Verse, comes another Miles Morales limited edition shoe fittingly called 'Next Chapter.'
These new limited edition shoes are a take on the Air Jordan 1 High 'Chicago' that Miles Morales wears in the film. But, the shoes feature a few some stylistic touches inspired by animation and specifically the animation found in the Spider-Verse movies. Check the design out below.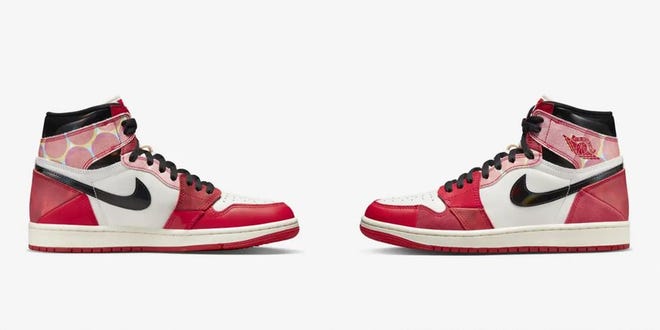 These new limited edition Air Jordan 1s drop on Saturday, May 20.
But that isn't all. New York based Spider-Man and Nike fans have the chance to check out a, frankly incredible, animated billboard ad in Times Square that features Miles Morales in his Spider-Man costume wearing the 'Next Chapter's and jumping into that classic Air Jordan Jumpman pose. I could try to describe it more, but it's probably best if you just watch it yourself in the video below.
The Air Jordan 1 High 'Next Chapter' limited edition shoes debut May 20, 2023. Spider-Man: Across the Spider-Verse hits theaters on June 2. Grab your tickets at Fandango or Atom Tickets.
---
Popverse tried Burger King's new red Spider-Verse Whopper so you don't have to.