Barbie movies in order: how to watch her animated adventures before the 2023 live action film
Craving more Barbie adventures ahead of the Margot Robbie movie's July 21 premiere? Well, there are a LOT.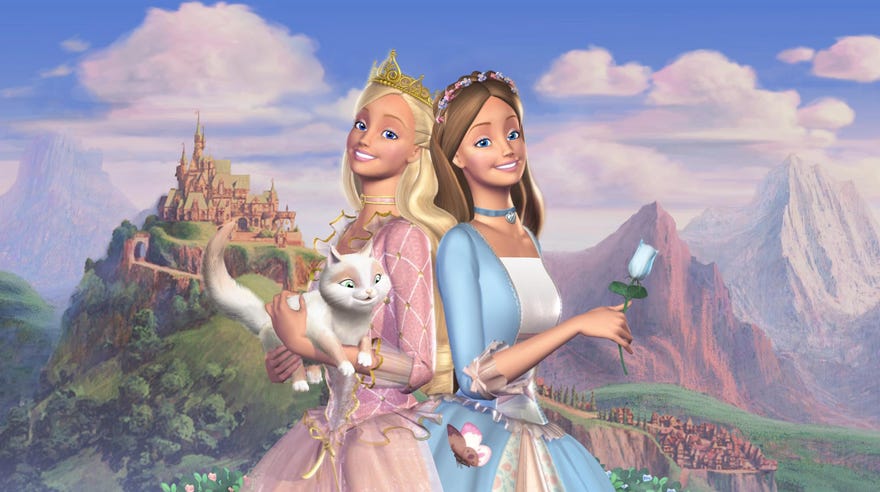 Ahead of the July 21 theatrical debut of the Barbie movie, Variety approached director Greta Gerwig and asked "Is the Barbie movie the start of a franchise?" Gerwig's response was to deflect, probably because there's no official answer to that, despite talks going on in creative circles. The thing is, however, there's already a franchise of Barbie movies.
Though the Margot Robbie-starring, Ryan Gosling-memefying flick will be Barbie's first live action cinematic offering with a full theatrical run, Mattel has been producing animated Barbie films for over two decades. If that sounds like a lot to watch, well, that's because it is. Fortunately for ineterested parties, Popverse has a handy watch guide for diving into the movies. Just be aware: the dive is deep
How many animated Barbie movies are there?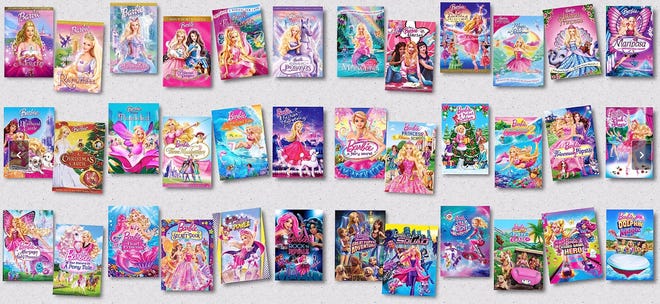 As of this writing, Mattel has produced 42 animated Barbie films (Hitchhiker's Guide to the Galaxy fans are welcome to speculate on this). That's a long trip to take, dreamcar or no, and you're going to want a roadmap. Let's start off with the most obvious one...
How to watch the Barbie movies in release order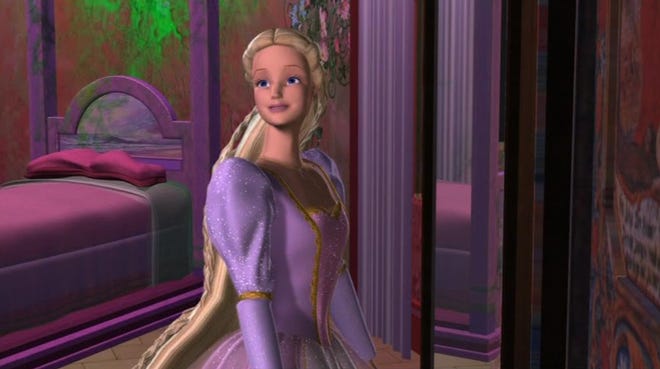 Since the first film, Barbie in the Nutcracker, went straight-to-video in 2001, Mattel has produced an aveage of about two films per year. If what you're looking for in a Barbie-watchathon is to simply take in absolutely all of that, the simplest way to do it would like likely be to start at the start and end at the end. In that case, you'd be watching in this order:
Barbie & Her Sisters in A Pony Tale(2013)
Barbie & Chelsea: The Lost Birthday (2021)
Barbie: Epic Road Trip (2022)
Barbie: Skipper and the Big Babysitting Adventure (2023)
Barbie (2023)
Whew! That's a lot of Barbie. Almost enough to make you put your hands up and say, "no way I'm figuring out how long that marathon is!", don't you think?
Well you better think that, because it's my job to figure that out. And that marathon would take, according to the combined runtimes found on IMDb for each animated film, a total of 53 hours and 28 minutes. That's two days and change of anatomically absurd animated anecdotes, with no breaks to eat, use the bathroom, or sleep.
So maybe you should break it up. But how?
How to watch the Barbie movies in chronological order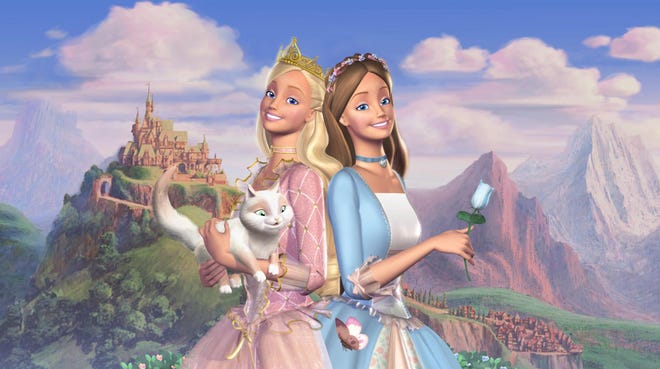 Before going into this, I've got to admit something: our use of the word 'chronology' here is loose. The point of Mattel's animated Barbie films was not, in this writer's opinion, to fit into cohesive canons. However, that didn't stop a couple of them from springing up. Still, there are plenty of them that don't link to the others so let's get them out of the way first.
The Standalones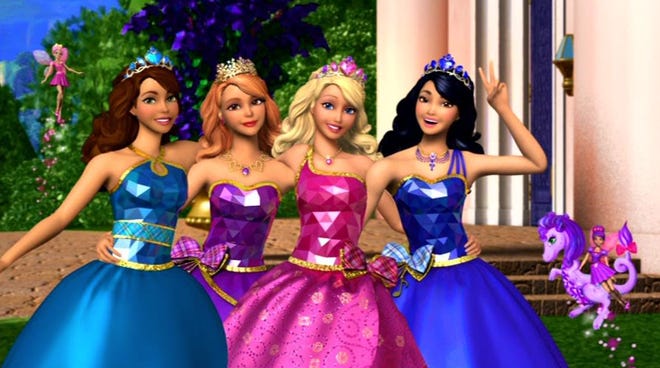 Out of the 42 Barbie films on this list, 26 of them are total one-shots, not related to the others by plot or setting. There are overlapping themes, sure, and certain characters (like, you know, Barbie), but the movies below can pretty much be enjoyed entirely by themselves.
Barbie in the Nutcracker (2001)
Barbie as Rapunzel (2002)
Barbie of Swan Lake (2003)
Barbie as the Princess and the Pauper (2004)
Barbie and the Magic of Pegasus (2005)
Barbie in the 12 Dancing Princesses (2006)
Barbie as the Island Princess (2007)
Barbie & the Diamond Castle (2008)
Barbie in A Christmas Carol (2008)
Barbie Presents: Thumbelina (2009)
Barbie and the Three Musketeers (2009)
Barbie: Princess Charm School (2011)
Barbie: A Perfect Christmas (2011)
Barbie: The Princess & the Popstar (2012)
Barbie in the Pink Shoes (2013)
Barbie: Mariposa & the Fairy Princess (2013)
Barbie & Her Sisters in A Pony Tale(2013)
Barbie: The Pearl Princess (2014)
Barbie and the Secret Door (2014)
Barbie in Princess Power (2015)
Barbie in Rock 'N Royals (2015)
Barbie & Her Sisters in The Great Puppy Adventure (2015)
Barbie: Spy Squad (2016)
Barbie: Star Light Adventure (2016)
Barbie & Her Sisters in A Puppy Chase (2016)
Barbie: Video Game Hero (2017)
Notice the trend in the first couple movies? They retell popular stories with a character played by Barbie, as their central focus. An original plot didn't show up in the bunch until 2005, when Elise Allen and Diane Duane penned a story Mattel liked enough to continue, giving us the first "chronology" in Barbie's animated history…
Fairytopia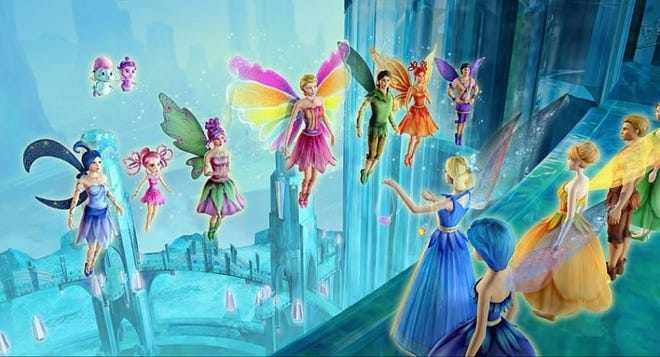 Set in a world governed by magic, Barbie's Fairytopia stories revolve around her characters, either Elina or Maripose, putting the land to rights after a power-hungry villain befouls it. It's basically Masters of the Universe, but with more glamour and singing. The movies, in order, are:
Barbie: Fairytopia (2005)
Barbie Fairytopia: Mermaidia (2006)
Barbie Fairytopia: Magic of the Rainbow (2007)
Barbie: Mariposa (2008)
Barbie: Mariposa & the Fairy Princess (2013)
With three movies and two spinoffs in its ranks, Fairytopia is a decent place to start if you want connectivity in your marathon. And yet, there's something missing in Fairytopia (and most of the standalones) that might leave you a little bummed if you're here because of the upcoming movie: that is, Barbie as herself.
It's time we move on to...
The Adevntures of Barbie, Ken, and Raquelle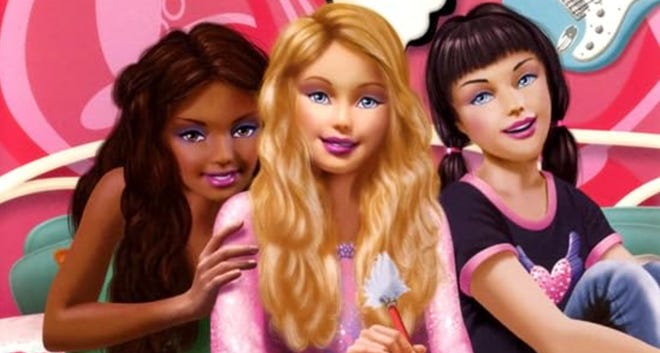 It was the mid-aughts and Mattel wanted a new spin on Barbara Roberts, so they decided to put her in the darkest reality yet: high school. In The Barbie Diaries, the epononymous character has to navigate being a teen, square off against a frenemy, and deal with crushes, all while keeping her head up and pointed toward the woman she wants to be.
Wait, isn't that also the idea behind The Carrie Diaries? Did HBO rip of Barbie?
Pending lawsuits aside, the world of Barbie Diaries stuck, and characters like Ken and Raquelle would return for more adventures, this time as their adult selves. Watch these films to learn more.
The Barbie Diaries (2006)
Barbie: A Fashion Fairytale (2010)
Barbie: A Fairy Secret (2011)
As you can probably see by reading the list, this crop of movies didn't stick too close to reality for long. By the second film, Ken has been kidnapped by fairies and taken to a town called Gloss Angeles (I'd like to see Sex and the City pull that off). Around the same time, the Barbie animated films returned to outright fantasy storytelling, with magical mischief set in the sea. Hold your breath for...
Mermaid Tales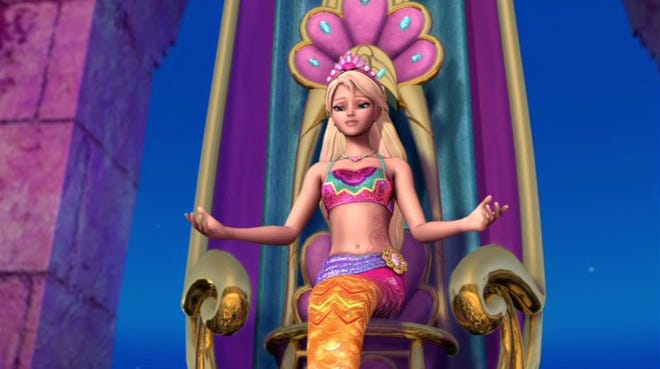 The shortest canon on this list also comes right before a major studio change, which we'll get to in a sec. For now though, the Mermaid Tales saga is just two movies, despite mermaids showing up in other Barbie flicks, as with any good media - Supernatural, Once Upon a Time, Shape of Water, etc.
Listed here are the two (pretty obvious) entries.
Barbie in A Mermaid Tale (2010)
Barbie in A Mermaid Tale 2 (2012)
From 2012 to 2017, there's no chronology to speak of in Mattel's cartoon capers. After that, though, the toy company changed their tune altogether, partnering with Netflix, ceasing home video releases, and establishing a canon that, to this day, has not been broken. Prepare yourself, loved ones, for the era of...
The Dreamhouse Timeline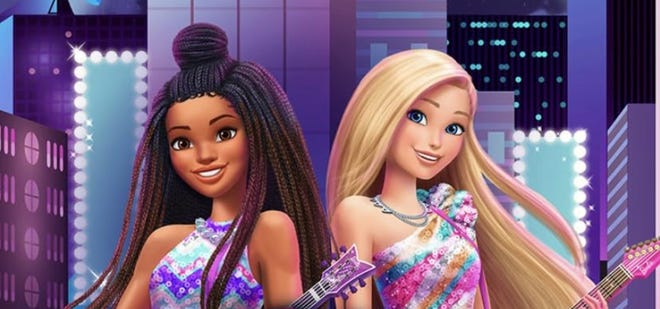 If you've ever been scrolling through Netflix on shrooms, you've probably stopped and stared for an hour or two at the art for the Barbie: Dreamhouse Adventures series. If that's the case, you've got something in common with Mattel (it's not the drugs) in that they, too, have chosen to take up residence in the Dreamhouse. From 2017 on, all of their animated movies have streamed (strum?) directly to Netflix and fit firmly in the Dreamhouse canon. Here they are:
Barbie: Dolphin Magic (2017)
Barbie: Princess Adventure (2020)
Barbie & Chelsea: The Lost Birthday (2021)
Barbie: Big City, Big Dreams (2021)
Barbie: Mermaid Power (2022)
Barbie: Epic Road Trip (2022)
Barbie: Skipper and the Big Babysitting Adventure (2023)
Presumably, future missives from the Dreamhouse will also fit into this canon, but with streaming wars going the way they are, who knows what the next animated Barbie movie, if there is one, will look like.
Ok, so we've covered what is in the Barbie animated catalogue, and we've discussed the possible hows of watching them all. It's about time we start talking about where.
Where can I stream the Barbie animated movies?
As I just mentioned, anything animated in Barbie's world is on Netflix after 2017. Before that, though, the films are not beholden to one streaming service and, unfortunately, you're going to have to pay to view them.
The good news is that Barbie rents for pretty cheap, and on a number of sites. Most of the cartoons are on Amazon, YouTube, or Apple for about $4, with a couple notable exceptions. Barbie: The Princess & the Popstar will run you about $15, but to offset that, Barbie's official YouTube channel plays The Barbie Diaries, Barbie & the Diamond Castle, and Barbie in A Mermaid Tale 2 free for anyone to watch.
For reasons unknown, Barbie & Her Sisters in A Pony Tale is missing from the web.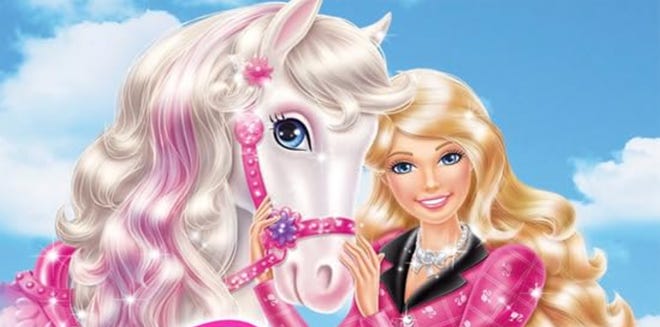 With that, we have reached the end of our Barbie movie marathon, having been through dozens of continuities, five uses of the Prince and the Pauper plot (eat your heart out, Mark Twain), and one song by Captain Marvel.
Oh yeah, did I forget to mention that? Brie Larson did music for Barbie and The Magic of Pegasus. Here ya go.
And it's at this point, as the pink oozes out of your eyeballs and drips glitteringly onto the floor, that you may be wondering: just how similar to the animated movies will Barbie's forthcoming feature film be? Specificaly...
Is the Barbie movie for kids?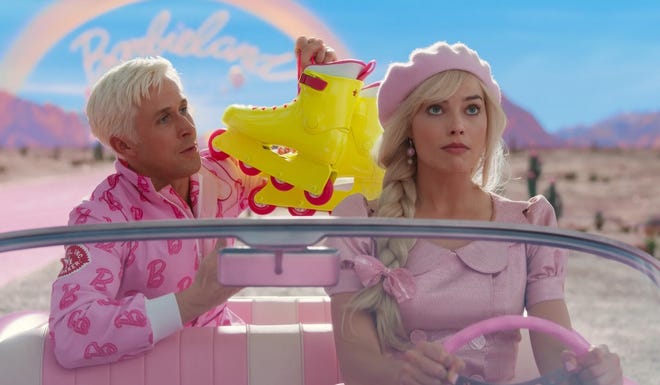 It's a great question. While Mattel's animated Barbie movies are, like the dolls, clearly targeted to the 3 to 12-year-old range, the movie this year might be a little bit more adult-oriented. You can read more about Barbie's viewership ratings here.