Meet DC's newest Batman villain, Crytoon
As Rafael Grampá readies the eagerly anticipated miniseries Batman: Gargoyle of Gotham and its new villains, he spotlights the lead foe Crytoon
Acclaimed comic book creator Rafael Grampá brings a distinctly exciting take to the Batman mythos with his new miniseries Batman: Gargoyle of Gotham. The series has Bruce Wayne decide to fully commit himself to his Batman alter ego in a heightened effort to combat evil throughout Gotham City only to find that a new set of supervillains have risen to meet him in harrowing battles for the soul of the city.
After working closely with Frank Miller on 2018's The Dark Knight Returns: The Golden Child, Grampá is taking the reins as both writer and artist Gargoyle of Gotham, his longest written work following writing and drawing well-received short stories in Batman: Black & White and a Wolverine story for Marvel.
The first villain to challenge the Caped Crusader in Batman: Gargoyle of Gotham is Crytoon, a visually striking serial killer whose physical appearance is nearly completely black, with the exception of silvery tears constantly running down this fearsome foe's cheeks. Visual inspiration for Grampá's designs for Crytoon come from a variety of sources, some dating back to the creator's formative years before turning them into a deadly adversary to challenge the Dark Knight on every level. Grampá sat down for an interview with Popverse about Batman: Gargoyle of Gotham and the creation of Crytoon, along with unlettered preview art of Crytoon in action in the debut issue of Gargoyle of Gotham, with colors by Matheus Lopes, on sale September 12 from DC Comics.
A villain borne of classical art and childhood fears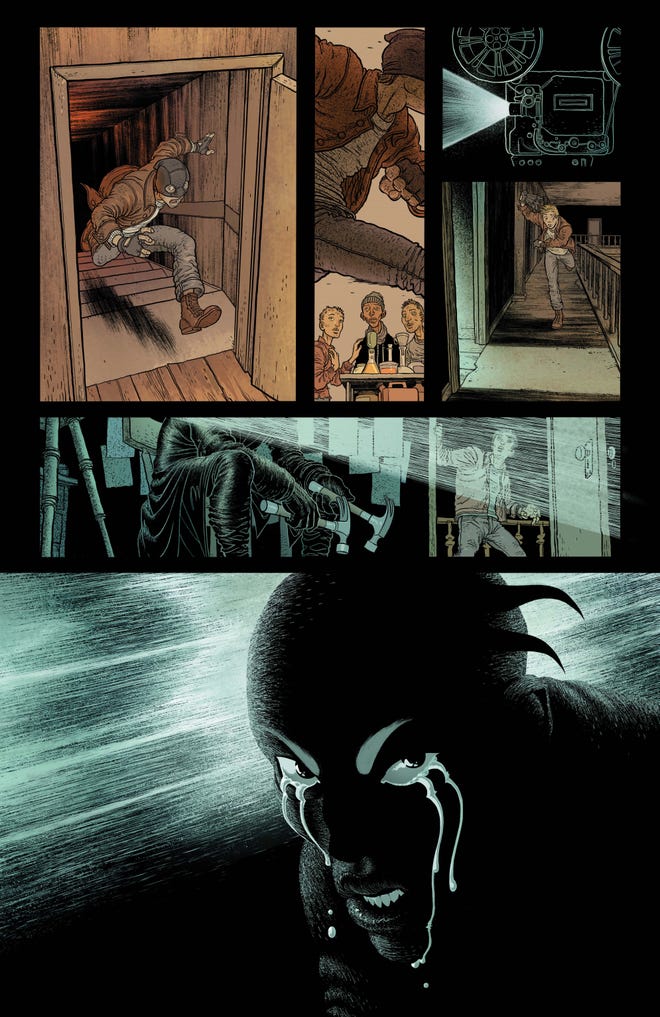 The origins of Crytoon stretch back to Grampá's childhood in his native Brazil, specifically from his grandmother's home while he was growing up. Grampá's grandmother was a fan of the classic Italian theater style commedia dell'arte and had a porcelain figure of its iconic crying clown Pierrot, clad in all white. Seeing this figurine at such an early age left a strong impression on Grampá that stuck with him all the way into him creating his first long-form Batman comic book story decades later.
"I was very afraid of that when I was a kid," Grampá admits. "That figure, that white face crying black tears, when she turned off the lights, I saw that and I was terrified with that image."
Based on these childhood memories, Grampá developed his own interpretation of Pierrot, initially sharing the same name, while drawing influences from a more contemporary source in American rock singer Marilyn Manson. Most notably, Manson's penchant for long hair and moth imagery stood out for Grampá, leading them to incorporate them into his own original vision of Pierrot. However, as Grampá developed the character as a Batman antagonist, he wanted to distance this crying villain from Gotham's two other clown-based enemies, the Joker and Harley Quinn.
A very different clown than the Joker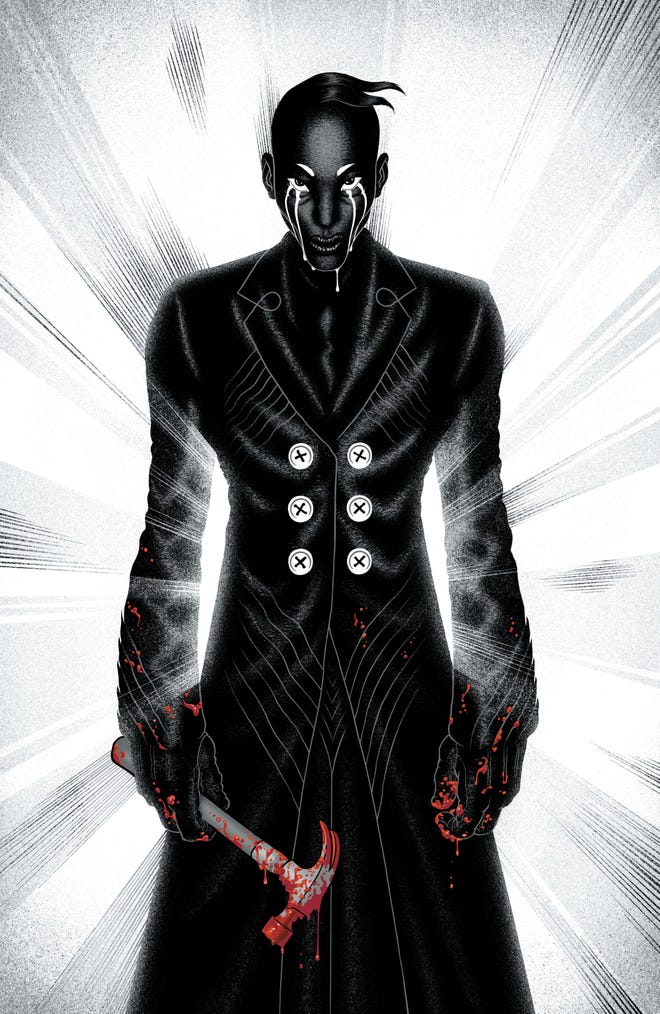 DC accepted Grampá's pitch for a story introducing four new villains into the Batman mythos, seeing Pierrot and the other planned antagonists as having the "potential to be big Batman villains." With that important seal of approval, Grampá escalated the role of Pierrot in the story, noting that the crying clown originally "wasn't a very important character" but began increasing Pierrot's prominence as he started writing Gargoyle of Gotham. However, it quickly became clear that a name-change for the new supervillain was in order, as well as a change in modus operandi for the character linked to old-school cartoons from the '20s and '30s.
"One of the things I wanted for this character was a character who cries in advance of committing something terrible, that was the pitch," Grampá explains. "His universe, about him mimicking old cartoons, came later. This whole concept, I just understood I needed to change the name of the character because Pierrot wasn't fitting and, for me, I thought people would connect Pierrot with Harley Quinn and the Joker and I wanted to avoid that comparison."
After linking the villain to early 20th century cartoons, Grampá renamed the character Crytoon, observing that the killer's habit of crying over the crimes he commits and anticipates along with his obsession of cartoons made for a natural pun and portmanteau. The crying aspect of the character, more than simply mirroring his commedia dell'arte inspirations, marked a scary form of remorse and self-awareness as Crytoon "knows he's incapable of stopping himself" from following through with his murderous plans.
Murderous shadows brought to life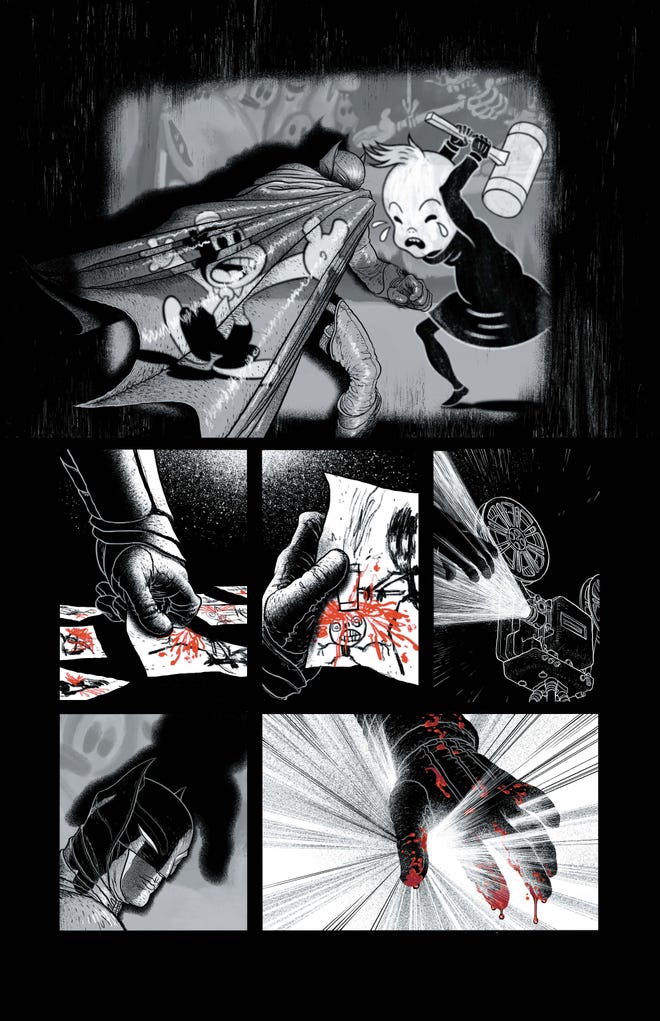 Just like Pierrot, Crytoon was originally planned to be "completely white" in his physical appearance, right down to his clothing. Grampá's wife suggested that he try to depict the character as a photo-negative inversion of his initial design to see how it looked. After a simple palette swap, this became the final look for Crytoon, with Grampá feeling the change into a black physical form helped underscore the villain's unsettling connection to Batman himself. Just as the Dark Knight keeps to the shadows as he defends Gotham, so too does Crytoon naturally cloak himself in the city's darkness.
The key difference between Batman and Crytoon comes in how open Crytoon is in expressing his feelings through his tears and his drawings, with Grampá particularly enjoying that Crytoon fancies himself as an artist as he regularly illustrates his lethal plans. But whereas Batman closes off his emotions to those around him to become a stoic crime-fighter, Grampá explains that Crytoon "doesn't hide his face or mask his feelings."
"When Batman has this encounter with this character, he sees that he's not hiding anything," Grampá teases about the two adversaries' inevitable showdown. "It does something to his core, he becomes obsessed with that character. I think Crytoon has this mystery about why he cries and what is his story. That's really connected with the whole thing."
A terrifying threat for the Caped Crusader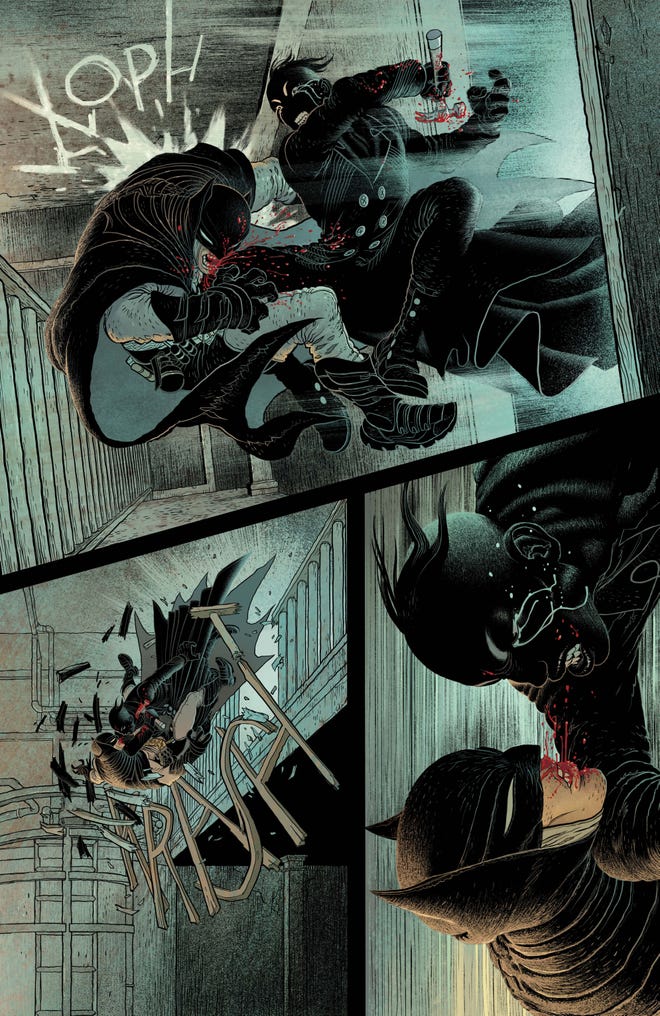 Just as Crytoon isn't an evil clown in the mold of the Joker, nor is he a strictly cerebral supervillain in the tradition of the Riddler or the Cluemaster. Crytoon will provide Batman with a formidable physical threat more than capable of overpowering and killing the Dark Knight through brute force if given the opportunity, making him all the power frightening. "Crytoon can beat Batman really easily," Grampá states succinctly.
As the lead-off villain created for Batman: Gargoyle of Gotham, Grampá hints that Crytoon "character for me represents what I want to tell about Gotham City." Further teasing that "everything is connected," Grampá has hidden plenty of hidden images and messages within the pages of Batman: Gargoyle of Gotham #1, rewarding readers who carefully pore over the pages with repeated readings. And in looking for new ways to challenge Batman across the story, Grampá feels Crytoon is the perfect antagonist to kick the miniseries off and speak to its deeper themes about Batman overall.
"Crytoon doesn't have any fear because he's true with his nature, he doesn't fake anything. This makes Batman afraid because Batman doesn't assume a lot of things that he learns in this story about himself. This story is my attempt to dissect Batman because I love this character and I wanted to put him in the hot seat," Grampá elaborates. "This story is my attempt to tell who he is and why he came to be, as opposed to who he is and how he came to be, it's more about the why."
Batman: Gargoyle of Gotham #1 goes on sale Sept. 12 from DC Comics. The series is written and illustrated by Rafael Grampá, colored by Matheus Lopes, and lettered by John Workman.
---
Read our in-depth interview with Rafael Grampá here.