Batman vs. Spawn: new color pages, details, and more on Todd McFarlane and Greg Capullo's DC crossover event
The Court of Owls have a new champion in their battle against Batman... Spawn
Updated with new art 10/19/22
The Court of Owls has secretly being ruling Gotham City for decades - that is until Batman came onto the scene. After attempting to put down the Dark Knight over the past few years and failing, the insidious shadow society has a new weapon: Spawn.
As announced at Comic-Con International: San Diego back in July, DC's Batman and McFarlane Productions' Spawn will crossover for the first time in over 15 years - and it's coming from Spawn co-creator Todd McFarlane and Court of Owls co-creator Greg Capullo.
"Look, this is really simple. I get to play with one of the greatest comic characters ever (Batman), get to reunite with amazing artist Greg Capullo, AND am able to mix in my own creation (Spawn) into the storyline. These are the types of projects many of us creators in the comic industry only get to be a part of a few times in our careers," McFarlane says in a press release.
Capullo is pencilling and inking the series, with colors by Dave McCaig. Following on from earlier inked image teases, DC has released new colored pages from the one-shot to tempt fans with what to expect.
And, in case you missed them, here are the earlier, inks-only pages from the Batman/Spawn 48-page one-shot:
How McFarlane and Capullo's past informs the new Batman/Spawn
McFarlane and Capullo have a long history together, and individually have their own histories with Batman. McFarlane drew the last three issues of 'Batman: Year Two' in Detective Comics, and drew 1994's Spawn/Batman. Capullo drew nearly all of the 2011 - 2016 'New 52' run on Batman.
Capullo was also the successor to the role of the main Spawn artist, following McFarlane in 1993 and drawing the series for 7 years.
"I was fortunate enough to be able to draw both Spawn and Batman each for over a decade," says Capullo. "Now I get to use those decades of experience to bring fans the event they've waited nearly 20 years to see happen. Spawn and Batman together again. It's gonna be fire."
Revisiting the original Batman/Spawn crossovers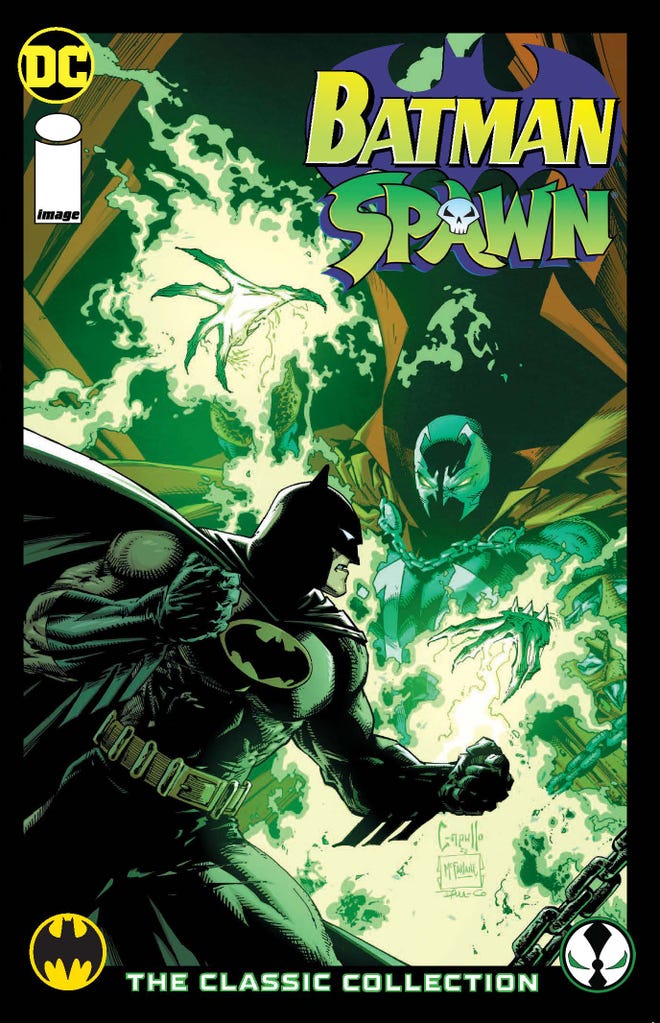 Ahead of this new Batman/Spawn crossover, DC and Image are reprinting the two 1994 crossover specials - Spawn/Batman by Frank Miller and McFarlane, and Batman/Spawn: War Devil #1 by Doug Moench, Chuck Dixon, Alan Grant, and Klaus Janson. The two stories are being reprinted in hardcover as Batman/Spawn: The Classic Collection, due out November 15.
Reprints of cross-company crossovers are exceedingly rare, as two companies agreeing to crossover is one thing - but agreeing to keep the title in print years later is a difficult struggle. These were last reprinted in 2000.
"One of the great pleasures of collecting comics is being around when 'event books' are released," says McFarlane. "Each time one of these events happened I was always glad I was collecting at that moment because I felt like I was part of something really cool happening in our comic industry. So now, to be able to gather DC Comics and Image Comics together to release a new reprint of those two wonderful books from yesteryear; SPAWN/BATMAN and the BATMAN/SPAWN: WAR DEVIL crossovers to a new generation of collectors who missed out on all the excitement of when they first came out. This, to me, is why I got into drawing comic books in the first place...to have as much fun and joy as I could. These books do that!"
The specialness around Batman/Spawn in 2022
"My goal with this book is two-fold; First to just make it as fun a read as possible both visually and story wise," says McFarlane. "Then second, I hope this book will continue to add to some of the many reasons any of us actually collect superhero comic books. That's to release an "Event" book that folks will remember for years to come. This should be one heck of a nice holiday gift!"
Capullo has drawn the main cover to Batman/Spawn #1, with variant covers coming from McFarlane, Gabriele Dell'Otto, Sean Murphy, Franceso Mattina, J. Scott Campbell, Jim Lee, Jason Fabok, and Brett Booth.
Covers
Batman/Spawn #1 goes on sale December 13.
---
Can't wait for your Batman fix? Batman Day is coming up on September 17.