Batman vs. Robin comic coming this fall from Mark Waid and Mahmud Asrar
Batman vs. Robin in a world of dark magic sorcery
Being Batman's kid can't be easy. Ever since his 2006 introduction, Damian Wayne has had a tempestuous relationship with his father – one that has continued to be stormy even after he took on the mantle of Robin to honor his father's legacy. This fall, the tension between the two reaches a new high, as Mark Waid and Mahmud Asrar team for a new five-issue series titled, simply, Batman vs. Robin.
According to Waid, the series spins out of events in the first arc of his current Batman/Superman: World's Finest series with artist Dan Mora, which sees the Dark Knight and a number of other heroes – including, of course, Superman and the original Robin – face off against the historical threat of the Devil Nezha himself.
We've seen Batman and sort of peripheral magic, but I want to get into the down and dirty of it.
The new mini will run five oversized issues starting in September and see Damian and his father have to come to terms with something outside their regular day-to-day crimefighting.
"What I can say is that the first arc of World's Finest is, was, and always has been, designed deliberately to lead into what is going to be Batman vs. Robin," the writer teases. "What I was trying to do with Batman versus Robin was try to take them into a realm that I'm not used to seeing them in, which is dark magic sorcery, rather than science, rather than logic and detective stuff. We've seen Batman and sort of peripheral magic, but I want to get into the down and dirty of it."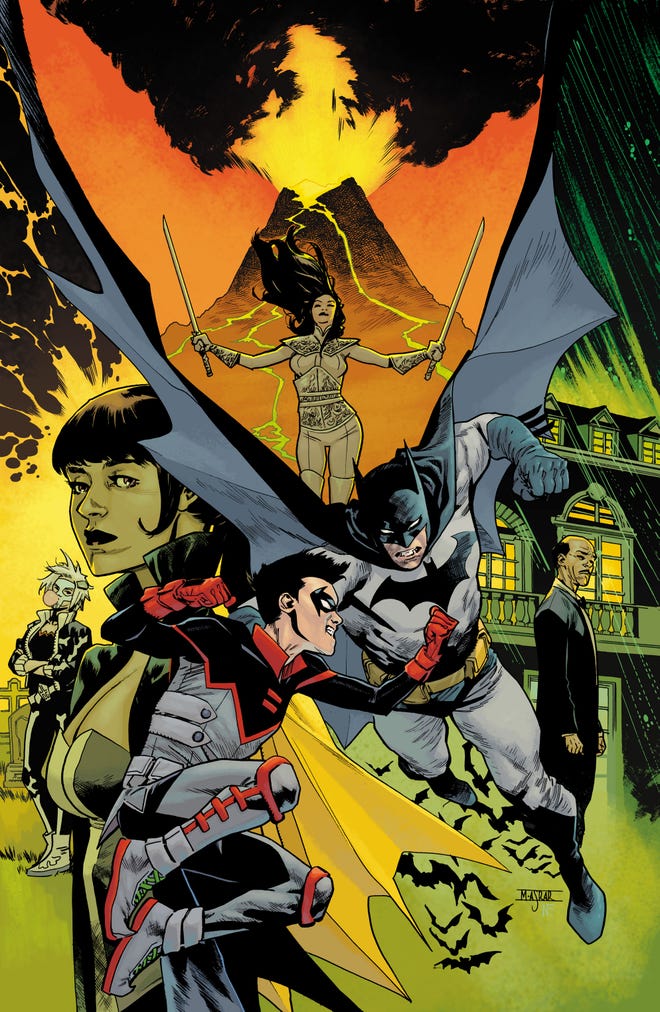 Outside of the cataclysmic events inside the story, Batman vs. Robin reunites Waid with his All-New All-Different Avengers partner Mahmud Asrar, who's returning to DC for the first time in nine years for the project; his last work for the publisher was on the 'New 52' relaunch of Supergirl.
Waid also teased that Batman vs. Robin might not be the only World's Finest spin-off that fans should be expecting, when asked if the second arc of that series – which also begins in September – would cross over with the new mini.
"They're two separate things," he says. "What the second arc is leading into is not on the radar yet… I can't hardly say anything, but there's something in that second arc that the payoff is, 'Oh! I didn't realize that the payoff is part of something that I've known for a long time'."
Two new series (with maybe more to come) points to Waid's attitude upon returning to DC after more than a decade, with the Eisner Award-winning writer determined to give readers something that they've never seen before and make something new for people to enjoy.
Comics are not about rules. Comics are about flying, right?
"There's no point being subtractive to a superhero universe. Every time we limit someone's powers or put on some new limitation to what they can do and how they can do it, that's just counter to the whole spirit of comics and superhero comics," he says. "Comics are not about rules. Comics are about flying, right?"
Batman vs. Robin #1 and World's Finest #7 will both be published by DC in September. The full interveiw with Mark Waid, discussing more about Batman/Superman: World's Finest, working with Dan Mora, and returning to DC, will be published in a few weeks here at Popverse.
---
If you want to read more Robin stories before Batman Vs. Robin comes out, check out
Robins
from Tim Seeley and Baldemar Rivas and read
Popverse's article on Robins and the other winner (and runners up) of last year and this year's Round Robin contest.