Black History Month 2023 at DC: New Static and Icon & Hardware, DC Power, and more
New Milestone Media projects, classic reprints, and DC Power: A Celebration are all on the menu
DC has some ambitious plans for Black History Month 2023, using the annual event to celebrate the 30th anniversary of Milestone Media with a host of collected editions and new launches, but it doesn't stop there: there will also be Black History Month variant covers, and an all-new anthology of material from Black creators, as well.
The 30th anniversary of Milestone Media will be marked by the release not only of the Milestone 30th Anniversary Special on March 7 (delayed from its original February 21 release date) — a 96-page one-shot featuring contributions from Evan Narcisse, Chuck Brown, Stephanie Williams, Denys Cowan and others, including graduates of the Milestone Initiative Talent Development Program — but also the launch of the five-issue Icon vs. Hardware miniseries, by Reginald Hudlin, Leon Chills, and Cowan, and the six-issue Static: Shadows of Dakota miniseries by Vita Ayala and Nikolas Draper-Ivey, with the latter stepping up to the role of co-writer for the new series. (Those latter launches debut February 14 and 7, respectively.)
Here are the covers released so far for Milestone 30th Anniversary Special:
And here are the covers released so far for Static: Shadows of Dakota #1:
And here are the covers released so dar for Icon vs. Hardware #1: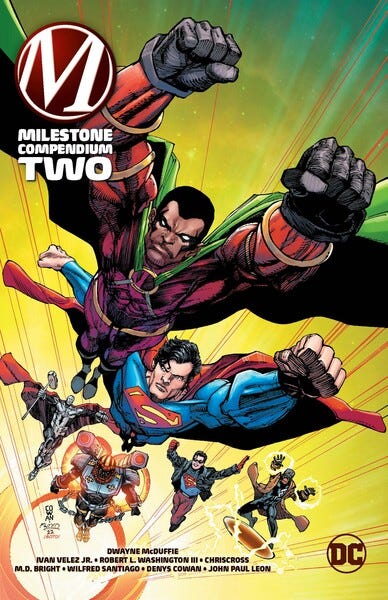 Additionally, DC and Milestone are collaborating on Milestone Compendium Two, the second mammoth volume of the original Milestone releases for the '90s. Coming in at over 1300 pages, the new collection includes the Worlds Collide crossover event that teamed the Milestone books with DC's Superman line for two months.
That's not the only retrospective DC will be releasing during the month; it's also collecting most of Milestone Media founding father Dwayne McDuffie's work on DCU titles for The DC Universe by Dwayne McDuffie, a 280-page hardcover featuring stories from Action Comics, The Demon, Impulse, JLA Showcase 80-Page Giant, Batman: Gotham Knights(2002), Sins of Youth: Kid Flash/Impulse, and Firestorm: The Nuclear Man. The title will be released February 7.
Next, there's DC Power: A Celebration — an anthology in the tradition of DC Pride, featuring stories of Black DC characters by creators including the aforementioned Narcisse, Williams, and Brown, as well as Clayton Henry, Valentine De Landro, and more. The publisher's official advance description of the issue reads, "Celebrate Black Excellence across the DC Universe in DC Power: A Celebration, a new 100-page anthology one-shot of stories starring DC's Black heroes and villains, by comics' top Black artists and writers!"
In addition to reprinting John Ridley and Olivier Coipel's Batman: Black & White story, and an excerpt from N.K. Jemisin and Jamal Campbell's award-winning Green Lantern series Far Sector, the DC Power special will include six all-new stories: Cyborg by Morgan Hampton and Valentine De Landro; Aquaman and Kid Flash by Jordan Clark, Dorado Quick and Clayton Henry; the Black Lightning family by Lamont Magee and CHRISCROSS; Amazing Man by Evan Narcisse and Darryl Banks; Vixen and Batwing by Chuck Brown and Petterson Oliveira; and Green Lantern John Stewart by Brandon Thomas and Natacha Bustos.
That issue, like Milestone Compendium Two, will be released January 31.
Here are the DC Power: A Celebration #1 covers released so far:
Lastly, DC is also planning six Black History Month variant covers on its regular books throughout the month. Here's a rundown of what to expect, and when to expect it:
February 7: The Flash #792 variant cover withWallace West/Kid Flash by Mateus Manhanini
February 14: I Am Batman #18 variant cover by ChrisCross
February 21: Black Adam #8 variant cover with Malik WHite/Bolt by Taurin Clarke
February 21: Lazarus Planet Omega #1 variant cover with Cyborg by Edwin Galmon
February 21: Wonder Woman #796 variant cover with Nubia by Taj Tenfold
February 28: Action Comics #1052 variant cover with John Henry Irons/Natasha Irons by Khary Randolph
Check out those released so far here:
And here is what Marvel Comics has planned for Black History Month in 2023.
---
Popverse's Carl Waldron recently dug into established tropes of Black superheroes and their cultural impact on representation.