The best Black Panther stories in all of comics
The 10 best Black Panther stories, celebrating T'Challa and the Wakandan Empire in Marvel Comics.
Black Panther is my favorite superhero. In fact, T'Challa is my favorite fictional character, and for good reason. As a fan, I loved watching the world warmly receive the character as portrayed by the late Chadwick Boseman. Though I've written about the character on several platforms, I've never sat down to compile a list of the top Black Panther stories.
That is what this list hopes to accomplish. And while T'Challa is the current Black Panther, it is a mantle. So in compiling this list, I reviewed every Black Panther comic, as well as comics that heavily featured any character that has held the mantle - Bryan Edward Hill and Juan Ferreyra's Killmonger, Dr. Nnedi Okorafor's Shuri with Leonardo Romero and Rachael Stott, various Avengers titles, all were considered in making this list. Still, only ten stories could make the cut (with an honorable mention). So let's dive in.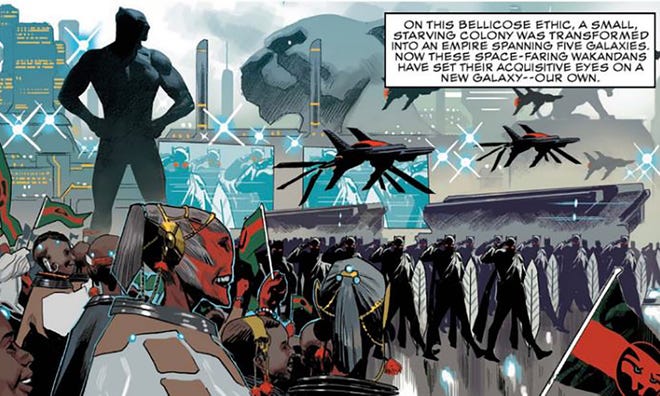 What is it?: The second half of Ta-Nehisi Coates' run on Black Panther was a complete change of pace. Coates and artist Daniel Acuña told a tale of T'Challa, enslaved by an alien empire with no memories of his own. T'Challa's heroic nature leads him into a rebellion, joining up with a larger movement against the titular empire. The arc culminates in T'Challa facing off against the Empire's leader, a symbiote empowered N'Jadaka.
The why: Coates and Acuña's work creates an epic story that begins in the far flung regions of space before a cracking finale that pits the Wakanda of Earth against its Intergalactic offshoot. But what makes it so memorable is the thematic connection to Coates' earlier work. T'Challa is presented as someone who is innately good, and a natural - albeit reluctant - leader. If these parallels are its strength, they're also the reason this just missed the cut. Already long at 25 issues, the truth is that 'The Intergalactic Empire of Wakanda' reads best with the preceding pieces of Coates' work on the character. In this list, I've (mostly) tried to avoid stories that need a lot of prior information to truly appreciate.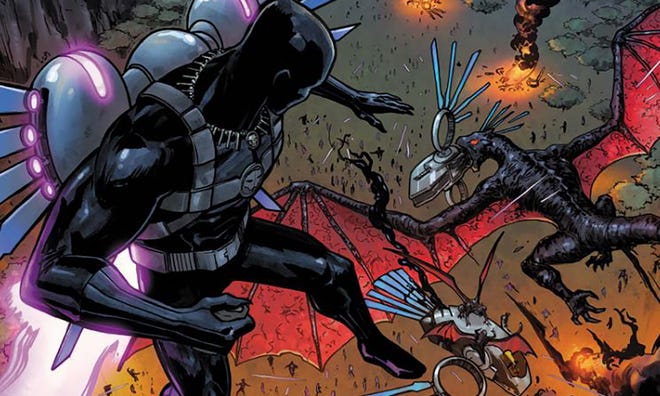 What is it?: The opposite of our honorable mention, the first story on the official list of 10 is a one-and-done story. Written by Geoffrey Thorne with art by Germán Peralta and Jesus Aburtov, King in Black: Black Panther sees Wakanda under assault by the symbiote army of Knull.
The why: The most recently published story on this list, King in Black: Black Panther is a shining example of action-packed superhero storytelling. The artwork by Peralta and Aburtov is breathtaking, with large battle scenes that feel appropriately scaled and chaotic and key moments that stick in the brain. Throne's writing adds additional layers of depth, touching on T'Challa's relationship with his father, his ex-wife, and his kingdom. The political nature of Black Panther often leads writers to craft lengthy stories with interweaving plot lines. In contrast, King in Black: Black Panther touches on everything that makes the character great in a single issue that needs no introduction. You don't even need to read the King in Black crossover event that this is a part of.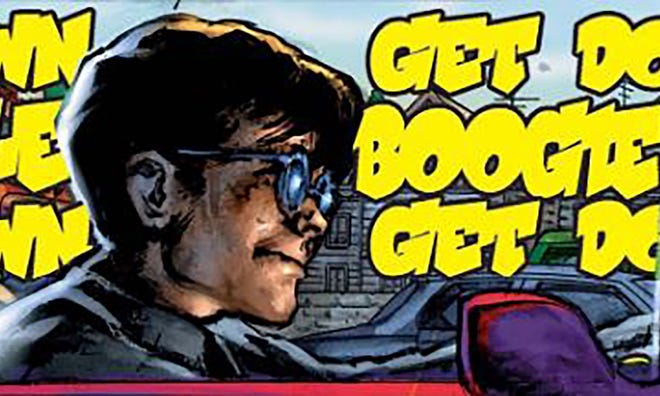 What is it?: The opening salvo to Christopher Priest's run on Black Panther, 'The Client' re-introduced comic readers to T'Challa and debuted characters like Okoye, Nakia, Everett K. Ross, and Zuri, all of whom appeared in the 2018 film. With artwork by Mark Texeira and the editing team of Joe Quesada and Jimmy Palmiotti, 'The Client' sees T'Challa navigate global politics while seeking out the people responsible for a child's death.
The why: It's hard to overstate this story's importance. Prior to 'The Client,' the entire Black Panther mythology was limited in reach and success, with Don McGregor being one of the few at Marvel who championed the character. Priest took the character back to the roots laid by Jack Kirby and Stan Lee in Fantastic Four #52-54, focusing on T'Challa's scientific and strategic intelligence and surrounding that with a political story with real teeth.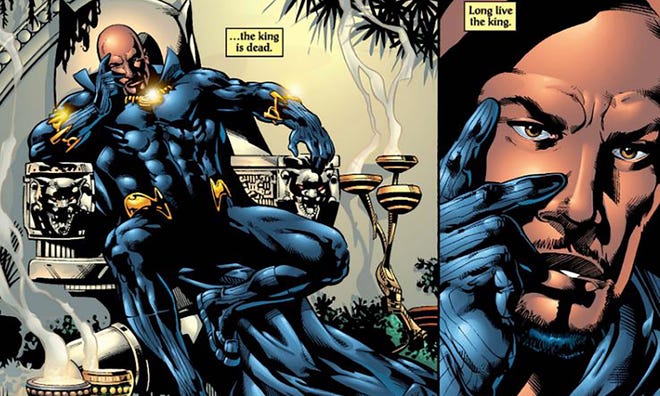 What is it?: A finale of sorts, 'The Death of the Black Panther' sees T'Challa face off against M'Baku, former Dora Milaje Queen Divine Justice, and the Jabari tribe for the murder of Wakanda's king.
The why: An exception to my 'rule' about stories not needing additional context, 'The Death of the Black Panther' is included here due to its importance, both narratively and in terms of publishing. While Priest's run as writer on Black Panther saw numerous art changes early on, issue #13 saw him joined by artist Sal Velluto and inker Bob Almond. These two artists then served for the majority of the title's run, aiding Priest as storytellers. While Priest would continue on the title as it shifted focus (to a character who was neither Black Panther nor T'Challa!), 'The Death of the Black Panther' would be the final time that he, Velluto, and Almond worked together, signifying the end of the book as readers had known it.
This story also solidified the story of the run as a tragedy, as T'Challa, despite his meticulous planning and his good nature, fails to be both a good man and a good king. His choice, resulting in the final page of issue #49, is a haunting one.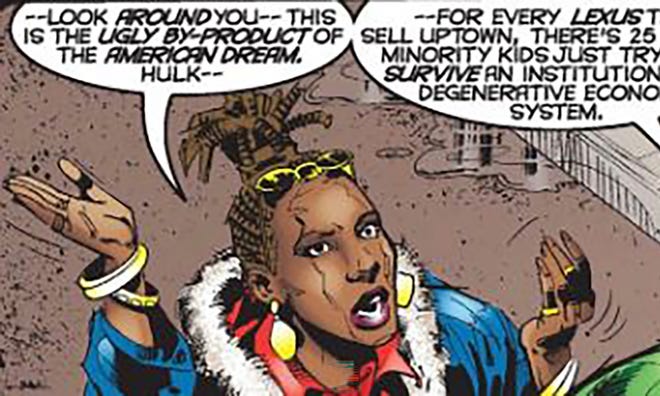 What is it?: Technically a collection of smaller arcs connected by Killmonger's return to Wakanda, 'Killmonger's Rage' is an epic political thriller that sees just how far T'Challa is willing to go to protect Wakanda.
The why: 'Killmonger's Rage' provides an updated reprise to the groundbreaking 'Panther's Rage' story arc by Don McGregor, Rich Buckler, and Billy Graham in the pages of Jungle Action over 20 years earlier. Though the economic chess match between hero and villain might be the selling point, the secret sauce that makes this story pop is the addition of Chanté Giovanni Brown aka Ce'Authauna Asira Davin aka Queen Divine Justice. Young, Black American, and a woman, her world view serves as a nice foil to both Ross and T'Challa. Though her dialogue was likely intended as a satirical sendup of the young socially conscious characters of late 90s media, she reads quite normal in comparison to some of the more outlandish ways politics get discussed on social media today. That she feels more realistic now makes her place in the story feel all the more poignant, and 'Killmonger's Rage' is better for it.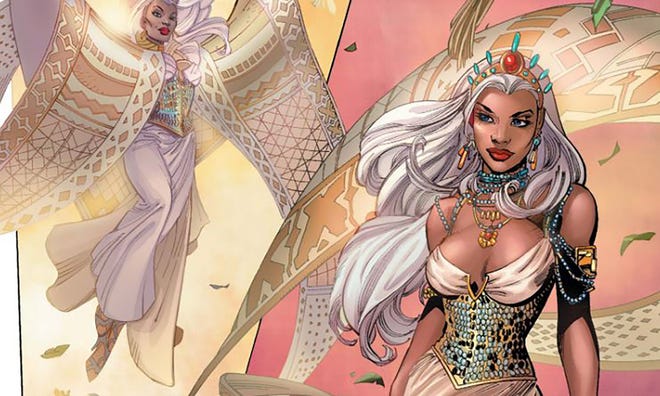 What is it?: The idea of a romance between T'Challa and Storm of the X-Men was first introduced by none other than Chris Claremont and John Byrne in 1980's Marvel Team-Up #100. Though that story left the two as star-crossed lovers, it was built upon by Priest, Velluto and Almond in 'Sturm and Drang' (a story that just missed this list!). But it was Reginald Hudlin that stopped beating around the bush and allowed the two to finally marry.
The why?: 'Bride of the Panther' stands out among the rest of the Black Panther comics because it's a romance. Opening with T'Challa proposing to Storm, he must then reconcile with his love after their years apart. While the idea of T'Challa and Storm getting married may have seemed odd to readers who were unaware of their prior history, Hudlin and artist Scot Eaton sell the idea of them being true soulmates, and the wedding may be one of the singularly most joyous comic books around.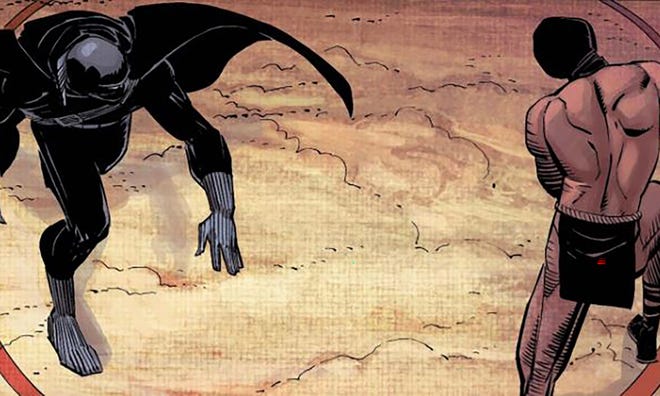 What is it?: Reginald Hudlin and John Romita, Jr. deliver an epic opening to their run. Opening with a recounting of Wakanda's history of defense from the outside world, the main story echoes that by seeing an assault by a supervillain team made up of Klaw, Rhino, Black Knight, Batroc, and Radioactive Man.
The why: This is the best introduction to the Black Panther mythology. Hudlin's dialogue is bombastic and his plotting with Romita leads to some spectacular moments. While other books touched on Wakanda's nature as an unconquered kingdom, this was the first time readers really got to see it in action. This story also introduces Shuri to the mythology as T'Challa's younger, ambitious sister. For that alone, this story earns its place in the top 10.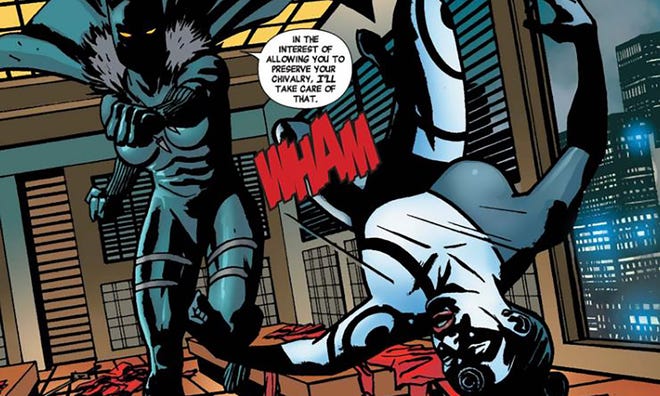 What is it?: Weird. No, seriously. T'Challa had previously lost the mantle of Black Panther due injuries resulting from an ambush by Dr. Doom and Namor. Shuri took on the mantle and the role as Queen of Wakanda. Yet from a publishing standpoint, a decision was made to keep the focus on T'Challa. In Daredevil's book. After a brief stint as the Man Without Fear, the book closed out with the moniker of Most Dangerous Man Alive. It was weird. It was also great.
The why: The finale to this time is 'The Kingpin of Wakanda.' Penned by David Liss with art by Shawn Martinbrough and Michael Avon Oeming, this story saw a depowered T'Challa face off against the Kingpin. The intricate plotting by Liss and the atmospheric artwork by Martinbrough and Oeming gave readers a story worth of two of the most renowned strategists in the Marvel Universe. While the initial idea of having T'Challa roam around Hell's Kitchen was poorly received by fans, 'The Kingpin of Wakanda' highlighted the character's worth, even when he didn't have the mantle.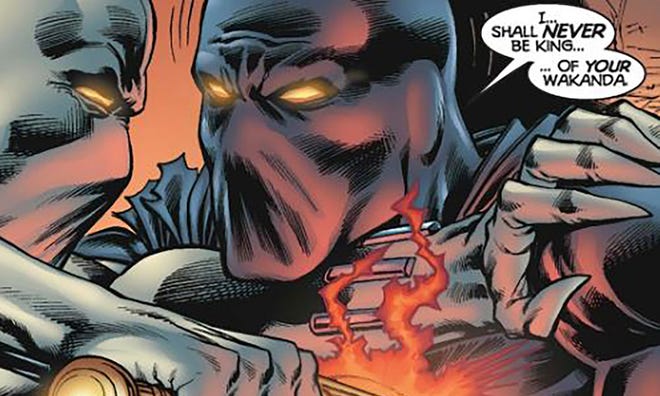 What is it?: After being lured away from America, T'Challa faces a coup in his nation by a madman and a brother he thought he knew.
The Why: 'Enemy of the State' is the story that always makes these top lists, and for good reason. Christopher Priest is on his A-Game here, and the artwork by Mike Manley and Chris Sotomayor captures the chaos of the story. 'Enemy of the State' also helps solidify villains Achebe and Hunter as top entries in Black Panther's rogues gallery. In particular, Hunter's story highlights the xenophobia of Wakanda and helps to further contrast the views of the nation and its king.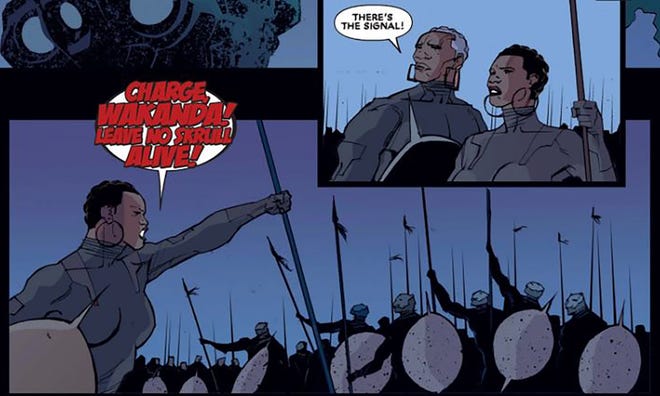 What is it?: Jason Aaron, Jefte Palo, and Lee Loughridge pit Wakanda against an invading Skrull Empire. Part of the Secret Invasion crossover event, 'See Wakanda and Die' sees an aging Skrull general face off against Earth's most powerful nation while T'Challa, Storm, and Shuri and Wakanda's army defend their homeland.
The why?: 'See Wakanda and Die' is Black Panther's 'Rumble in the Jungle.' A clash so iconic it immediately transcends its original audience. Visuals from it were directly adapted in the 'Secret Invasion' arc of Avengers: Earth's Mightiest Heroes cartoon, and the story has clearly served as an inspiration for stories like Infinity, King in Black, and films like Avengers: Infinity War. Tightly paced, with a reveal that makes you pump your fist, 'See Wakanda and Die' is one of the finest stories in the mythos, outdone by only one other.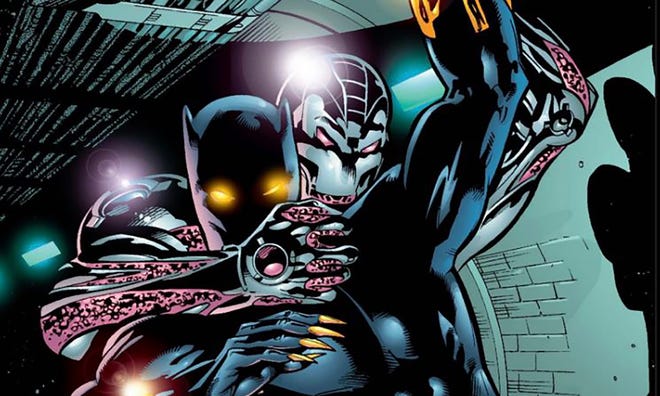 What is it?: Christopher Priest, Sal Velluto, and Bob Almond tell a political thriller like no other as T'Challa faces off against the United States and Iron Man, with Wolverine and a second T'Challa in for good measure.
The why: While the latter half of Priest's run on Black Panther contains some amazing epics like 'Sturm and Drang,' 'Return of the Dragon,' and 'Seduction of the Innocent,' most of these stories rely heavily on material established beforehand, making them a bit inaccessible. 'Enemy of the State II' shares some of those problems, but thanks to the fact that it's main co-stars are wo of the most famous superheroes in the world, it's largely able to overcome them. Furthermore, the plot sees T'Challa square off against the United States in a way that feels all too real as politics and corporate interests are revealed to be irreparably tangled. That the arc also pays tribute to Jack Kirby's time on Black Panther in the late '70s is just beautifully bizarre icing on the cake.
---
Black Panther: Wakanda Forever is now available for streaming on Disney+
and
for purchase
.
---
Marvel adding Black History Month team-ups to its February 2023 plans