Meet the new X-Men villain Blowback before their debut against Storm
The villain makes their public debut on Alan Davis' cover to June's Storm #2
Marvel's upcoming Storm miniseries might take place at an earlier point in the character's history, but don't mistake it for being stuck in the past: an all-new antagonist is going to make his debut in the book. Popverse can share an exclusive first look at Blowback — as well as a first look at the series' second issue cover, by veteran artist Alan Davis.
The horrific Blowback will make his debut in the Storm #1 by Ann Nocenti and Sid Kotian, but you don't have to wait until its May release to take a look at the bad guy: he shows up on Davis' cover for the series' second issue, and we also have Kotian's design sheet for the villain to share, as well. But who, or what, is Blowback, anyway…?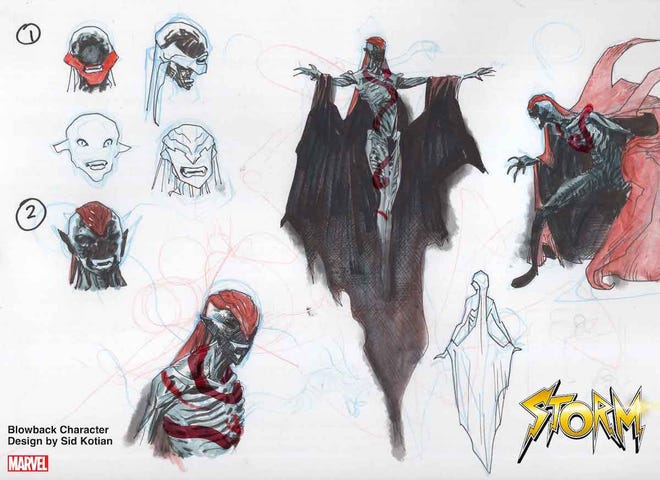 "Blowback is a magnificent new weather entity that rises to save the world from Storm's deviant powers and is all too happy to take over as ruler of the skies," writer Nocenti explains, adding, "Is the creature a savior or villain?"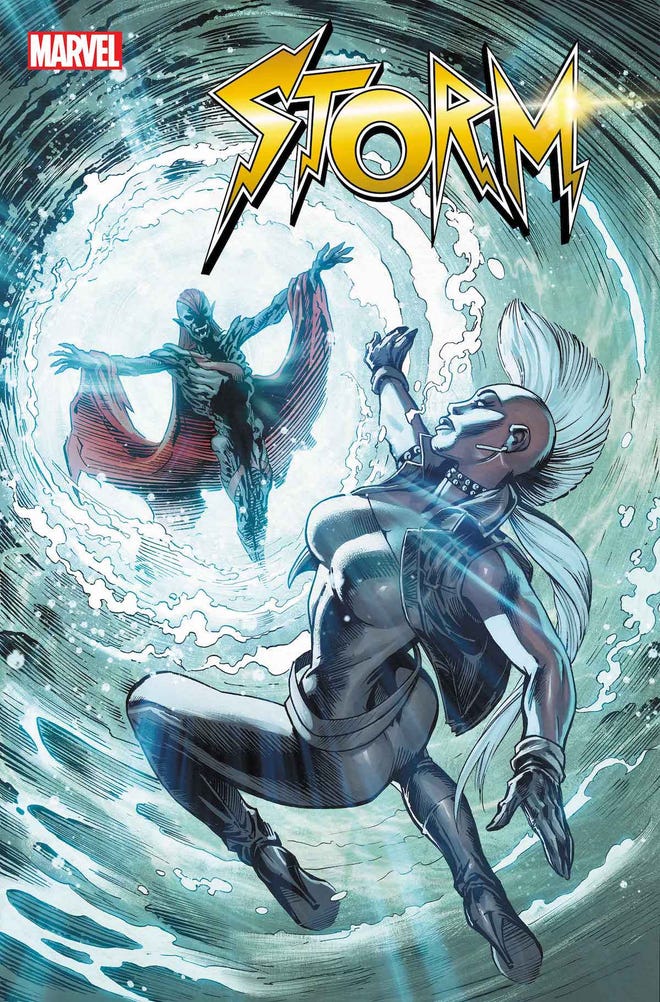 Kotian adds, "Blowback was super exciting to design! I really wanted to capture his otherworldliness and menace as if can just appear out of the shadows at any time. I can't wait for fans to see what happens when he goes up against Storm!"
Marvel's official description of the series' second issue runs like this, "OUT-OF-CONTROL POWERS VS. AN OUT-OF-THIS-WORLD ADVERSARY! As Ororo Munroe tries to balance her responsibilities as leader of the X-MEN, her difficult relationship with KITTY PRYDE and even a NEW LOVE INTEREST, her powers are creating deadly weather that threatens to tear it all asunder! In the eye of the storm is the powerful NEW VILLAIN BLOWBACK – but as Storm summons her strength for their first historic confrontation, will even her best be enough? Continuing the all-new tale set during Storm's fan-favorite punk-attired days, by legendary Marvel writer/editor Ann Nocenti."
Storm #2 (of 5) will be released June 21.
---
Want to know more about the Storm miniseries? We can tell you everything you need to know right here.