Blue's Clues' Steve Burns is back, and he's still listening
Steve Burns talks about his post-Blue's Clues life
The show of my childhood
Blue's Clues was the first television show I ever remember loving. I loved the simple repetition of it, the soft and fuzzy illustrations, and the kindness that Steve so easily seemed to inhabit. I also liked how Steve would always talk to you and then wait to hear your reply-- not in a silly way (though he was often very enthusiastic), but as if your opinion and your thoughts mattered.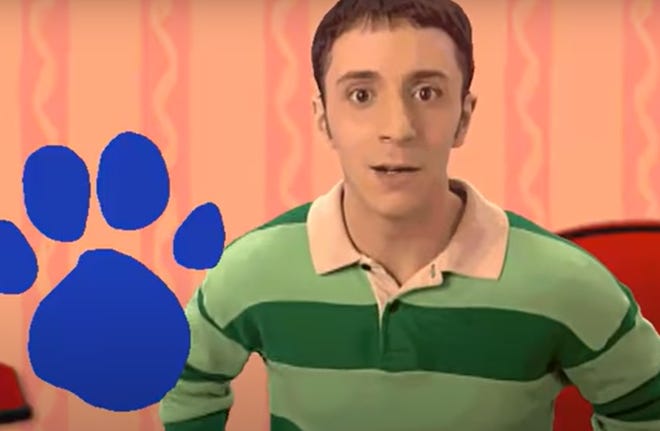 Then, one day, I wore a pair of Blue's Clues overalls to school (a pair that I had begged my parents for, by the way) a season or two too late for them to be cool. Someone made fun of those overalls (Blue's Clues was for babies), and the overalls were never worn again.
Blue's Clues was over for me.
At least, kind of.
I wasn't watching Blue's Clues anymore, but there was plenty of gossip about it at school—that Steve ended up dying or that he was forced to leave the show because he was a drug addict. These rumors were along the lines of the rumors that the guy who played Gordo in Lizzie McGuire was 30 years old (Adam Lamberg started at 17 and was nearing 20 at the end of filming) or that Mr. Rogers had a dark violent past that he kept secret for decades (he didn't).
Then, Blues Clues disappeared from my world completely. Time passed, and I grew into a person who (hopefully) isn't as susceptible to rumors about actors in children's media, and I simply forgot about my beloved childhood show.
That is, until a few weekends ago when I was browsing the schedule for Emerald City Comic Con in Seattle and came across a panel that would feature Blue's Clues' beloved host Steve Burns titled 'What happened to Steve?'. Now that was a question that I was curious about, so I made it a point to head over to the Sheraton where the panel was happening at the convention's main stage.
The man himself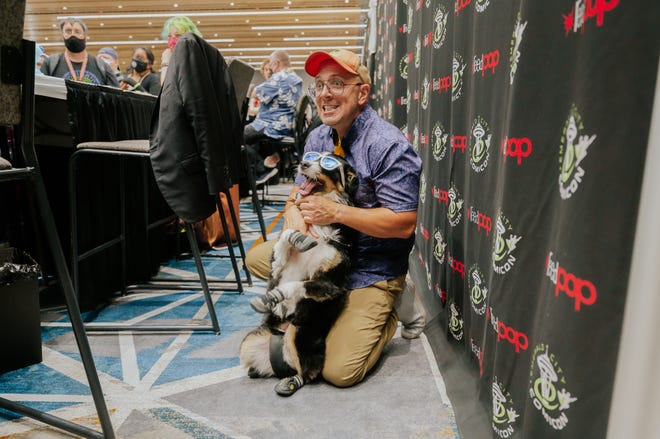 As Steve Burns took the stage, it was immediately apparent that he still had it. I had seen plenty of panels in Seattle that weekend with a rapt audience, but, perhaps unsurprisingly due to the nature of the job that we had known him from, Burns was a wonderful and direct speaker, which was highlighted by the fact that he didn't have a panel moderator and simply spoke directly to the audience.
He started the panel off by pointing out the bizarre nature of Blue's Clues, which he called "deeply weird," reminding the audience that, "I talked to soap on a regular basis. I consulted the condiments in the kitchen, whenever anything was important. I had a magical puzzle-solving felt puppy who would only communicate in riddles."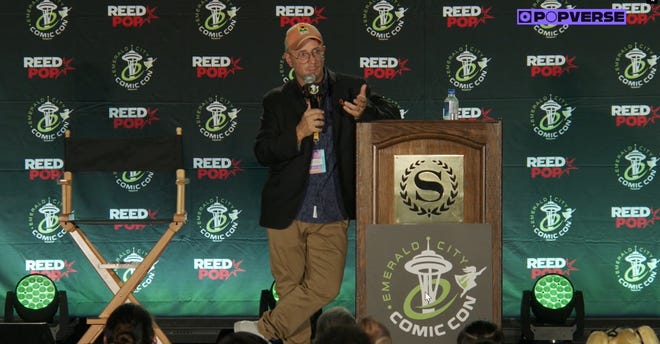 As the evening went on, Burns took a more personal turn, bringing up the ongoing rumors that he had died or that he had done something terrible and how they affected his life. He recalled his mother calling him one day in tears, fearing the worst. As the rumors refused to stop no matter how he would try to combat them, the situation started to have a heavy impact on him, as he wondered what it meant that the world seemed to like the idea of him being dead more than the idea of him being alive.
When talking about why he thought that these rumors continued to stick, Burns said that it probably had to do with people being uncomfortable with pure easy innocence—that it was easier to believe in some messed up rumor about Mr. Rogers than to believe that Mr. Rogers was truly a nice person.
So it turns out that my rejection of my Blue's Clues overalls was not done alone. It was in the cultural moment, as the world seemed to reject the innocence of Blue's Clues, and in doing so, also rejected Steve.
Those rumors weren't the only complication of Steve's time at Blue's Clues. Burns also shared that he had filmed Blue's Clues with severe undiagnosed depression. He credited the character Steve functioning as a sort of role model for him during those tough times, "Steve couldn't tell the difference between shapes and colors, but Steve was never afraid to ask for help." And it turns out that the show was also a big part of a healing moment in his life, as he got involved in the reboot as a producer and writer. And of course, there was the anniversary video that went viral in 2021. Burns shared that the response to the video "solved so many problems in my life… Now everyone knew that I wasn't dead, and you all seemed happy about it."
The impact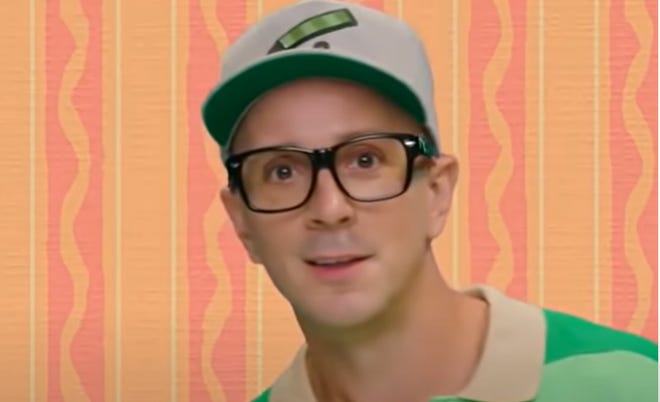 When that viral video came out last year, we were happy about it. Not just that Steve was alive, but also that he was still there, taking the time to make people feel like they had been spoken to, that they had been heard, and that they weren't alone.
When the panel opened to fan questions (most ReedPop panels tend to be mostly Q&A based), I started to notice that this Q&A was a little different from than others that I had seen before. These were deeply personal stories—about Steve being an audience member's first friend in a strange new country, about Steve being the first real connection a fan had with anyone in their life. As people continued to bring their stories to the microphone, I realized what was happening: they were sharing the details of their lives with their childhood friend Steve.
It kind of felt like magic-- not just that Steve Burns was up there and listening and engaging with each fan, but that he and Blue's Clues encouraged people to feel open enough to tell Burns (and a room full of strangers) about their lives. Because the show was, as Burns pointed out earlier in the evening, not about Steve or about that little dog Blue, but about the audience. About you. That pause in that old kid's show that showed that Steve was listening after he asked you a question clearly had an impact. Though it hadn't seemed radical to me at the time, it made a difference that Steve was always there to listen (and on special occasions, even listen in person) without irony and without judgment, just with open friendship.
---
Become a Popverse member to watch the entire 'What Happened to Steve?' panel at Emerald City Comic Con.