Body count(down): 10 of the horniest horror movies
Ten flicks that'll make you thirsty... for blood!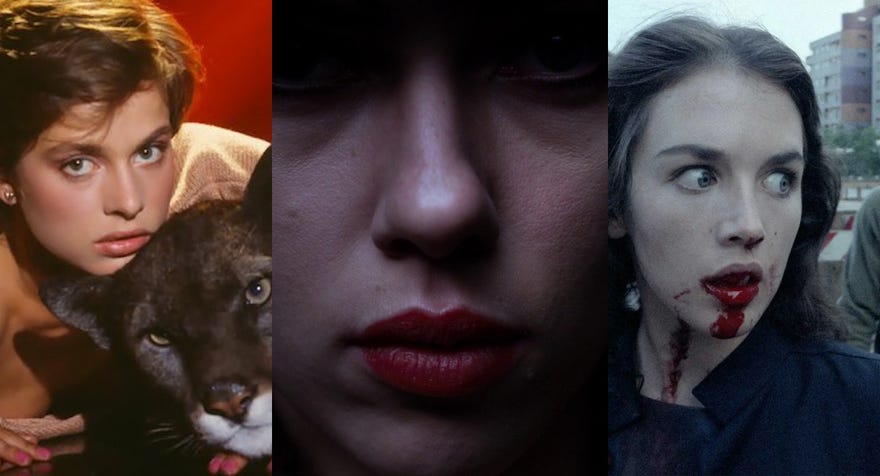 Warning: As might be expected for a list of horny horror movies, this post contains language that some might consider offensive.
Despite our best efforts, there has been a call in recent years for movies to be less horny. Gone are the days of full-frontal for the sake of setting a scene; we weep for the halcyon years of a character feeling fully-formed because damn that actor really does convince you that he's about to break her back out of love and desire. Instead we've been left in a cinematic world that is less full of fluids, less full of butts (unless it's for the laughs, of course), and everyone is beautiful and no one is horny. But while much of the film landscape remains dry and flaccid, we have always been able to count on the horror genre to make sure we're scared out of our pants and into the sheets.
That's not to say there haven't been been horror movies willing to get horny on main(steam): It Follows and Jennifer's Body, to name just two. Let's assume you've already seen those two movies, and are looking for something a little less obvious to follow Hellraiser on your weekend viewing list. Here are 10 horny horror movies that you should watch after dark.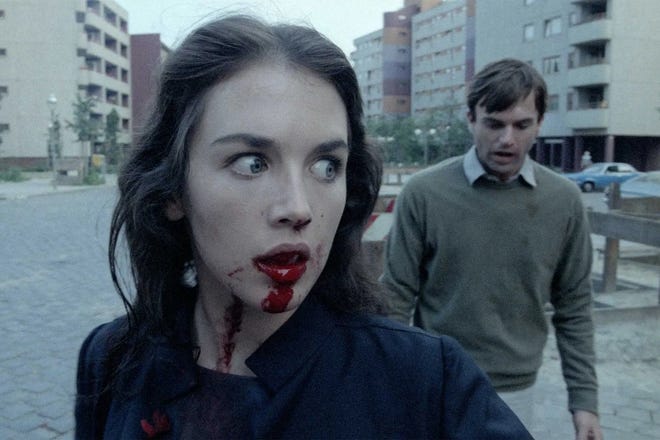 Somewhere between thrilling discomfort, eroticism, and that feeling you get in your stomach after eating a bad kebab, there is Possession. Isabella Andjani does the absolute most, delivering a jaw-droppingly effective performance as Anna, a neurotic wife and mother whose crumbling mental state and, you know, pretty graphic tentacle sex with an alien begin to weigh on the lives of her and her equally neurotic husband Mark (played by a dashingly pre-Jurassic Park Sam Neill). With director Andrzej Żuławski using the political backdrop of East Berlin as a stage for this tale of adultery, a harrowingly powerful fluid-centric scene with Anna in a subway station, and lines like "He's very tired. He made love to me all night" being said about a doppelgang-bangin' creature, you'll have a fun time trying to figure out if you're squirming in your seat because you're uncomfortable or uncomfortable.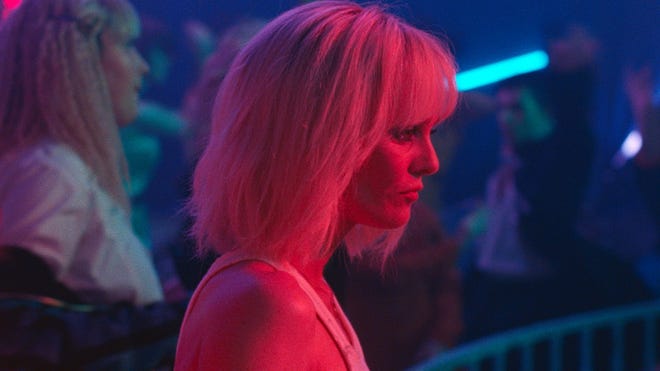 There have begun to be a string of murders in the gay porn industry in France — no, wait! — and the person committing these crimes is sporting some seriously great leather fetish gear. Bear with me. They are also killing these sweet twinks and twunks… with a dildo that has a switchblade attached to it. But with all jokes aside about the premise boiled down to a rather X-rated episode of Scooby Doo, Knife + Heart plants itself firmly as a beautifully-shot piece of queer horror. Centered around porn director Anne Pares (Vanessa Paradis) as she watches her male talent become further and further preyed upon, the line must be drawn between violently beautiful art imitating an even more violent life before it's too late. A must-see of modern day giallo filmmaking on behalf of director Yann Gonzalez, Knife + Heart's velvet aesthetics and silky scenes should need no other convincing.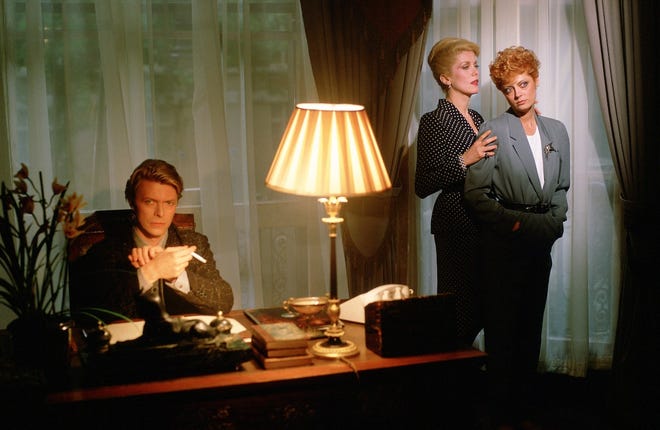 Stand aside, Lost Boys! Shove off, Interview with a Vampire! It's time for the real horny vampire movie to show you how it's done. Director Tony Scott takes on the subject of Whitley Strieber's vampire novel by making what is — in the very correct and immortal words of Roger Ebert — a very bad but visually striking vampire movie circle around extremely effective sex scenes. With leads including none other than the sultry Catherine Deneuve and — oh, that's right — David fucking Bowie, the centuries-old vampire lovers have taken it upon themselves to groom the equally sultry Susan Sarandon, a doctor who may hold the key to eternal youth missing from the gift of a vampire's eternal life if she doesn't get sucked into their…well, sucking. With a bizarre premise, stunning visuals and even more stunning cast, you just can't go wrong. (Look, all I'm saying is that you don't just watch Bauhaus' Peter Murphy in his prime writhing against a cage and signing "Bela Lugosi's Dead" as this film's intro without coming away changed forever and perhaps a bit damp.)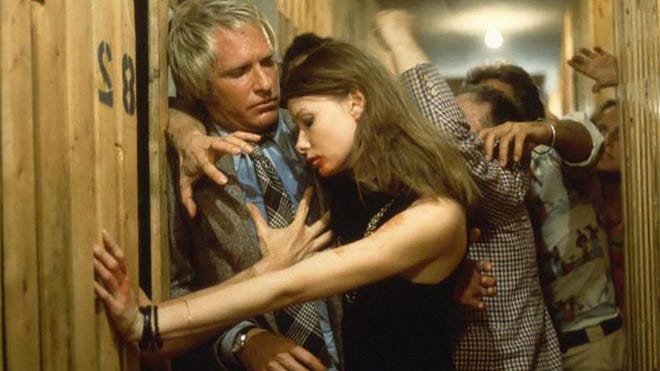 Has anyone ever been as good at horny horror as director David Cronenberg, even in his early early days? I think not, which is exactly why Shivers is pretty high up there on the must-see lust list every Halloween season. The residents of a swanky and sleek new suburban high-rise apartment complex have begun to get infected by a very special kind of self-replicating parasite that turns said residents into mindless sex-hungry monsters. How does the parasite spread, you ask? Oh, just through the very slightest of sexual contact of course. Much like the rest of Cronenberg's later oeuvre, including The Fly, Videodrome, and most recently Crimes of the Future, Shivers is remarkably evergreen with its delightfully exploitative social commentary on bourgeois respectability, while never compromising on its stomach-churning physical horror. Between the leech-like phallic parasites themselves and the blurred lines between sex and violence, you're going to come away from Shivers wanting a smoke and a nice hot shower.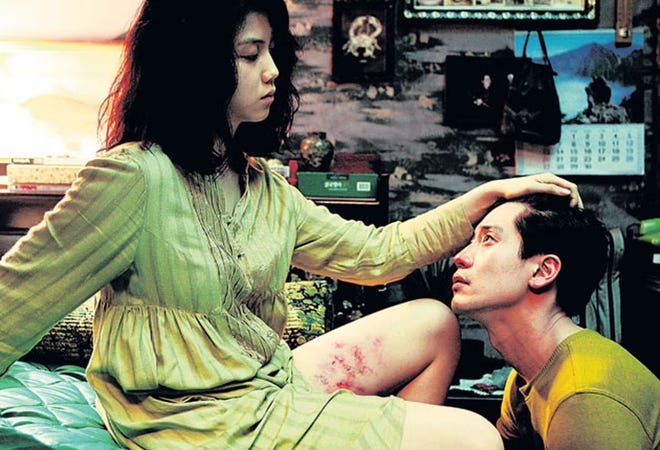 It is a well known fact that Korean cinema is some of the best when it comes to grotesque and compelling horror, and this proves even more so with Park Chan-Wook's 2009 erotic horror adaptation Thirst. Loosely based on the 1867 serialized novel Thérèse Raquin by Émile Zola, Thirst tells the story of Christian priest Sang-hyun volunteering to be infected by a new virus for research, only to find himself ravenous for sex and blood, as ya do. And sure; between an increasingly emotional affair and visiting a hospital for more sanguine treats, Sang-hyun has it all handled, but what happens when a priest begins to lose his morality? The answer builds to a fantastically gory flourish of an ending, but not before you get some of the most delightfully vile sound design for toe sucking and armpit licking to ever exist. "But all vampire films are the same," you cry? Oh, you sweet summer child…!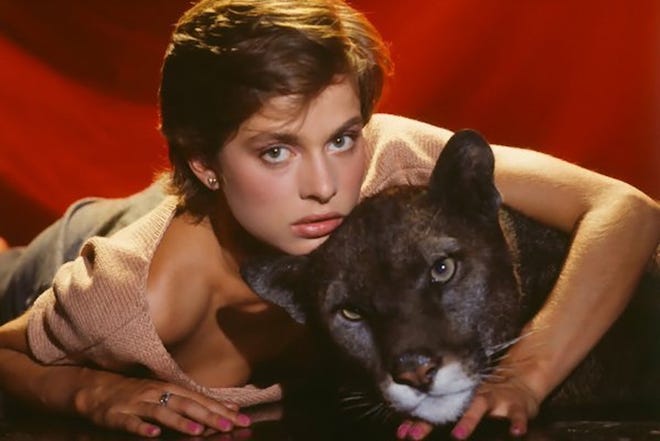 There's a reason why feline qualities are considered fluidly sexual, and that reason rests solely on the svelt shoulders of Nastassia Kinski, whose role alongside Malcolm "Could Still Get It" McDowell is nothing short of the horniest of doomsday prophecies carried out by one of the genre's favorite tropes: female desire. As Kinski's character becomes more fascinated with the new leopard at the local zoo and the zookeeper becomes more interested in her, as well as an odd new reconnection with her estranged brother (McDowell), it becomes clear that becoming carnal is more than just a phrase when the bloodline of their family becomes aroused. Maybe it's that the film feels like a incestuous fantasy from someone who thought cocaine was a necessary vitamin. Maybe it's the believability that Kinski has fuck-panther lineage. Either way, director Paul Schrader (Taxi Driver) is here to make sure you're going to tuck the memory of Kinksi tied to a bed under your pillow tonight when it comes to this unhinged pseudo-remake of a 1940s classic.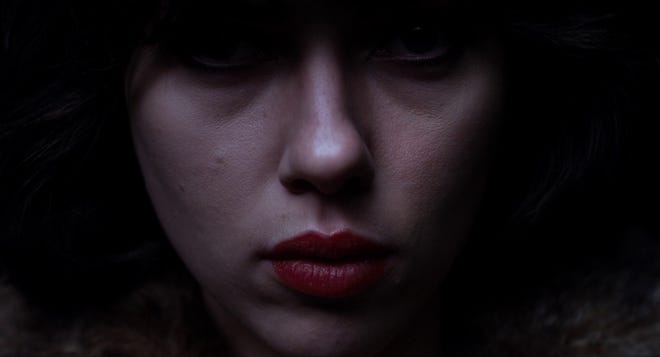 Taking a more clinical approach to sexuality and eroticism, Scarlett Johansson stars in one of her more subversive roles (in between Avengers films, no less!) as a sultry and soft-spoken alien life form who lures bricked-up men to her lair and devours them through quiet, unnerving desire and a sleek pool of otherworldly darkness (wink wink). With a sparse script, coolly calculated visuals, and some genuinely uncomfortable and horrific moments, the sexual energy of Under the Skin is a departure from the usual heat found in the horror genre, but despite the inhuman, base animal-instinct premise of the film, Under the Skin is a great example of how Scottish men will absolutely bang you as long as you just sort of put the offer on the table.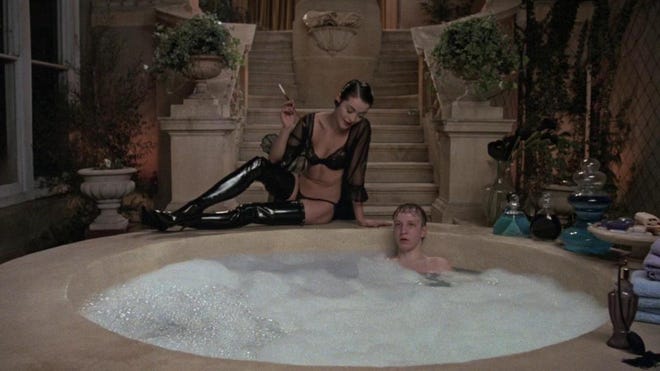 "Hey Chloe," you say, "I would like both Four Weddings and the Funeral and my relationship with Doctor Who completely sullied while still nourishing my relationship with my vinyl fetish. You got anything for me?" I turn to you with a twinkle in my eye and shout "HAVE YOU EVER HEARD OF OUR LORD AND SAVIOR KEN RUSSELL" before explaining the plot of Lair of the White Worm. With a cast of some of Britain's heavy-hitters including Hugh Grant, Peter Capaldi, and the saucy "Antmusic" video star Amanda Donohoe, the story is one that… frankly doesn't really matter. At the end of the day, this horror comedy manages to fit Twin Peaks-esque sequences, pagan worship, vampires, Romans, phallic symbols, a creative strap-on, and Peter Capaldi playing the bagpipes into a tight 90 minute movie. You're welcome.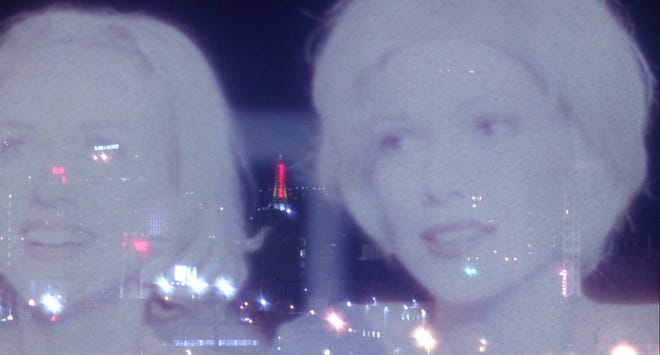 I don't think that I could, in good conscience, make this list without including a film by David Lynch who is undeniably the king of discomfort and deviant sexual energy masquerading as apple pie and all-American wholesomeness. A car crash victim tries to piece together her fragmented memories with the help of an aspiring Hollywood actress, played by the duo of Naomi Watts and former Miss USA winner Laura Harring. You are 100% going to be YouTubing explainer videos for this after you watch it, but only after you recover from the bizarre sexual tension that builds to near explosion before getting t-boned by some jump scares with scary old people and a heaping spoonful of existentialism. Either way, you're coming out turned on, confused, and perhaps dissociating in a pool of your own shame is what horror is all about anyway.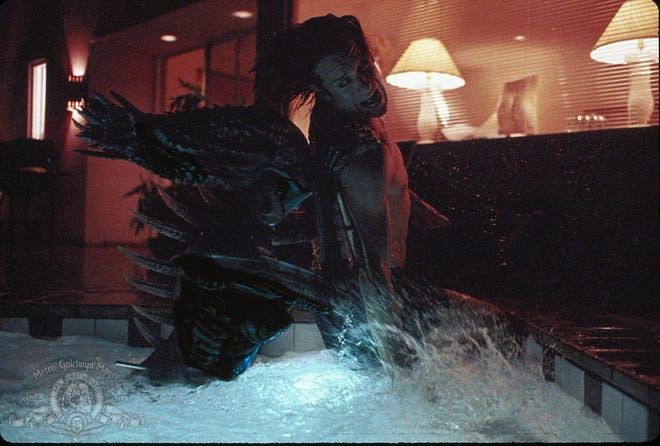 If you're firmly on the hill that sex scenes should only exist to move the plot forward, then good news! The entire plot of Roger Donaldson's Species is about an alien who is going to get railed across the galaxy in order to perpetuate her inhuman government-sponsored race! Granted, the sex scenes in Species really do come down to being far more scary than they are hot — unless you're into the idea of "deadlier than the male" praying mantis behavior; I'm not here to judge — but there's a strange eroticism that follows throughout the movie that just can't be ignored. Plus, with creature designs by none other than the Alien franchise's master of inhuman sex H.R. Geiger, you know you're getting your bang for your buck.
---
Maybe you're just looking for some horror that is not so horny — in which case, enjoy this list of Netflix's best horror movies streaming right now.