Gideon Falls' Jeff Lemire and Andrea Sorrentino return to the Bone Orchard for new series, Tenement
The 10-issue horror series will launch from Image Comics this June
This summer, it'll be time to return to the Bone Orchard… and discover a building that holds more secrets than anyone might imagine. Popverse has an exclusive preview of the next big horror series from creators Jeff Lemire and Andrea Sorrentino.
Beginning this June, Image Comics will release Bone Orchard: Tenement, a new miniseries by Lemire and Sorrentino telling the story of the seven residents in the titular building that find themselves brought together by a death that raises a number of questions.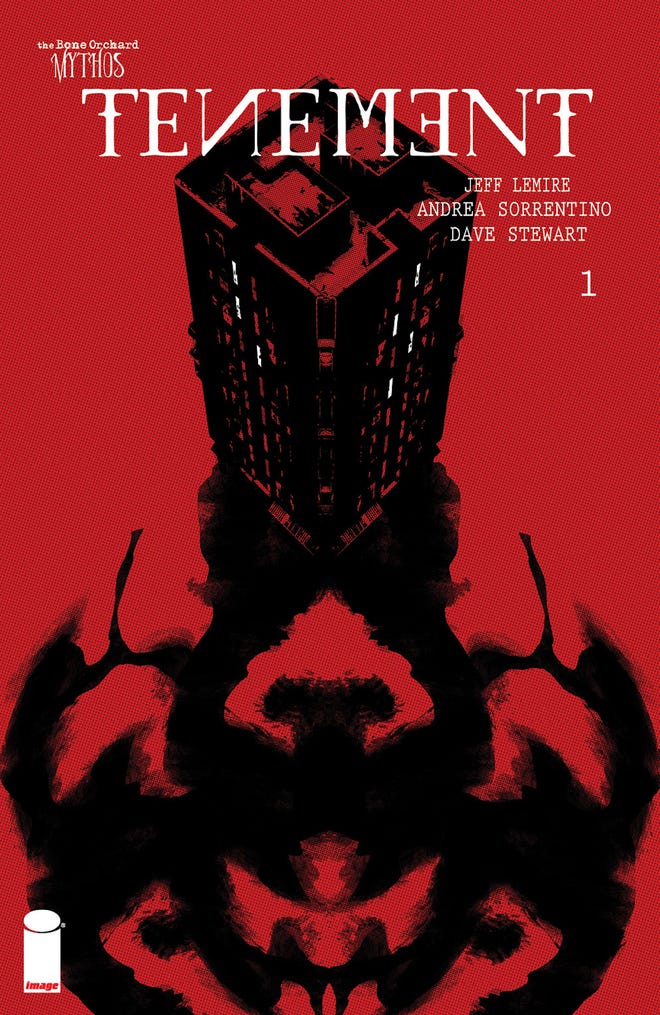 Tenement is the latest, and longest, installment of Lemire and Sorrentino's Bone Orchard Mythos series, which launched with 2022's Free Comic Book Day release, The Bone Orchard Mythos Prelude. Since then, the two creators— alongside colorist Dave Stewart, who's been an integral member of the team from the beginning — have released Bone Orchard: The Passageway, an original graphic novel, as well as the five-issue miniseries Bone Orchard: Ten Thousand Black Feathers.
"Tenement is the first book I started developing in the early days of planning The Bone Orchard Mythos with Andrea Sorrentino," Lemire told Popverse via email. "In many ways it will be the centrepiece of our new horror universe up to this point; it will be our longest story so far and, like Gideon Falls, this new series will follow an ensemble of characters and the readers will really be able to spend time with them and invest in their stories. This will also be a book that starts to connect all the threads of our previous Bone Orchard books and begins to reveal the larger mythology we have been building. Andrea's work on this one is even more mind-blowing than usual (If that's possible)."
"Tenement has it all, honestly," Sorrentino added. "It's at the same time a tense dark thriller, a deep dive into the Bone Orchard Mythos (the deepest we've got till now) and a long awaited first connection to the many threads we showed till now in the previous Bone Orchard entries, showing things Jeff and I are eager to show to readers since day one of this project. Everything is told through the stories of seven characters—which will all be equally important tales—and penned by Jeff with his trademark care for the human side. Are you wondering what the Bone Orchard is supposed to be...? Tenement has the answer."
The ten-issue Tenement will launch June 21 with an extra-length first issue running 40 pages, featuring variant covers from Sorrentino himself, as well as Christian Ward and Martin Simmonds. Check out a preview of the debut below.
---
The Bone Orchard Mythos is far from the only horror title at Image; the company is also the home to James Tynion IV's W0rldtr33 series.