Image Comics to debut James Tynion IV's new ongoing horror comic in the 30th anniversary Image! anthology
Writer James Tynion IV has big plans for 2023, and they're getting started early with a sneak peek at his next series in November's Image! anthology
Whether it's projects like The Sandman: Nightmare Country or Batman, or his creator-owned work like Something is Killing the Children, The Department of Truth, or The Nice House on the Lake, writer James Tynion IV has been been the source of all manner of high profile comics tapping into the zeitgeist in a major way over the past few years. Next month, fans have the chance to get a sneak peek at what's next: something called W0rldtr33.
The title is drawn from the name given to the "Undernet" — a private message board created in the early days of the internet by a group of friends that has grown beyond its inventors' wildest dreams… or, perhaps, nightmares. Created alongside Fernando Blanco, Jordie Bellaire, and Aditya Bidikar, W0rdltr33 will make its debut in the eighth issue of Image Comics' Image! 30th anniversary anthology series, out November 23.
Writing in his Empire of the Tiny Onion newsletter, this morning Tynion explained, "W0rldtr33 is a Sci-Fi/Horror Comic. Spiritually, it's the successor to one of my earliest creator-owned books, Memetic. Tonally, it's probably closest to [The Nice House on the Lake], but with a bit more blood and action. It's a horror story about technology, and it has been in my head for about five years, and I am so fucking excited that it's finally going to start coming out in stores. I keep thinking of it as my big horror novel. It's a big story, a sprawling ongoing epic that if we do our jobs right, will run for several years, building toward a singular ending. It's my first ongoing, creator-owned horror comic launch since Nice House on the Lake last summer."
The series will launch in its own title next Spring, according to Image Comics.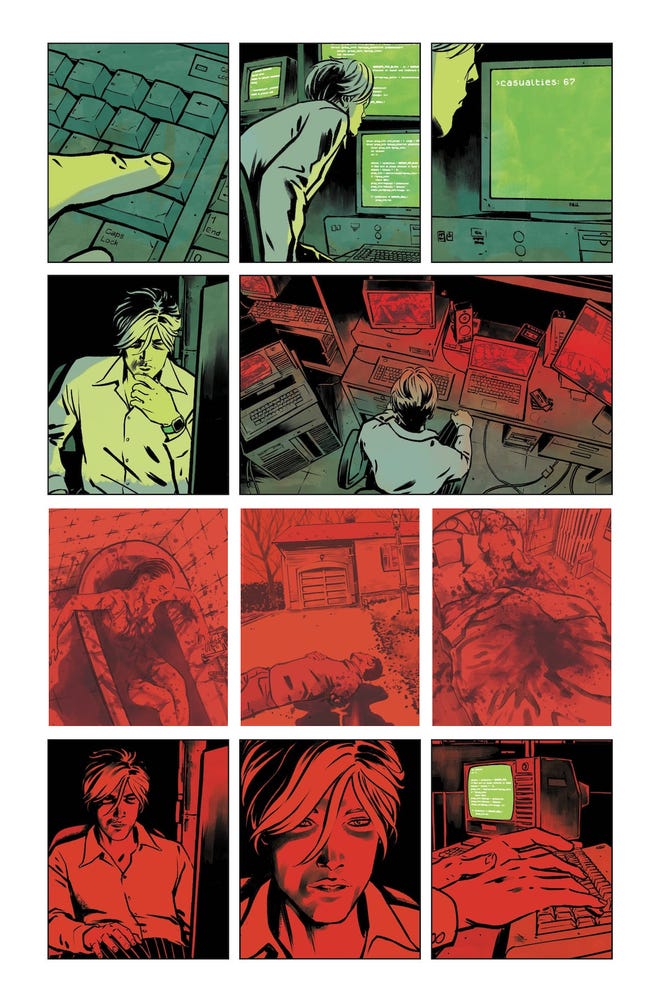 Also in Tyrion's newsletter today was a tease for further news from the writer this week, including an announcement tomorrow for a project launching Wednesday ("We have been working on this bad boy for most of the last year," he wrote), followed by a third announcement next month. "I am unbelievably excited to share what I've been working on with you all," Tynion teased.
---
At San Diego Comic Con earlier this year, Tynion shared his plan for the Something is Killing the Children series; go read just how well he's planned everything out.