Inside the 75-issue plan for Something is Killing the Children with James Tynion IV and BOOM! Studios
A Something is Killing the Children panel at SDCC '22
As a child we feared the monsters under our beds, but what if it turned out they were all over the world? Something is Killing the Children is an ongoing comic series from James Tynion IV and Werther Dell'Edera which dives into the world of monsters and the people who hunt them. Published by BOOM! Studios, the series is part of the Slaughterverse, a shared continuity of comics published by Tynion. Hours before sweeping the Eisner Awards at San Diego Comic-Con, Tynion participated in a panel where he teased the future of the Slaughterverse family of titles.
BOOM! Studios' vice president of business development Hunter Gorinson began the panel by noting that this was the first San Diego Comic-Con in three years before inviting the audience to demonstrate the level of their energy. This resulted in the room erupting into cheers. James Tynion IV was then introduced, and Gorinson took great pleasure in telling the audience that Tynion was up for five Eisners Awards that night, including one for Something is Killing the Children. Executive editor Eric Harburn was then introduced.
What is Something is Killing the Children?
Gorinson began the discussion by asking Tynion about the title. "It's not exactly a road trip comedy with a title like that. James, what is it that fascinates you about horror," Gorinson asked.
"Horror has always been my favorite genre. Horror stories are how you can speak to the biggest social stresses and personal stresses in the world. You can do it in a way that's big and exciting and also cuts to the heart," Tynion answered.
He then continued by contrasting the mechanics of writing horror with the rules of writing superhero comics. "In superhero stories there is a limit to the bad things that can happen to your characters but in horror the safety guardrails are off."
Tynion then spoke about the genesis of the series and how the title had predated the concept. "I had the title before I had anything else. I used it as the title for a short story in college. The story was garbage but the title was good," Tynion recalled.
Gorinson asked Tynion and Harburn how they would pitch the series to any potential readers. "Something is Killing the Children is a story about a monster hunter called Erica Slaughter. She is a member of an order of monster hunters that goes out in the world and does this. This is a story set in a world where monsters exist. Children can see them, but adults can't. This mysterious order through their special techniques have a way of seeing the monsters and fighting the monsters, and also make sure the world never finds out these monsters exist. They try to keep it a secret more than they try to protect children, and that was always put Erica at edge with the organization she is a part of," Tynion said. Harburn sang the praises of the series, particularly Tynion's writing.
"What I fell in love with in that first script was the pace. The voice that he has taken on for this project in particular was so different from anything else we have done. It lives in the small moments. Some might call it slow-paced, but it lives with the characters. More than anything, the book is about how death and trauma effects anyone."
How successful is Something is Killing the Children?
Gorinson then shared some interesting figures about the success of the Slaughterverse.
"Depending on the way you count, House of Slaughter was the number one best-selling comic of last year. It sold 400,000 plus copies. Something is Killing the Children volume 1 was the number two best-selling trade last year," Gorinson revealed. Upon hearing this, the audience erupted into applause.
"I knew we had hit a vein. The moment that I knew we had hit this vein was when I first saw Werther's design for Erica Slaughter," Tynion said, referring to his collaborator Werther Dell'Edera. A slide was then projected showing some of Dell'Edera's early concept art for Erica. Tynion revealed that Dell'Edera was the one who had come up with Erica's iconic bandana. "The moment I saw Erica in the bandana there, I knew we had a core character there."
The monster hunter's bandanas have become a big part of the Slaughterverse, Gorinson revealed that this led to some unique merchandise opportunities. "We put out the first black bandana in comic book stores a few weeks ago. They sold phenomenally well. It's so rare for an independent comic to be able to do merchandise in comic shops. We're so pleased by the response to it, so BOOM! is now going to produce the rest of the masks," Gorinson revealed. If the applause is any indication, the bandanas will probably be a big-seller.
Praise for Werther Dell'Edera
The panel continued speaking about Dell'Edera's artwork, and what it brings to the series. "We'd be remiss if we didn't mention your co-creator on this series. Werther Dell'Edera, who is phenomenally talented. He came out swinging from issue one of this book and has only gotten more amazing with each subsequent issue," Gorinson said.
Tynion revealed that a simple image of a gas station had first brought him and Dell'Edera together. "Eric was the one who put a handful of artists in front of me. The image that stood out to me was an image of a country gas station. I could see he could do all the action stills, but the setting work is so important. I knew that capturing the feel of Northwoods, Wisconsin and potentially beyond Northwoods was so important to me."
"James puts a lot of double-page spreads in his scripts, but the way Werther lays them out on the page is very unusual in American comics, and it's become this real impressive visual motif. It just makes the book all the more stunning," Harburn adds.
The future of Something is Killing the Children
The panel then shifted gears to tease Something is Killing the Children #25. "We're coming up on a big moment for the book. Something is Killing the Children #27 is in stores July 27.
"We have a few copies here early at the Boom booth, but a majority of you guys are going to pick it up next week when it's on sale. We can't even show the full cover because it's full of too many spoilers. So I'm not sure how much we can say. I read it this morning for the first time. I believe the technical term is that it's a banger," Gorinson teased.
"This is the real turning point. I sort of view each of these 15-issue sequences as novels, and this is the turning point in the novel. We've been seeing this character from the UK named Cutter making her way into America, and now we are going to really see what she's capable of and why Erica should be scared out of her mind," Tynion says. Tynion said that issue 25 will set the stage for the next 10 issues of the series, and began talking about his inspiration for creating Cutter. "Erica is our wolverine, we need our Sabertooth."
Tynion went on to call Cutter one of the scariest characters he's ever written.
"Issue 25 is a big turning point for the series, but we're happy to say that it won't be too long a wait until SIKTC comes back. The book will be coming back with an all new arc beginning in November with issue 26," Gorinson said. Some art was displayed onscreen, followed by Tynion talking about the trajectory of the series. "When I started laying out the framework for this arc, I started seeing the larger framework of the series in general. I wrote out a very rough outline that took me to issue 75 and that's my target," Tynion said.
"One of the cliches in comics is that no one is safe. I think it's actually true in SIKTC. Is it a personal toll in writing this book to have bad things happen all the time," Gorinson asked Tynion. "Oh yeah. I cried writing a scene in issue 25. And then I sent it to Werther who also cried, and that's all I'm going to say on that," Tynion replied.
The panel began talking about House of Slaughter, which can be considered a sister series to Something is Killing the Children. "A series of mini-series is a really good way of thinking about it. Each core arc takes us down a couple of paths in fleshing out the world of Something is Killing the Children," Tynion said.
Gorinson spoke about Slaughter Pack, which reprints back issues of Something is Killing the Children with new variant covers from high profile artists like David Mack. Gorinson then turned the focus on to the future of House of Slaughter. "After the current Scarlet arc wraps up in October, the book will be coming back in early 2023 and returning to a very familiar vein of storytelling," Gorinson shared. "We are bringing us down to New Orleans, and we are actually going to see the Butcher shop and the cast of characters that live within the rival house to the House of Slaughter," Tynion said.
Wynd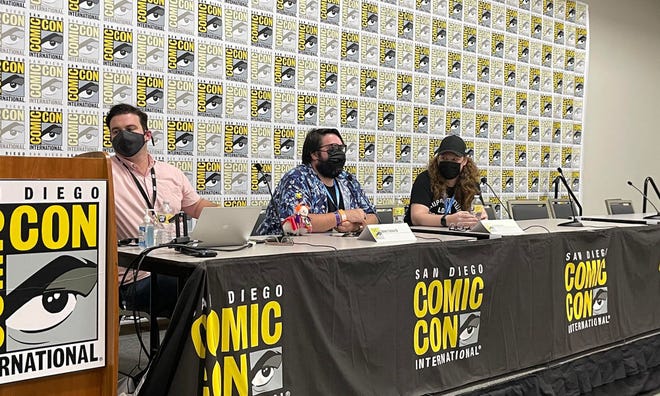 Tynion gave some news about his fantasy series Wynd, which promises to have a big moment in August. "Wynd is coming back next month with a new number one, which is effectively the start of book three," Tynion revealed. The creator told the audience that he had begun developing Wynd during his childhood to distract himself in school. "This is the fantasy world I use to jot down notes about when I should have been paying attention in class."
Tynion went on to explain the premise of the title for those who weren't familiar. "This is a story that's set in a world where magic is infectious. If you go out into the woods and something magical touches you, it can change your body and twist you into something you wouldn't recognize in the mirror."
Although there are no formal plans beyond the upcoming arc, Tynion has ideas. "There will be more Wynd after this story arc," Tynion promised. He then noted that Wynd artist Michael Dialynas was also at SDCC, and the two would be meeting up by the pool later. Tynion coyly teased that future Wynd stories would probably be discussed at this rendezvous.
Book of Slaughter
Gorinson announced a new title called Book of Slaughter, which will be written by Tynion with Dell'Edera on pencils. "This is something that is going to set the stage for both the Something is Killing the Children title and the House of Slaughter title moving forward in big ways," Tynion said. He then shared that it will reveal more about the bandanas the monster hunters wear, and what they each represent.
The panel began taking audience questions, with Gorinson giving out monster hunter bandanas to those at the microphone. One fan asked about the possibility of an RPG set in the Slaugherverse. "It's very funny you ask that, there may have been conversations brewing on that front. Stay tuned," Tynion said. After a few more fan questions the panel concluded, and the audience left with renewed excitement for the future of the Slaughterverse.
---
To follow along with Popverse's coverage throughout San Diego Comic Con, check out our SDCC 2022 round-up.