Popverse Star Wars Celebration 2022 Coverage Roundup
A roundup of all our coverage straight from Anaheim Convention Center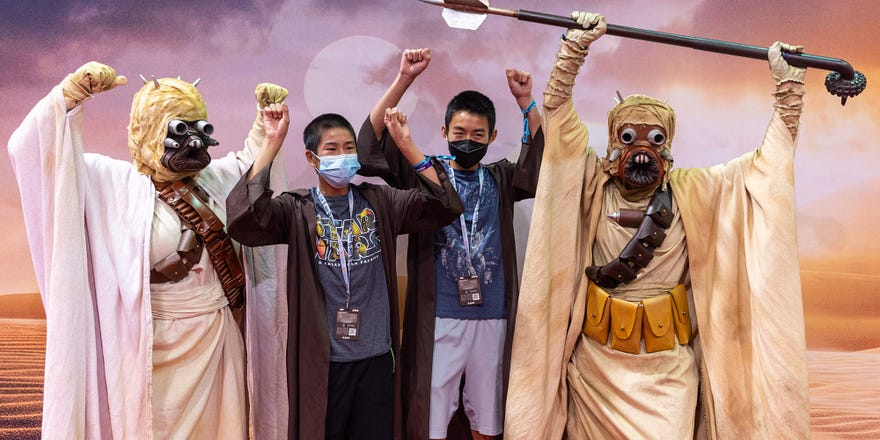 Popverse is so excited to be covering our very first Star Wars Celebration 2022 at the Anaheim Convention Center in southern California. As each piece of coverage (and juicy tidbit) goes up on the site, we'll collect the links below (separated by each day of the convention).
What do we expect to be announced? Well, given Obi-Wan Kenobi debuts on May 27 (day 2 of Star Wars Celebration 2022!), we expect some last-minute surprises out of that since some fo the cast is here (Hello there, Ewan McGregor!). In addition to that, we can't help but hope to see some footage from the next two live-action Star Wars shows - Ahsoka and Andor. There's also been some reports that a major new Star Wars game will be announced here, which... yes, please.
So if you want to follow along with Popverse's coverage from the convention floor, keep an eye on this space!
Speaking of the convention floor, here is a walkthrough - a speed walkthrough - of the Star Wars Celebration 2022 convention floor.
And here is a look at much of the amazing, exclusive Star Wars Celebration 2022 merchandise.
Thursday - May 26
Friday - May 27
Saturday - May 28
Yoda, this is your life! Marvel working on Star Wars limited series chronicling his life from High Republic era to his last days
Sunday - May 29
---
If all this Star Wars excitement has gotten you raring to do a big rewatch, check out Popverse's guide on how to watch all the Star Wars shows and movies in chronological order.