Replicas, mash-ups and more: Upcoming Star Wars collectibles from here at Celebration
Star Wars collectibles from Sideshow Collectibles, EFX Collectibles, Kotobukiya, Diamond Select Toys, Bandai, and Regal Robot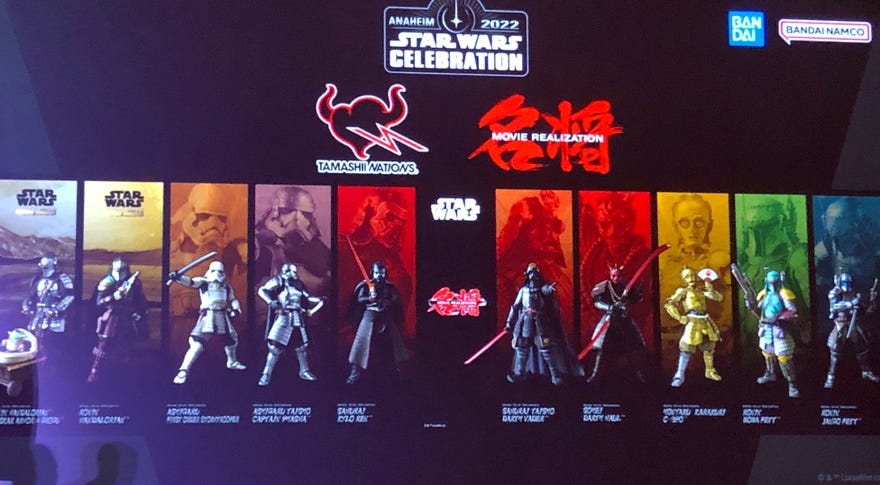 Collectibles are a fun way for people to connect with their favorite fandoms. Star Wars is no stranger for high end merchandise, and at Star Wars Celebration, we received an update on the upcoming licensed products coming from a variety of companies. Included was your fair share of figures and statues, but there were some other interesting items including replicas. Below is an overview of what was announced.
Sideshow Collectibles at Star Wars Celebration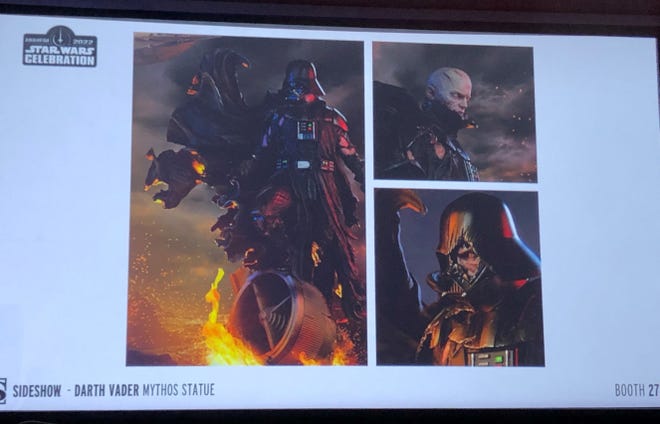 Sideshow Collectibes focused on Darth Vader. They revealed a Darth Vader premium format figure along with a Darth Vader: The Chosen One fine art print. The biggest eye catcher was the Darth Vader Mythos statue. It has the Sith lord atop the flaming wreckage of a Rebel X-Wing.
EFX Collectibles at Star Wars Celebration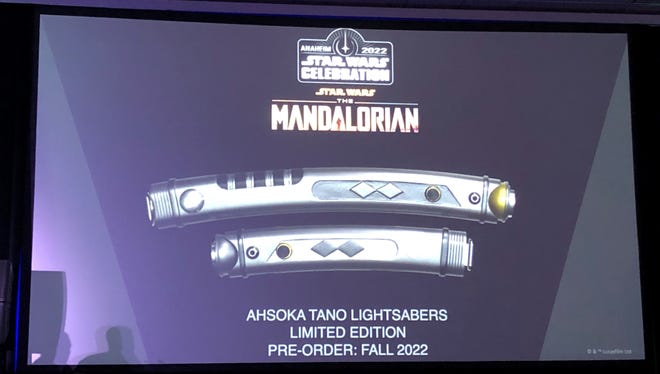 EFX Collectibles is known for their higher end, detailed, and accurate replicas. Arriving this June are a The Mandalorian (Season 1) precision crafted replica helmet and a Luke Skywalker lightsaber. Later this summer The Armorer Helmet will come out. This fall, fans can expect Ahsoka Tano lightsabers. Though the Luke and Ahsoka lightsabers have appeared on screen before, these versions are the ones from Season 2.
---
Kotobukiya at Star Wars Celebration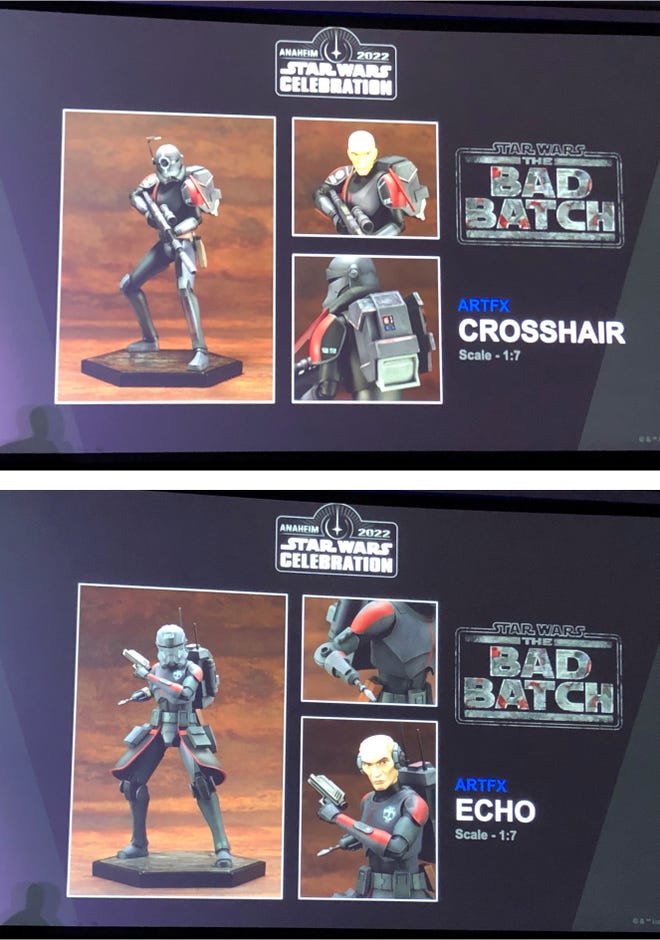 Kotobukiya has a new Boba Fett ArtFX+ statue from his Disney+ series on its way. Though there were no accompanying images, the collectible company announced they are developing products on the characters Cad Bane & Todo, Black Krrsantan, and Obi-Wan Kenobi to coincide with the new Disney+ series. The Bad Batch lovers can finally complete their collection the when they revealed Crosshair and Echo ArtFX statues.
---
Diamond Select Toys at Star Wars Celebration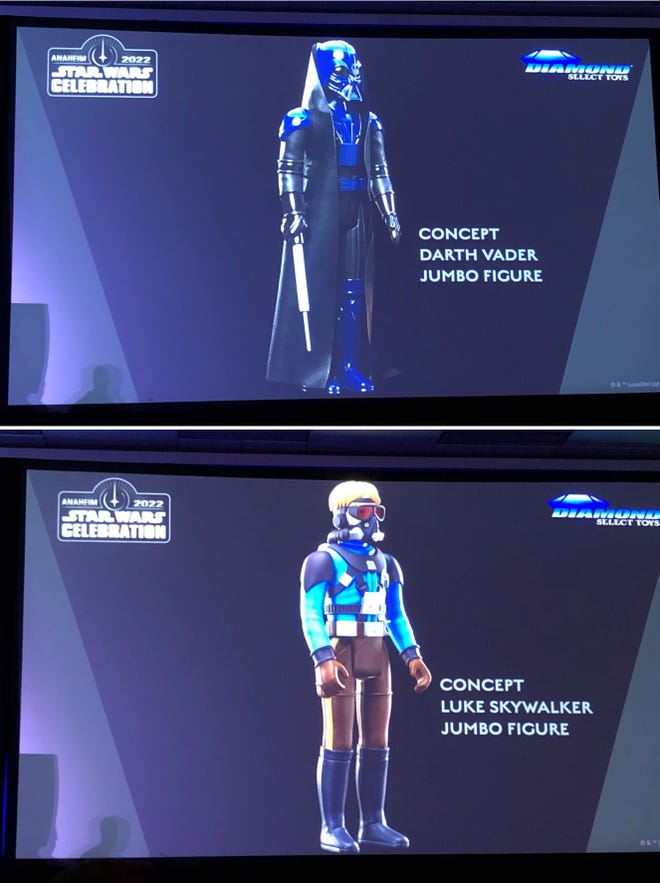 Diamond Select Toys has a pair of 1/6 scale mini-busts featuring Cobb Vanth from The Mandalorian and Ahsoka Tano from Rebels. They also have a 1/7 scale statue of Return of the Jedi Leia in Boussh disguise. She comes with an extra head, and a thermal detonator can be placed in her hand. Then from Clone Wars are separate Ahsoka Tano and Darth Maul Milestones 1/6 scale statues. They can be placed on their own or posed dueling against each other. For something more retro are the Gentle Giant Ltd. Darth Vader and Luke Skywalker jumbo figures based off of the concept art from Ralph McQuarrie. They have the feel of the classic Kenner figures, but larger.
---
Bandai at Star Wars Celebration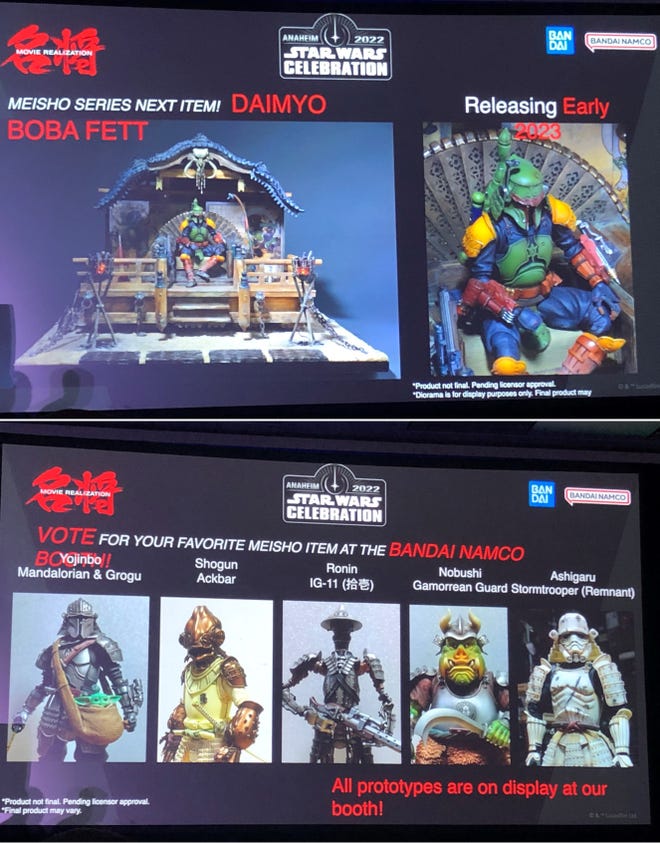 Bandai has a 1/12 scale Boba Fett and 1/4 scale Grogu from The Mandalorian. Both come with a series of accessories. There is even more Boba Fett with the Japanese themed Daimyo Boba Fett from the Meisho Series. He is in an awesome display but unfortunately the diorama doesn't come with him. Bandai is currently running a contest where you can vote on their next Meisho item. The options include Yojimbo Mandalorian & Grogu, Shogun Ackbar, Ronin IG-11, Nobushi Gamorrean Guard, and Ashigaru Stormtrooper (Remnant).
---
Regal Robot at Star Wars Celebration
Regal Robot is the new kid on the block compared to the other companies. For fans of the Sand People, they will have prop replicas of different Gaderffii sticks and a 1:1 Tusken Raider bust. They also show their playful side with décor items from the 'Separation Collection.' It is composed of magnets based off of the limbs severed by lightsabers. Most interesting is their Maquette replicas based off of original concepts. Bib Fortuna and the Weequay look different to their eventual looks.
Keep track of everything with Popverse's Star Wars Celebration 2022 news roundup.