Star Wars: Obi-Wan Kenobi episodes 1 and 2 full of some repetition, some surprise, and an exciting new villain
Fans at Star Wars Celebration were treated to an early screening of the first two episodes of Obi-Wan Kenobi. Here's our review.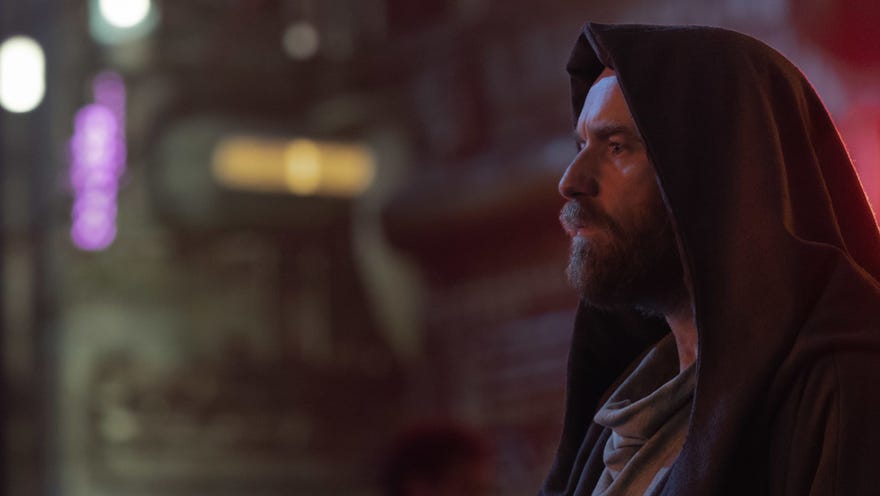 During the Star Wars Celebration 2022's Lucasfilm Showcase panel, Ewan McGregor announced that the first two episodes of Disney+'s Obi-Wan Kenobi would be screened at Star Wars Celebration Thursday night.
Popverse was lucky enough to be in the room for this super special screening. Here's our review below.
---
In the first two episodes of Disney+'s Obi-Wan Kenobi, Ewan McGregor brings a slightly more planet-weary Obi-Wan to the screen, portraying a sort of retired adventurer who has lived through his share of betrayal and heartbreak.
Kenobi is hiding out on Tatooine, trying to forget (and trying to get everyone else to forget) that the Jedi ever existed. The existence he lives is repetitive— perhaps too repetitive, as it more than recalls Luke and Rey's lives at the beginning of their journeys. In fact, there were a few moments when the show didn't seem to realize that the audience knew the beats of Star Wars. There were a couple scenes too often retread (how many 'Obi-Wan rides a camel-creature through the desert scenes' did we really need?), but at other moments, the pacing of the episodes really worked, taking a quick left turn against audience expectation, creating genuine moments of surprise.
The show really picked up its pace in its second episode, when Obi-Wan finally leaves the planet on a mission and steps into a new world, one that has different types of dangers than the ones he's grown used to.
The design quality of the show seemed to shift moment to moment. Some of the creatures were convincing, others were not (the camel-type creature that Obi-Wan rode didn't quite seem to carry its own weight). In the same way, long sweeping shots of the changing settings felt stale and over-animated, while the on-the-ground scenes in each environment felt fresh and well lived-in.
Overall, while the first two episodes of Obi-Wan Kenobi are awkwardly paced at times (especially the first), there were moments of genuine energy and tension, notably when the Inquisitors first appear as they search for a hideaway Jedi who has been helping locals, and as we get to know Moses Ingram's Inquisitor Reva who is the standout of both episodes.
SPOILERS BELOW
.
.
.
.
.
.
.
The big reveal in this release is the appearance and prominence of a very young Princess Leia. While many knew that young Luke would feature in the show (Obi-Wan is on Tatooine to look after him after all), we see far more of Leia in these episodes, played brightly by Vivien Lyra Blair. Alongside Leia we also see the surprise return of Jimmy Smits, reprising his role as Bail Organa and lending a weightier presence to the screen.
If the rest of the series follows the pacing of the second episode, Obi-Wan Kenobi will certainly be fun to follow from week to week. Out of the Disney+ television shows so far, it is by far the most tied into the Skywalker saga (there are already three Skywalker family members involved). Fans of the prequel trilogy will find plenty of excitement and joy seeing familiar characters doing (or even holding off from doing) all of the exciting things we remember them doing-- including some very cheesy Force flipping. While maybe not great yet, Obi-Wan Kenobi is definitely worth watching, and it does look like the show's creators mean for it to make a serious impact on what we know about the history of the Skywalkers.
---
The cast of Obi-Wan Kenobi consists of Ewan McGregor, Hayden Christensen, Moses Ingram, Joel Edgerton, Bonnie Piesse, Kumail Nanjiani, Indira Varma, Rupert Friend, O'Shea Jackson Jr., Sung Kang, Simone Kessell and Benny Safdie
Obi-Wan Kenobi is now streaming on Disney+. The series is directed by Deborah Chow and executive produced by Kathleen Kennedy, Michelle Rejwan, Deborah Chow, Ewan McGregor, and Joby Harold.
---
Popverse is covering the whole of Star Wars Celebration. To keep up with our coverage, check up this Popverse Star Wars Celebration news round-up.