Star Wars Celebration Lucasfilm Studio's Showcase: Live Coverage!
Join Popverse as we cover this year's Lucasfilm showcase at Star Wars Celebration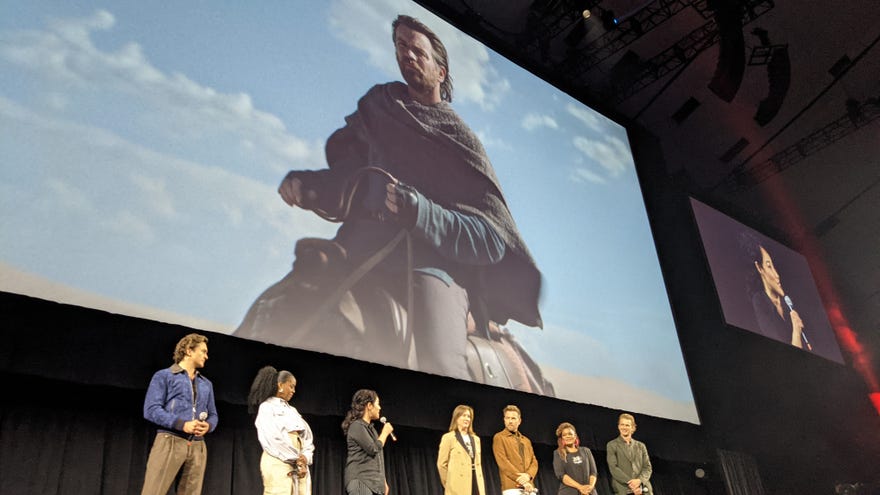 As a wise man once said... "Chewie, we're home.
We are back here at Star Wars Celebration, this time 2022 in Anaheim, California. One of the first big panels for this year's event is the 'Lucasfilm Studio's Showcase', and while that may seem a bit vague, to paraphrase that same wise man "You've never heard of the Lucasfilm Showcase? It's the showcase that made the Kessel run in less than 12 parsecs."
OK, enough with the quotes.
The official description for this panel calls it a "must-see showcase that kick the weekend's festivities into hyperdrive." Expect actors and filmmakers from Obi-Wan Kenobi, Andor, and The Mandalorian. From the guest list we've seen, we anticipate it to include Ewan McGregor, Temuera Morrison, Katee Sackhoff... and let me just say, a surprise appearance by Jon Favreau at anything is never not wanted.
Popverse will be liveblogging this panel as it happens, so bookmark this website and follow along or return at the end to read the play-by-play.
Keep track of this and ALL the news from this weekend with our Star Wars Celebration 2022 coverage round-up.
Our live coverage of this event has finished.
We're here early, getting a good seat. Come back on at 11am Pacific Time for when the panel begins.
And we are here - sitting in the front row of the Lucasfilm Showcase panel - the first major panel of Star Wars Celebration. We will be liveblogging the entire panel, with text and the occasional photo and video.
As we get ready for what's coming at the top of the hour, go ahead and bookmark our
Star Wars Celebration News Round-up
, which will be act as our Jawa Sandcrawler collection of news, features, liveblogs, and more.
"Two minute warning" says the stage host. Get ready!
We're about to punch it, my collective Chewies out there.
The panel begins with the Luke Skywalker theme playing over the speakers, interpersed with quotes from - who else? - Mark Hamill as Luke Skywalker.
Yvette Nicole Brown is here as the host of today's panels. She begins by referring to recent tragic events, and how today is a place to go to a place where "good triumphs over evil." "Let's now go to a place in a galaxy far, far away..."
She then throws you a video highlighting previous Celebrations, with voice over by Anthony Daniels, Warwick Davis, and others. The video is as much about the actors and Star Wars as it is about the fans.
The video includes comment from Diego Luna, Samuel L. Jackson (Mr. Jackson!), Ming-Na Wen, Rosario Dawson, Harrison Ford, and even the late Carrie Fisher.
Fans had considerable applause for video segments with Peter Mayhew, Carrie Fisher, and the returning Hayden Christiansen (welcome back, Hayden!)
As the video rolls, in the darkness a cadre of people in suits are coming from backstage into the front of stage.
The men in suits are a choir - singing the 'Duel of the Fates' song from The Phantom Menace.
THey're doing the whole song, with complete smoke effects.
As they do this, Ewan McGregor and Hayden Christiansen have walked on stage together. "Hello there," says Ewan.
"Helloo there, Star Wars Celebration," says Hayden Christiansen. "We are back."
The host joins them on stage. "We don't start small."
They're beginning with a talk about Obi-Wan Kenobi, the new show that debuts tomorrow on Disney+. But they can't do it with Lucasfilm President Kathleen Kennedy, Mandalorian showrunner, Jon Favreau, and Kenobi showrunner Deborah Chow.
Chow: Kenobi is really exciting. Its between the two trilogies, and also dealing with the aftermath of Order 66.
McGregor on returning to the role: It was really special to come back to play him with Deborah and the brilliant cast. What happened since we finished episode 3 in 2003... in the last five or six years, we started to feel the love for the prequels we made.
McGregor: The truth is that meant an enormous about to us. It didn't feel that way necessarily when they came out for us, so to feel the warmth now has been the most amazing thing.
When asked about the limited series format, Ewan says "It's fun to take the Alec Guinness era Kenobi and bridge him with what I did in the prequels, and to find that middle ground - in that broken place."
Hayden Christiansen on getting to hold a lightsaber again: "Picking up a lightsaber again, there's nothing like it. It's really incredible. Thank you."
Rupert Friend and Moses Ingram are here also.
"We'd like you all... everybody in this room," Ewan says with a dramatic pause. "We'd like everyone who's here to come back to watch episode 1 and 2 with us."
"Before anyone else in the world."
They have sent out passes to attendees via the Star Wars Celebration. It starts at 7pm Pacific in the Celebration Stage.
WIth that, the first group of actors/directors waves goodbye and heads off stage. Kathleen Kennedy and the host stay.
They say the next Star Wars show debuts on Disney+ in August. Here comes a video.
The video opens with what appears to be a sliver of a moon - with text rolling into place to reveal the title "Andor." Andor debuts in August on Disney+.
For the Andor section of the panel, they welcome Diego Luna (Cassian Andor), Genevieve O'Reilly (Mon Mothma), and two other members of the cast.
When asked why Rogue One worked so well, Kathleen says "I think what's remarkable is the sacrifice Cassian makes for the galaxy. Add to that, and Diego Luna plays him in an amazing way."
Tony Gilroy says it is a 12-episode first season, followed by another 12-episode season, when will culminate by walking you right into Rogue One.
The plan is to film the second season this fall, so presumably it could air in 2023.
"When I was making the film, I was living every day as it was my last. Now I'm able to come back and fill in more. And what's great is there's no way they'll kill me in this show!" says Luna.
When asked what is different, Diego says "We have the chance to go as far as possible from that amazing man who sacrificed everything. Here, early, we'll see someone less hard-edged, still waiting for something to happen."
"It's such a gift to come back to this role," says Mon Mothma actor Genevieve O'Reilly. "I feel so lucky, so thankful, to do it with Tony and Diego."
When asked about new characters, Stellan Skarsgard plays a Rebel leader named Luther.
Last words from Diego Luna: "I've been working on this for a year and a half. First we're going to show the teaser poster of the series. "
And they're giving one of the posters to each of us here in the audience. "Make sure to put it in the middle of your living room."
Diego Luna says there more. "I know there's more panels, but would you have time to watch a teaser trailer?" (Yes, Mr. Luna. Please.)
And here we go - teaser trailer time.
It is a series of ast cuts with Rebels being alerted of incoming Imperial Stormtroopers. The Rebels aren't just soldiers - they're you and me - normal people, living out their everyday lives.
It's interspersed with clips of new Imperial officers.
"People are beginning to stand up. That's what a rebellion looks like."
Andor debuts August 31 with two episodes on Disney+.
The Andor cast exits, and now they turn to talk about the new Lucasfilm series Willow. They welcome the director of the original feature, Ron Howard.
Ron Howard: "It's a pleasure to be here at Celebration. I have to say I've had alot of great experiences in my career, but making Solo and shooting on the Millennium Falcon was way up there in a line of experiences."
"Ever since Willow came out, people have coming up to me and telling me how much the love the movie," says Howard.
With Ron Howard is Jonathan Kasdan, who is making Willow with Howard.
Kasdan talks about how they begged Warwick Davis to come to Star Wars Celebration. And here he is.
WOW! Warwick is a star. The whole arena is going wild.
Warwick Davis on being back as Willow. "Old. No no, it's amazing. So 35 years since the original movie. It feels better - and its something I've always wanted to do."
Big news: Joanne Whalley is here, to announce she's reprising her role as Sorsha in the new Willow TV series.
The TV series takes place about 20 years after the movie - about 250 moons for Willow.
Coming onto the stage now is Ellie Bamber (Dove, a kitchen maid), Ruby Cruz (Sorsha and Mad Martigan's daughter, Kit), and Erin Kellyman (Jade, a friend of Kit's).
Willow's daughter Mim is played by Warwick's actual daughrer, Annabelle. And Warwick's son actually plans the stunt double for his father.
They joke that they forgot to bring the teaser trailer, but Warwick says they brought it on his phone. They sync it up, here we go.
"This is a story of a child destined to be an empress, and the unlikely hero who would protect her," the voiceover reads.
Clips from the TV shows play, with hero shows of Willow, Kit, Jade, and more. Also some stunning CGI elements that Jim Henson Studios would be proud of.
Willow is announced to debut November 30 on Disney+.
WIth that, the Willow cast says goodbye. Now we're talking The Mandalorian and Ahsoka.
Please welcome Jon Favreau and Dave Filoni.
Favreu calls Kathleen "the best producer in the world. We couldn't have done this without here."
Dave Filoni: "Ahsoka is going great. We are fortunate to have Rosario Dawson here."
They then throw to a clip of Rosario Dawson, in costume Ashoka, "I'm excited to be filming Ahsoka to premiere next year. Maybe I'll join you next time!"
Also in 2023 there will be the third season of the Mandalorian.
Jon Favreau: We're going to have some returning favorites. Let's bring out Kate Sackhoff, Bo-Katan Kryze.
Favreau then says he's about to show a clip from Mandalorian season 3. They say this won't be on the internet - just here for us. (Sorry!)
Carl Weathers on screen, along with some other returning favorites.
The Mandalorian is going to Mandalore, "so I can be forgiven for my transgressions."
With that, the teaser trailer is over.
Favreau talks about filming not far from here, and he wishes he could bring everyone to the set. "We're sorry we didn't to see you, we've missed you," he says. "For Disney, we went through the lockdowns, and but one group - the Star Wars fans - showed up when we launched Disney+. And you helped make Disney+ a success when it launched."
Favreau announces says they've taken props, sets, to announce a surprise installation they have brought here to the convention. Reservations start a half hour after the panel ends, "But I'm going to announce The Mandalorian Experience. And thanks to Disney+ and Lucasfilm, we put together a great installation."
For more information, visit @fairviewportals on Instagram. (Yes, Popverse will be going there later today!)
Favreau: This is a big thank you from all of us to all of you.
When asked about future projects, Favreau says he's working with Jon Watts (Spider-Man films) and they have "a great idea for a show. While working together we talked about it, and sure enough we're getting into pre-production on a new show."
And with that, Jon Watts and Christopher Ford comes on the stage.
When asked about the show, Watts says "This is a show that we've been working for a really long time. It's the story of a group of kids, about 10 years, from a tiny little planet who accidently gets lost in the Star Wars galaxy. It's a story of their journey, and finding a way home."
Ford says its a show with kids, but not a show FOR kids.
It fits in after Return of the Jedi, in the Mandalorian/Ahsoka timeframe.
Watts on working in Star Wars universe: "We really like the opportunity of using kids to give you a slightly different perspective on the Star Wars universe. To see the galaxy from a different pair of eyes."
The name of the "Star Wars: Skeleton Crew."
When asked when it'll come out, Watts says they begin shooting soon with an aim for it to debut in 2023.
Favreau mentions that he and Filoni will see people again for Saturday's Mandalorian panel.
And thats it for that segment.
The host says "we do have something else to celebrate. SomeONE else to celebrate."
With that, they welcome John Williams, who celebrates his 90th birthday this year. He came out of retirement to do the Kenobi theme.
"For the last four decades, John Williams has created the score to our lives - with Star Wars, Indiana Jones, Jurassic Park, and more," says Kathleen Kennedy. "When we began working on Obi-Wan Kenobi, we realized he didn't have a theme."
Kennedy announces the Kenobi theme will be played live for the first time ever. With that, the curtains part to reveal a huge orchestra, with John Williams himself coming on stage to conduct it.
Kennedy helps Mr. Williams onto the stage, and he takes his place in front of the orchestra.
With all eyes on Mr. Williams, he begins the score.
They are playing the Obi-Wan Kenobi theme, which you'll hear in tomorrow's debut - and might even be online to buy now as a song.
The score ends, and John Williams has the microphone. "thank you all so very much for making this such great. For putting magic into it all. It's wonderful to be with you."
"I Know this is a Star Wars Celebration, but here's another piece which you might know of."
With that, he leads the orchestra in a live rendition of the Indiana Jones theme. I'll hum it for you if you find me at the con.
After the theme, Williams and the orchestra stands to welcome Harrison Ford to the stage.
Harrison Ford's got a live mic, people.
"It's a great pleasure to be here," Ford says. "Especially to be able to congratulate John on his 90th birthday. I told John on another occassion that music follows me everywhere I go, and you know what, I'm happy about it."
Ford: "That was music was playing in the operating room when I had my last colonoscopy.
Ford: "We know what John does musically, but what you may not know is the generosity - the boyous spirit, and a wonderful wonderful talent."
Ford: "We have almost completed the next Indiana Jones, featuring the music of John Williams. And I have a wonderful eexperience working with James Mangold and others, and I'm really proud of the movie we made. So I'll be seeing you around the campus."
Ford says the film will debut June 30, 2023. With it they show a dramatic still from the new movie. "I'll be there - I hope you will as well."
With that, John returns to the podium to conduct another song - the Imperial March.
You come to a comic convention, and you get a orchestra. This is real life.
I imagine Hayden backstage grooving out to the Imperial March right now.
As the song ends, the fans rise for a standing ovation. The Lucasfilm Ltd. logo rises on the screen, as Williams applauds his orchestra.
The hosts says thanks to everyone who everyone, and then leads a "Happy Birthday" song by the entire crowd to John Williams.
The orchestra was the Pacific Symphony Orchestra.
With that, the panel ends. Thank you, everyone!