Tales of the Jedi: Liam Neeson's Qui-Gon Jinn and fan favorites return in animated anthology shorts
Popverse covers the Tales of the Jedi Panel (featuring Dave Filoni)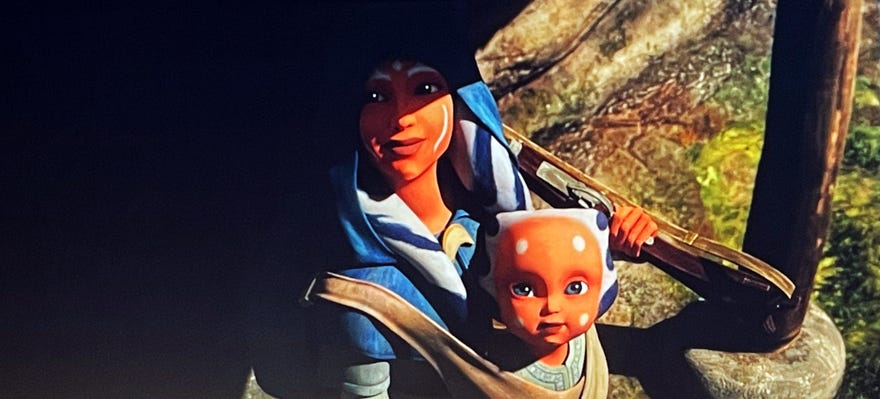 At Star Wars Celebration, a very special panel was held to reveal some details on Tales of the Jedi, a collection of animated anthology shorts. Show creator Dave Filoni took the stage with Amy Ratcliffe serving as moderator.
Tales of the Jedi had very humble origins. Filoni wrote stories to pass the time as he flew back and forth while working on The Mandalorian. One day, he showed a story to Senior Vice President of Development and Production Carrie Beck, and she asked if he wanted to make it. Beck tracked down some money, and after the project was greenlit, Filoni had to write a few more tales.
Several familiar characters will appear on the series. Ahsoka will feature in three separate stories showcasing different parts of her life. Also receiving three tales is Count Dooku. "He was a Jedi, and that is so important in understanding how all the politics unfold in that era," Filoni shared. Speaking of both the Jedi and Sith Lord, he added, "The two characters really show you two paths and two choices."
More Prequel fan-favorites will make an appearance in Tales of the Jedi. Liam Neeson will return to the role of Qui-Gon Jinn. Both he and his son will voice a younger version of the character. In addition, fans can also expect to see Anakin Skywalker while the trailer revealed Mace Windu wielding his iconic purple lightsaber and a young Yaddle.
There were six tales total to write, but because Filoni is a busy man, he asked his old The Clone Wars collaborator, Charles Murray, to help him out. Murray also directed one episode.
The one of the shorts was screened during the panel. It was titled Life and Death and followed a one-year-old Ahsoka on a hunting trip with her mother. Janina Gavankar (True Blood, Arrow) voiced Ahsoka's mom. Fun note: Gavankar worked with Filoni previously as the puppeteer for the nostrils of a Mon Calamari dock worker in a cable knit sweater.
Tales of the Jedi will stream Fall of 2022 exclusively on Disney+.
---
If you're interested in what's going on in Star Wars Celebration, check out Popverse's coverage of the whole weekend.