Lucasfilm Publishing brings Stories from a Galaxy Far, Far Away to Star Wars Celebration
Rodney Barnes, E.K. Johnston, Amanda Deibert, Cavan Scott and more preview their current projects — and tease super-secret works to come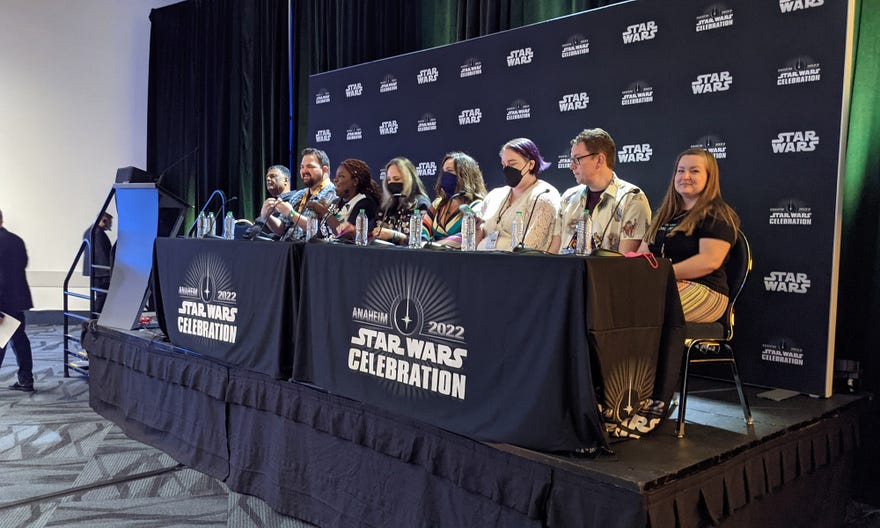 Moderated by Lucasfilm's Creative Director of Publishing Michael Siglain, the 'Lucasfilm Publishing brings Stories from a Galaxy Far, Far Away to Star Wars Celebration' panel featured writers Rodney Barnes (The Mandalorian from Marvel Comics), Roseanne A. Brown and Delilah S. Dawson (Star Wars: Stories of the Jedi and Sith), E.K. Johnston (Star Wars: Queen's Hope), Cavan Scott (Star Wars: The High Republic), and Kiersten White (Star Wars: Padawan), as well as artist Jake Bartok and executive editor Jennifer Heddle.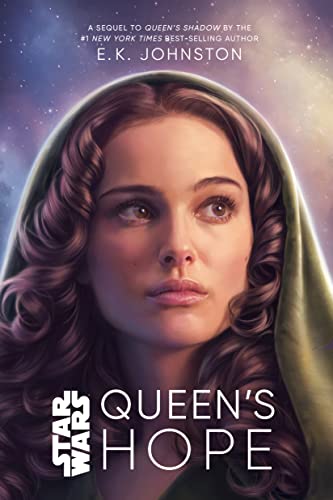 E.K. Johnston, known to Star Wars fans for her series YA novels focusing on Padme's during and after the events of The Phantom Menace that began with Queen's Peril and continued in the prequel novel Queen's Shadow and this year's sequel Queen's Hope, said that she never set out to write a trilogy. She credited the positive response from the fans for convincing Lucasfilm to continue the series. She said that the plot for Queen's Hope, came in part from a simple request from her editors: "Could you maybe put Anakin and Padme in some scenes…together?"
Kiersten White had long been attempting to work with Lucasfilm before getting asked if she would be interested in penning a story about a young Obi-Wan Kenobi. That book, Padawan, allowed her to tell the story she said she always wanted to tell about a character she says "cares too much."
"I wanted to explore that from a teenage point of view," White said. "I think he's really nervous inside." Padawan is set to be published July 26.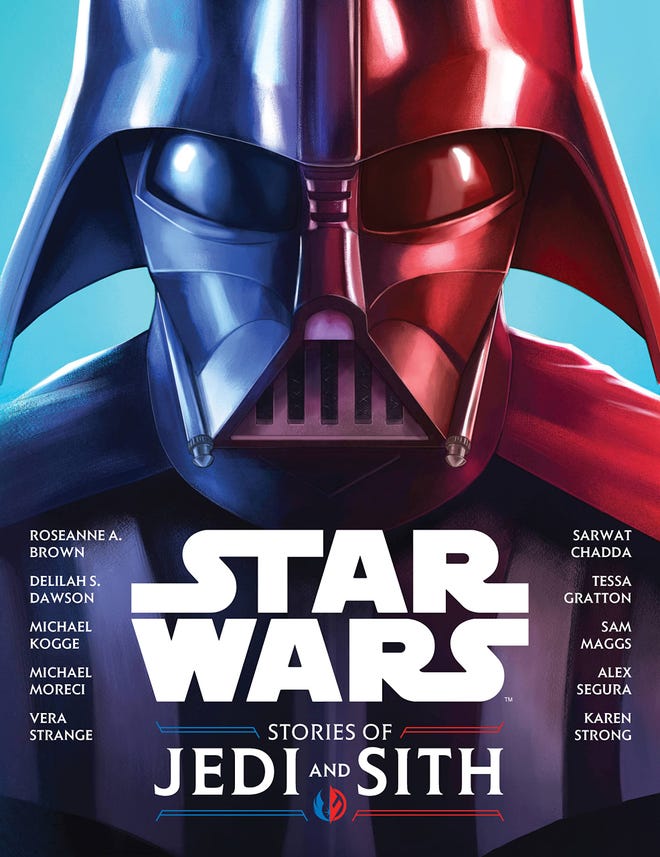 Stories of Jedi and Sith, a middle-grade anthology that brings together 10 writers for a variety of tales, offers a selection of characters from those two titular camps. Roseanne A. Brown and Delilah S. Dawson are among the writers featured in the book, with Brown working on a story exploring the contentious relationship between Rey and Poe while Dawson pens a story focused on Asajj Ventress ("Female villains are my jam," Dawson said).
Jake Bartok provided illustrations for the anthology. Star Wars Celebration attendees can head to the Show Store to pick up the book — which also features stories from Sam Maggs, Michael Moreci, Alex Segura, and more — ahead of its wide release on June 7.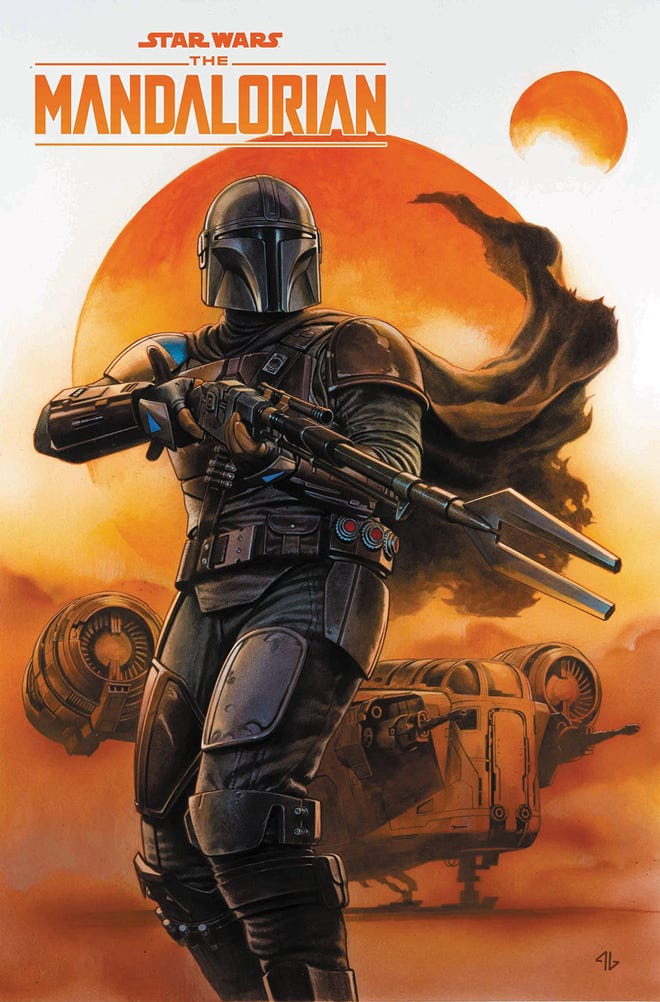 Rodney Barnes spoke about the challenges of adapting the popular Disney+ series for comics, which according to Marvel is nearly 350,000 copies ordered. Although working with a pre-existing story meant there was no work to be done to create the story, cramming an entire episode worth of story into a single issue was a challenge. Still, Barnes was excited to work in a different type of genre within the Star Wars world.
"The Star Wars universe has so many different tones and different characters," Barnes said. "Being able to play in that western type of feel was really a privilege." Star Wars: The Mandalorian #1 goes on sale July 6.
Amanda Deibert spoke about the upcoming all-ages comic series Star Wars: Hyperspace Stories from Dark Horse, which features three stories written by Deibert, Cecil Castellucci, and Michael Moreci. Each issue will be a standalone story, but all three will feature a recurring "character and item" that will connect the three issues via a secondary plot. A young girl named Viveen, the daughter of the Wookie senator Yarua, is the character to connect them. Deibert's story, which features art by Lucas Marangon and a story focusing on Padmé, Anakin, Obi-Wan, and General Grievous, kicks off the series in Star Wars: Hyperspace Stories #1.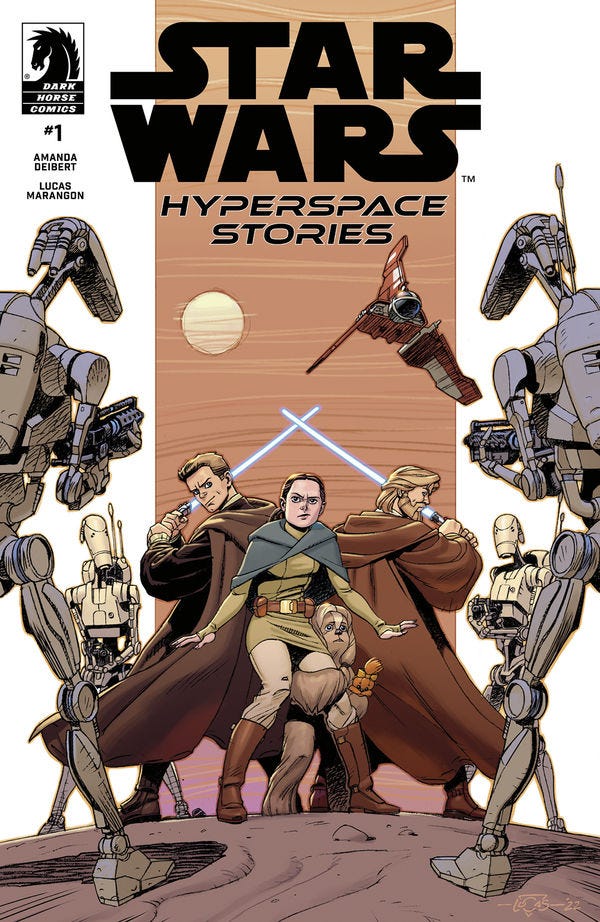 In a different kind of anthology series, The High Republic co-architect Cavan Scott pens a series of comic stories with artists Nick Brokenshire, Juan Samu, Rafael Pérez, and Andy Duggan with Star Wars: Tales from the Rancor Pit. Scott and Siglain compared the book to classic EC comics horror stories, with the spooky tales focusing on droid ghosts, wompa babies, and a monster hunt featuring the character Ty Yorrick. Scott also spoke the collection The High Republic: Starlight Stories, which collects stories written by Charles Soule, Cavan Scott, and Justina Ireland about the everyday residents of the ill-fated space station Starlight Beacon. Despite what befell the Starlight, Scott teased that "you haven't seen the last" of the Starlight residents.
Michael Siglain also drew attention to The High Republic: Chronicles of the Jedi: An Illustrated Guide to the Galaxy's Golden Age, an Insight Editions volume written by Cole Horton. Siglain said fans should read it carefully, as it has key information about phase 2 and 3 of the High Republic saga.
Jennifer Heddle previewed a pair of upcoming prose novels, Star Wars: Shadow of the Sith and Star Wars: The Princess & the Scoundrel. She praised Adam Christopher's work on Shadow of the Sith, which follow's Luke and Lando in a story set between Return of the Jedi and The Force Awakens, as Luke begins hearing rumors about happenings on Exegol as he has dreams of the Sith. Star Wars: Shadow of the Sith is due out June 28. The Princess and the Scoundrel is the story Heddle has always wanted to bring into the universe, a romance novel focusing on Han and Leia. "It's really a love letter to the two of them," Heddle said. The Princess and the Scoundrel was written by Beth Revis and is expected to release on August 16.
The panel contained two final teases. First, Siglain shared a collage of characters that are maybe — or maybe not — set to appear in Lucasfilm's publishing initiatives in the near future.
Finally, Siglain asked the panelists who had something top secret that they were working on and not allowed to talk about at all. Rodney Barnes, Delilah S. Dawson, E.K. Johnston, and Cavan Scott all raised their hands.
Catch up on all the news from the convention with out Star Wars Celebration 2022 news round-up.