Star Wars Celebration 2022 con floor walkthrough!
Join Popverse's video team as they explore the con floor at Star Wars Celebration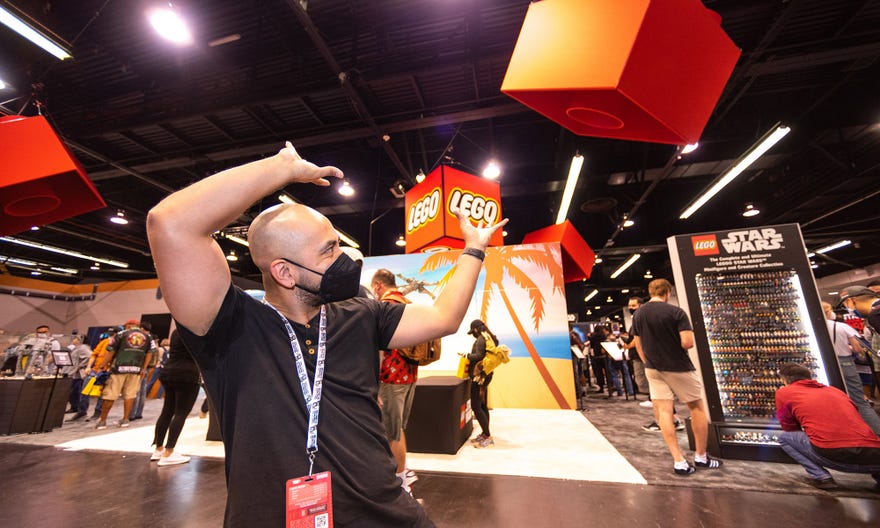 Star Wars Celebration is back! This year, Star Wars Celebration has made its way to the Anaheim Convention Center in sunny Southern California. As you probably know by now, Popverse is on-site in Anaheim bringing (oftentimes live) coverage to you throughout the entire long weekend, so (check out our coverage roundup here). As we know that many fans have been missing the con experience, we thought we'd bring some of that excitement to those who couldn't make it out to Anaheim this year.
Join our video team (the wonderful Veronica Valencia and Ashley Robinson) as they do a full walkthrough of the entire con floor. You'll see glimpses of the many exciting merch booths, the Tattoo Pavilion (yes, people are getting their Star Wars ink on the con floor!), and plenty of inventive cosplays along the way.
For those of you who are attending Celebration this year and are checking out this video for some inspiration on where to go, we at Popverse would recommend checking out the cool poster for The Mandalorian at the Lego Booth (it's made completely out of Lego, naturally), the tiny moving MSE droid on top of the Funko Booth entrance (it's so cute), the Star Wars collectors booths at the back of the hall (they've got the best stories), and the Pride Squadron booth (ask for trading cards of their members!).
We're so excited to be here bringing Star Wars Celebration home to you this year, and we can't wait to show even more exciting perspectives from walking the con floor to panel liveblogs to breaking news all day and all weekend long. Make sure to keep checking our coverage roundup to keep up with all of the exciting news that's coming out this weekend.