Star Wars Celebration's best kept secret—the Droid Builder's Room
If you want to get off the show floor at Star Wars Celebration, check out the Droid Builder's Room
If you're looking for a place full of Star Wars magic at Star Wars Celebration, look no further than the Droid Builder's room where hard working fans showcase the amazing, intricate (and often animated) droids. While there are builders who like to stay as screen-accurate as possible, there are other builders who throw their own spin on things (there was an R2-D2 made by Sam Morton who was also modified to serve as a drink tray). And Droid Builders isn't just about R2-D2s and BB-8s, I saw Scrubber droids, MSE droids, and other droids I didn't even recognize.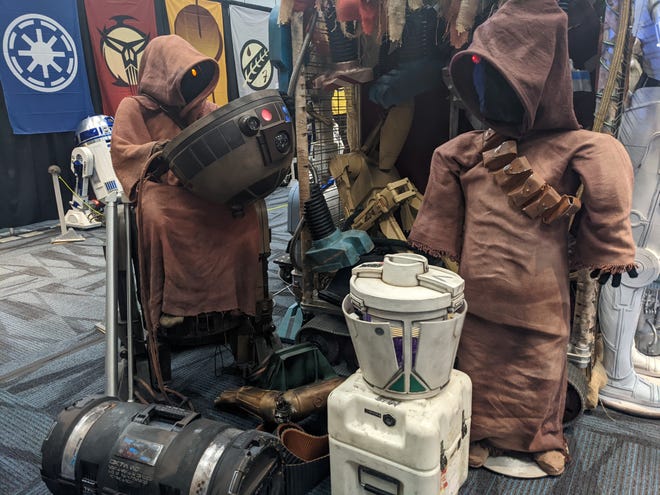 Each droid is accompanied by a name panel which displays a QR code through which you can learn more about each droid and their builder. According to the members, there are no special requirements to join the group—you've just got to build a droid and join up. It takes a lot of passion, research, patience, and yes, dollars too. When I asked builders how much they spent on their droid builds, all four builders separately responded that they purposefully didn't like to think about it. Frank Hargraves kindly provided a ballpark range that most builds probably range form the low $1000s to the cost of a mid-priced car.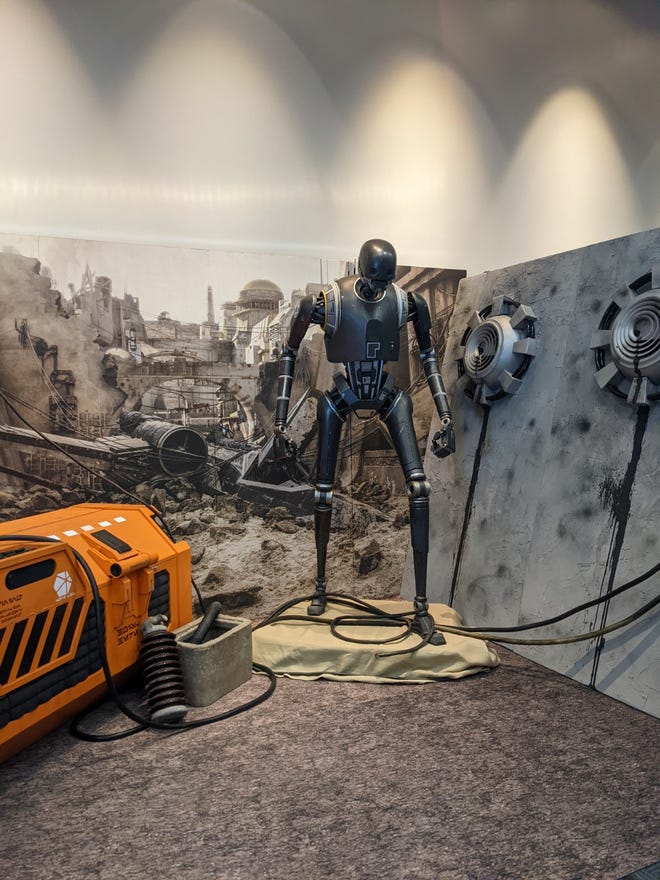 When asking about hidden costs, Brian Dodds (the builder of an R2-D2 that has panels that swing up on remote controlled command) responded that "paint can often be more expensive than you think." Cameron Ross (another R2-D2 builder, whose badge also shows that he's build a C-3P0, a BB-8, and a MSE-6) added that the aluminum dome on an R2 unit could be pricey as well as the welded foot sheds which are made out of steel. Builder Lynelle Phillips says the question shouldn't be "How much does it cost?" so much as "How are you willing to spend?," though according to Phillips, a MSE droid is the cheapest place to start, with most models running from $500-1000. Hargraves (who lives too far to bring his droids to Celebration this year) responded that "Everything's a hidden cost."
So, if you're a die-hard Star Wars fan and are ready to find your new hobby, this is definitely the group for you. Or, if you just really like to wander around and appreciate what hundreds of hours of planning, modeling, and building can make— check out the Droid Builder's room at Star Wars Celebration. 2023's Droid Builder's exhibition is on the North Show Floor behind the Hasbro booth.
---
If you're interested in following more of Popverse's coverage of Star Wars Celebration this weekend, keep an eye on our news roundup.