Here's the Star Wars Celebration merchandise you've been looking for
A guide to Star Wars Celebration 2022 merch including T-shirts, toys and collectibles
Star Wars Celebration 2022 kicked off Thursday here in Anaheim, California and runs now through May 29. The force-filled convention is bringing the latest Star Wars news as well as exciting exhibits, celebrity guests, panels and more. There will, of course, be a whole smorgas-porg of Star Wars merchandise to hunt down, too.
Not only is there some seriously cool exclusive Star Wars Celebration merchandise including an Anakin "I don't like sand" Zen Garden, an anti-sand beach towel, and Obi-Wan Kenobi meme T-Shirts; the force will also be strong with other great Star Wars collectibles and apparel.
To help you decide on what to add to your Star Wars collection, we've put together a list of the best Star Wars Celebration merch that you can Leia your hands on, as well as how to celebrate the Star Wars franchise at home.
The exclusive merchandise will only be available at Star Wars Celebration 2022
The Star Wars Celebration store is one of the busiest parts of the convention this year. Here's all the people on their way in. pic.twitter.com/6yjNIMOlCs

— Popverse (@PopverseSays) May 28, 2022
If you want to splurge on the new and exclusive Star Wars Celebration swag, you'll need to attend the event. The official merch line-up was earlier in May but we thought we'd round up what's on offer in this guide.
Select Star Wars Celebration tickets are still available so if you still want to go, you'll need to jump into lightspeed to the official SWC site and snap up some last-minute tickets.
Without further adieu, let's dive right into what merchandise you can snap up at Star Wars Celebration 2022.
Exclusive Star Wars Celebration 2022 Key Art and Logo Collection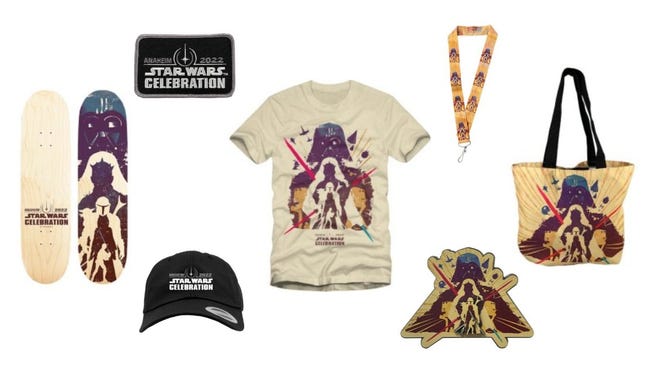 The key art for Star Wars Celebration is an awesome nod to that throwback '70s and early '80s aesthetic, featuring neutral tones and splashes of brights. Clockwise, from left to right in the image above:
SWCA Key Art Skate Board Deck
SWCA 2022 Logo Patch
SWCA 2022 Key Art T-Shirt
SWCA 2022 Key Art Lanyard
SWCA 2022 Key Art Tote Bag
SWCA 2022 Key Art Deluxe LE Pin
SWCA 2022 Logo Dad Hat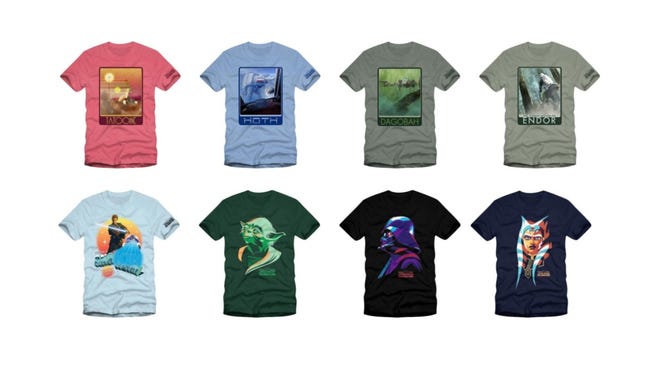 Magnets, a windbreaker and even a puzzle are also up for grabs along with these awesome Portrait T-shirts and Anakin/Anaheim T-Shirt. There's something to suit all kinds of Star Wars fans' budgets.
Star Wars Celebration 2022 Attack of the Clones 20th Anniversary Collection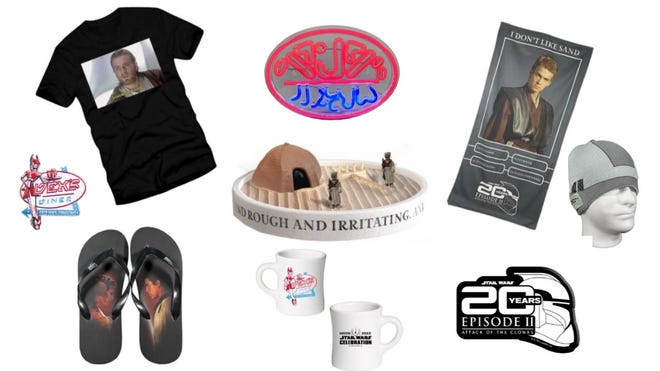 Celebrating the 20th 'Ani'versary of Attack of the Clones comes this iconic Annakin "I don't like Sand" merch, as well as Obi-Wan meme T-shirts, Dex's Diner merch and more. Clockwise from left to right:
Dex's Diner Staff patch
Obi-Wan Visible Confusion T-Shirt
Dex's Diner Neon Sign
Anakin "I Don't Like Sand" Anti-Sand Towel
Jedi Youngling Training Beanie
Aotc 20th Acrylic Magnet, Dex's Diner Coffee Mug
Anakin "I Don't Like Sand" Flip-Flops
Anakin "I Don't Like Sand" Zen Garden
Star Wars Celebration 2022 Legacy/ Saga Collection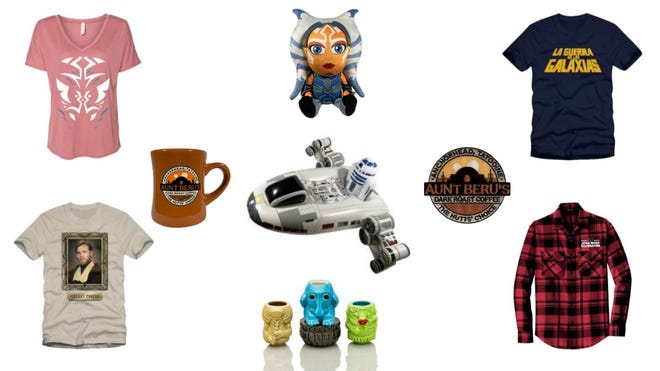 From more fun meme t-shirts like the pictured Obi-Wan "Hello There" T-Shirt to a super cute Ahsoka plush and X-Wing Pool Float, there's all sorts of Star Wars Legacy and Saga merchandise to treat yourself to. The image above showcases just some of the exclusive merch available from this collection. Clockwise from left to right:
Abstract Ahsoka Ladies T-Shirt
Ahsoka Plush
Spanish Star Wars Title T-Shirt
Red Imperial Flannel
Geeki Tiki Max Rebo Mini Muglet Set
Obi-Wan "Hello There" T-Shirt
Aunt Beru's Dark Roast Coffee Mug
X-Wing Pool Float
Aunt Beru's Dark Roast Coffee Patch
Star Wars Celebration 2022 Mandalorian Mayhem Collection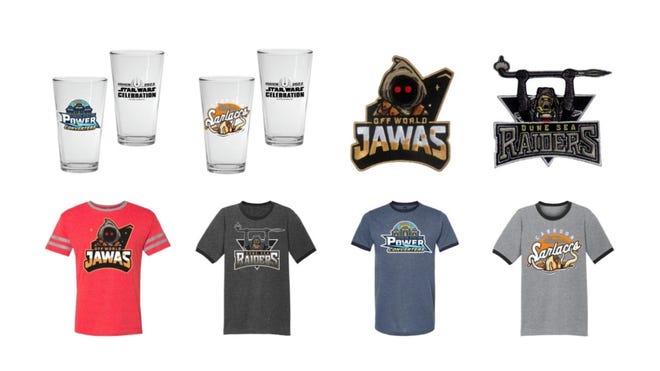 Mandalorian Fans will be pleased to know there's plenty of themed merch that commemorates the incredible Disney+ series. Clockwise from left to right:
Tosche Power Converters Pint Glass
Carkoon Sarlaac Pint Glass
Offworld Jawas Patch
Dune Sea Raiders Patch
Offworld Jawas T-Shirt
Dune Sea Raiders T-Shirt
Tosche Power Converters T-Shirt
Carkoon Sarlaac T-Shirt
Star Wars Celebration 2022 Pin and Coin Collection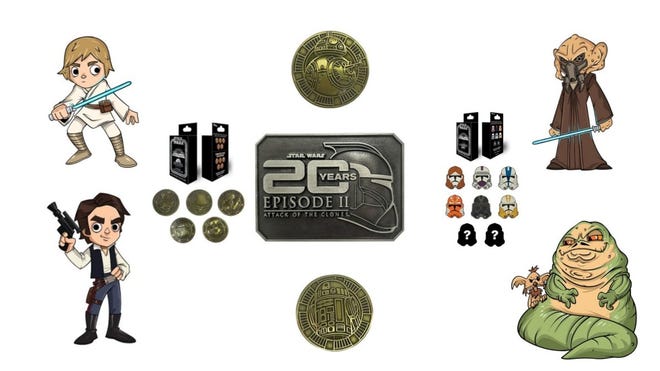 For all you pin and coin enthusiasts, there's some awesome pins to embellish your bag, lanyard or jackets with, as well as some exclusive coins being released each day of the event. There's also mystery coin and pin packs to pick up, plus an assortment of character pin packs and individual character pins. Clockwise from left to right:
Luke Skywalker Pin w/ Trading Lanyard
Mystery Coin Packs
BB-8 Coin (Friday release)
Attack of the Clones 20th LE Deluxe Pin
Plo Koon Sponsor Pin
Clone Helmet Mystery Pin Collection
Jabba the Hutt Inventive Pin
R2-D2 Coin (Thursday release)
Han Solo Sponsor Pin
Star Wars Celebration 2022 Artist Series Alphabet by Karen Hallion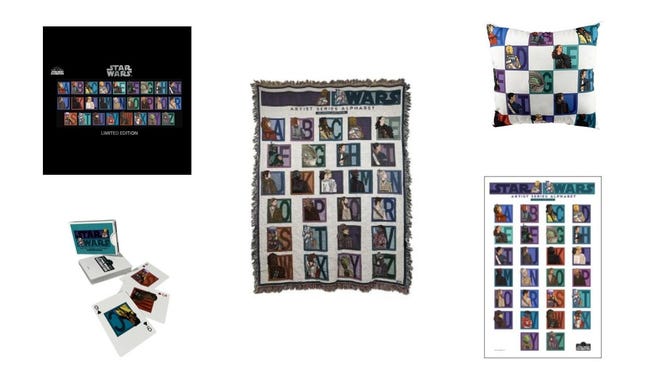 Creative genius Karen Hallion teamed up with Star Wars Celebration to bring you this awesome Star Wars Alphabet Series. It includes an ABC Woven Throw, ABC pin set, ABC Playing Card Set, ABC Playing Card Set, ABC Playing Card Set. There will also be an ABC coloring book, Pint Glass Set and Sticker Sheet available at the event.
Other cool merch and collectibles you can find at Star Wars Celebration 2022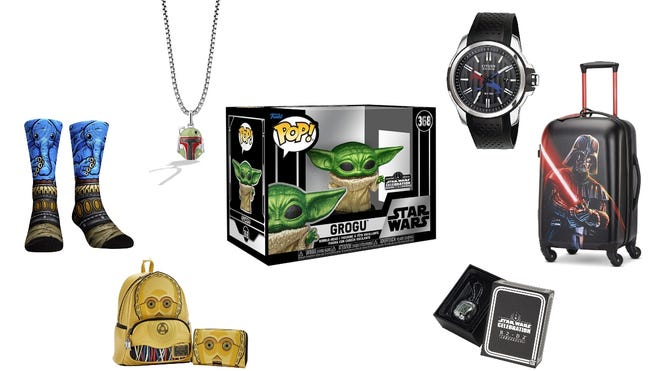 There will be more than 100 exhibitors selling their must-have Star Wars wares including everything from clothing, toys, action figures and comics to fine jewelry and wall art created by super talented artists. You'll also be able to find booths brimming with vintage action figures, retro collectibles and much, much more. Clockwise from left to right:
Rock Em Socks
Exclusive Boba Fett Pendant
Funko POP! Vinyl Grogu Diamond Glitter edition
Star Wars x Citizen Star Wars Celebration Watch
American Tourister Darth Vader Suitcase
R2-D2 Tamagotchi Platinum Celebration Exclusive
Star Wars Celebration C-3PO Mini Backpack and Zip Around Wallet
The list is way too long to include everybody but you can check out the full list of Star Wars Celebration 2022 exhibitors here. Below are some of the top brands to look out for while at the convention and some may even be offering some Star Wars Celebration exclusives at their booths:
How to enjoy Star Wars Celebration at home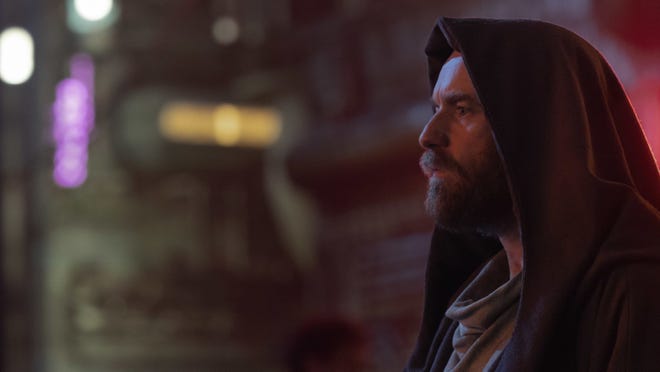 As a UK-based Star Wars fan, attending the event at ExCeL London in 2016 was an out of this world experience and I'm truly excited for all who get to experience the return of Star Wars Celebration after its hiatus.
But, if you're too busy going into Toshi Station to pick up some power converters, live in a galaxy far, far away, or you're simply unable to attend this year's Star Wars Celebration in Anaheim, there are still many fun ways to enjoy the event at home and from around the globe. You can tune in to Star Wars Celebration LIVE! from 12:30pm (PT) onwards via the official Star Wars website and on YouTube to enjoy watching select panels, celebrities on the LIVE! stage and more.
You can also immerse yourself into the Star Wars universe at home by watching your favourite Star Wars movies and shows via Disney+, be it the original trilogy, the new Obi-Wan Kenobi series featuring Ewan McGregor or your favorite episodes of The Mandalorian featuring Pedro Pascal. Disney+ Originals are only available to watch via the magical streaming service and a $79.99 annual/ $7.99 monthly subscription means you can experience Star Wars whenever and whereever you like.
There's lots of Star Wars content to feast your eyes on here at Popverse too, like our post about the Star Wars roadmap, the best Star Wars Comics and our thoughts on the best Star Wars movies ranked from best to worst.
More Star Wars merch and collectibles available outside of the event
Serious and casual collectors alike can still enjoy growing their Star Wars collections beyond Star Wars Celebration from the retailers below:
We hope you manage to find the merch you were looking for and have a fantastic time at Star Wars Celebration.