Bong Redila highlights the human aspect of a fantasy world in Mëlag
Bong Redila on his comic journey and the universal appeal of his Filipino komik, Mëlag.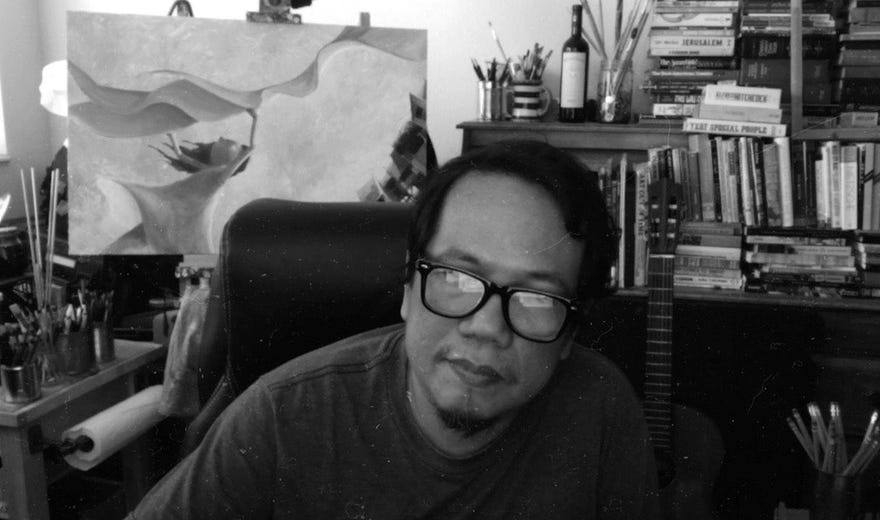 In the early '00s, Filipino-American illustrator and author Bong Redila first began working on a series of komiks (Filipino comics) set in a humble fictional town where surreal events are an everyday occurrence. The inclusion of fantasy elements rekindled feelings of an imaginative youth, but the universal human aspects grounded the stories. The various shorts were collected into the graphic novel Mëlag in 2017, and following publication in the Philippines received critical acclaim and multiple awards.
The title is now ready for international audiences through publisher Fantagraphics with the modified name Mëlag: Town of Fables. Ahead of its release on August 16, 2022, we thought Asian American and Pacific Islander Heritage Month would be a good time to become more familiar with the book and its creator. Let's look into Redila's comic origin story and what readers can expect from Mëlag.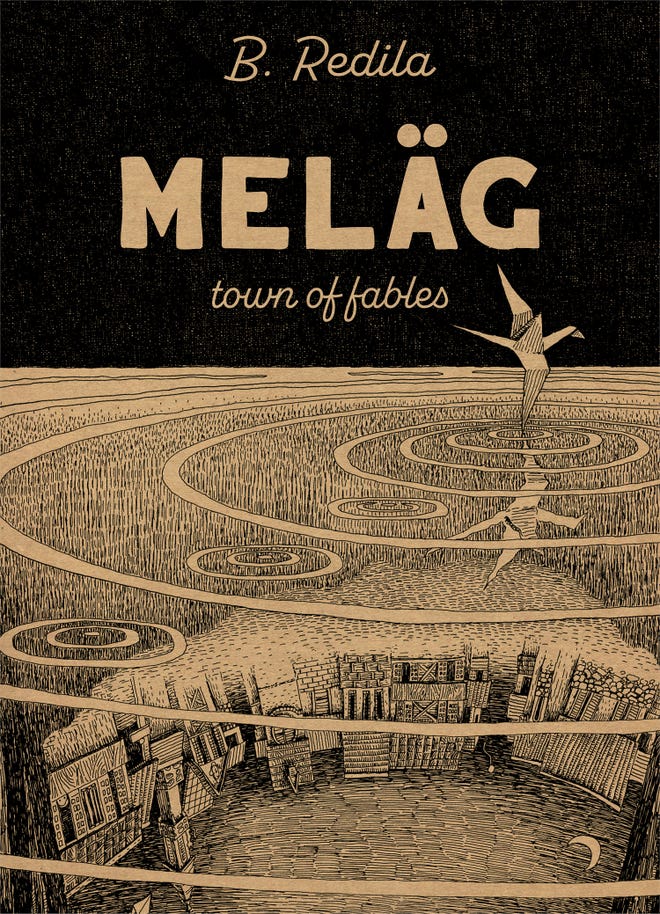 How did you become interested in comics and when did you want to become a creator?
When I was young, around the early '70s, my brother and I usually stayed in our grandparents' house in a small village every summer vacation. Rustic and old, their house had a library full of old books. There were quite a lot of picture books and vintage illustrated literature books that I always found interesting. In a small corner inside the library was a giant stack of local Filipino komiks my grandmother accumulated over the years. There was this one summer vacation that I spent browsing through all those komiks. I believe I was just in my first year of reading at that time. I was really mesmerized by the illustrations and how diverse the styles [were] from each story. Not knowing at that time that I was surrounded by some of the Philippines' komiks masters like Francisco Coching, Alfredo Alcala, Nestor Redondo, Alex Niño, Larry Alcala, and so on.
After summer vacation and back [in] Dagupan city where we lived, my mother, the person who inherited my grandmother's komiks addiction, would buy five to seven different local komik books every weekend. A five-hour bus ride to Metro Manila, Dagupan is a small city. We never got the Big Two in our place. So, I wasn't aware of any superheroes when I was kid. Except Super Friends and Popeye. Most of the Filipino komiks I grew up reading were horror, fantasy, melodrama, comedy, and slice of life. And for some odd reason my brother and I got lucky and saw some Tales from the Crypt, House of Secrets, Weird War Tales, and some others in a tiny Chinese mom and pop shop. We saved our lunch money and bought those. Coincidentally, some of the artists' names in those international comics were familiar like Niño, Redondo, and Alcala.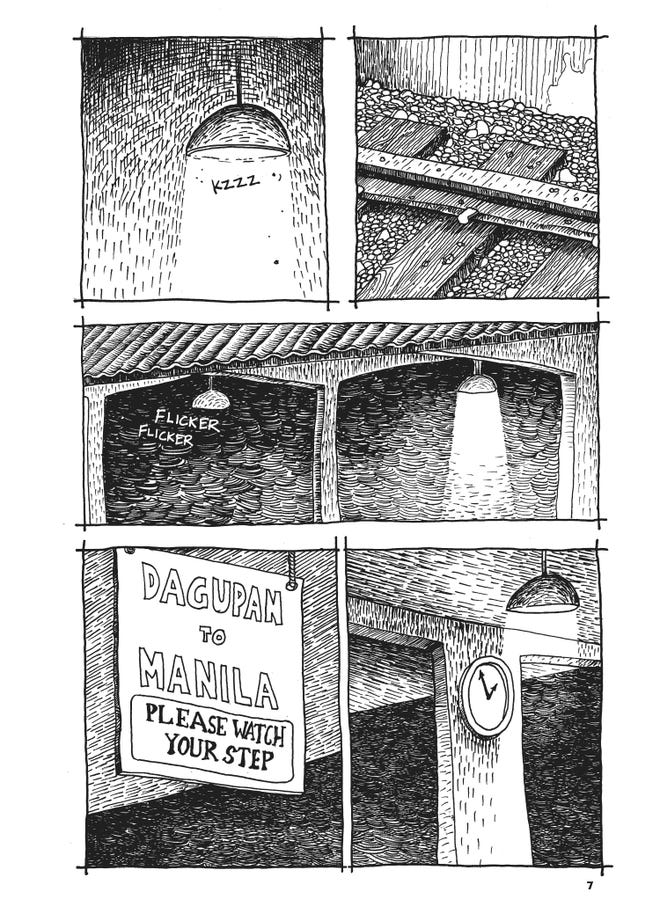 Creating my own comics didn't cross my mind. As a matter of fact, to be honest I forgot about comics years after my grade school. It was children's picture books and vintage illustrated literature books that stayed with my interest in my young adult life. In the '90s I worked as a graphic artist in a newspaper company in Guam. At first when I started working there the editor occasionally handed me the opportunity to do the editorial cartoon. I really had fun doing those. It's a different kind of challenge and thrill. Especially if your drawing hits the right nerve of a certain "somebody." Boy oh boy, I got some threats here and there occasionally. Haha.
Later on at the same newspaper company, the editor asked me if I was interested in making a small comics strip. And so, my first comics as a sort of professional creator started with a strip called 'Bayani Café.' A comic about different characters inside a bar called Bayani Café.
You're currently based out of Miami, Florida, but the initial release of Meläg was in the Philippines. That is also where it received much critical acclaim. Can you compare and contrast the comics community in both countries?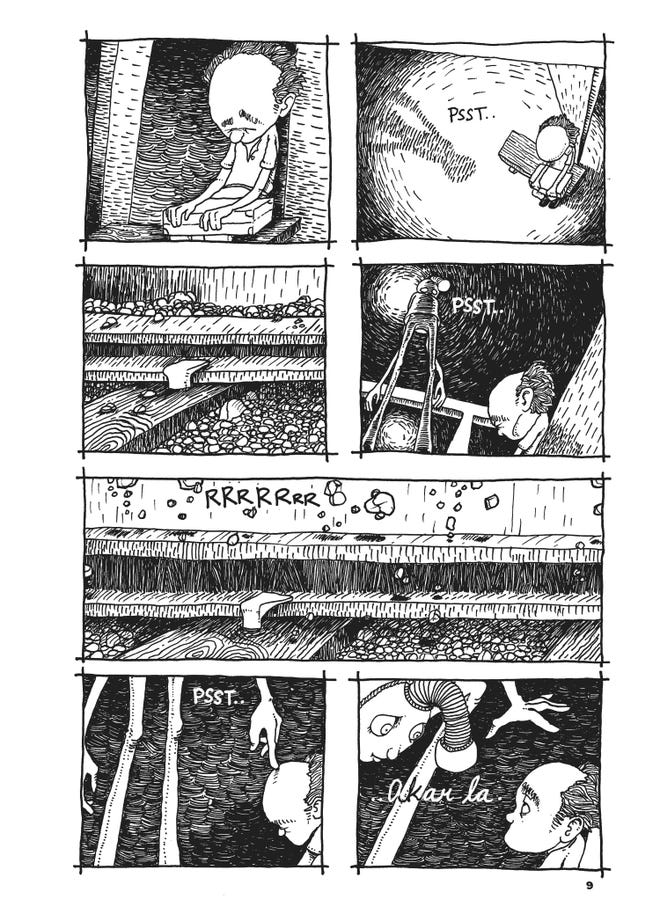 The komiks community in the Philippines, as of right now, is small but starting to grow each year. Most of the comics creators and readers know each other. There are, if I'm not mistaken, three to five big names of komiks publishers but countless independent ones. Komiks conventions are held annually and not just in Metro Manila but also in other places around the country.
Fortunately, although the community is small, its size is what makes the camaraderie strong.
And unfortunately, I couldn't say much about the comics community here in the US. Not that I am a new kid in town in the business, but I am, sad to say, a caveman always in hibernation in my studio. Haha. Embarrassingly enough, I haven't been to any conventions here.
I think you have a distinct art style. It's very whimsical and cartoony but there is great attention to detail, especially in your backgrounds. Who are your big influences and what did you take from them that you implement into your own illustrations?
Thank you.
There are many artists that influenced me, and I think the art style is a mixture of all of them. Franklin Booth, W.H. Robinson, N.C. Wyeth, Edward Gorey, Kay Nielson, to name a few. I am greatly influenced by the visuals of cinema as well, especially the storytelling and visual narrative of German expressionism and the frighteningly humorous Looney Tunes' background designs of Maurice Noble and Paul Julian.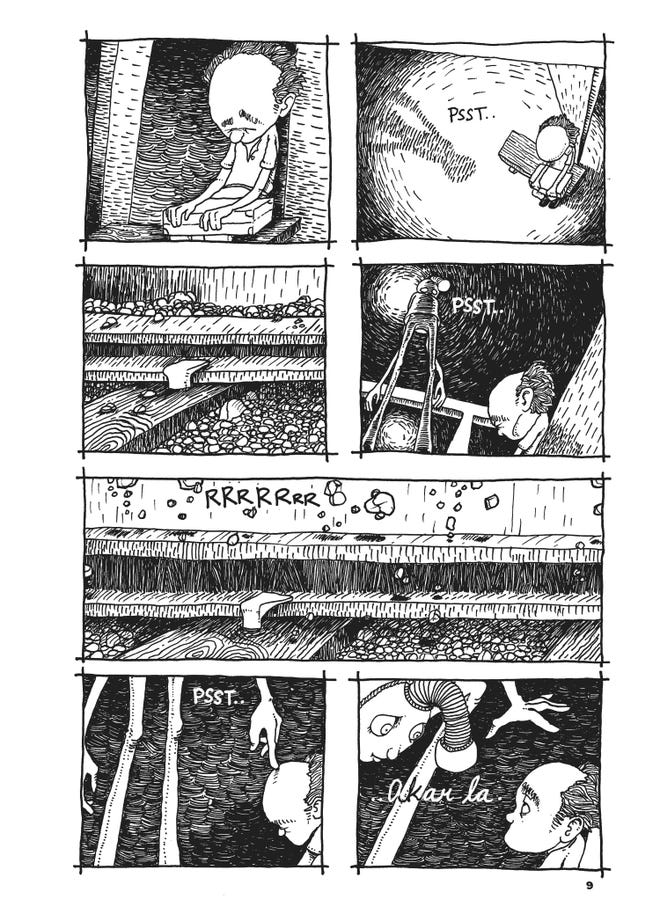 But you know what, there is a certain point in a person's life that 'something' will touch them in a subconscious way and not knowing that that 'something' left a seed in their brain. They grow old and go on with their life. Not aware that the way they do a certain thing at some point is being accomplished automatically with the help of the seed that grew into a mature tree of creativity. In my case, that 'something' is a 1971 animated short film adaptation of The Selfish Giant by Oscar Wilde directed by Peter Sander.
I watched that film way back every morning because it was being shown on the local TV station in our place. The story and the artwork stuck with me. I've been searching for it for quite some time and just bought a VHS copy online 15 years ago. Then it just surfaced on YouTube eventually. So, you can watch it there and see the similarities of my work.
Sometimes when some Filipino Komiks find an international publishing deal, artists go back and redo the art for various reasons. They've grown and improved and want the new art to reflect that. They weren't satisfied with the first go round because they had to compromise to reach deadlines and print out single issues in time for conventions. Trese and Mythspace come to mind. Did you go back to remaster any of this title?
Each individual story in that book was done years apart so you can see a huge difference in the art style in all of them. As a matter of fact, three or five earlier stories from Meläg were done in a small sketchbook because I never planned on compiling them into one whole book when I first started. Then later I began drawing the newer stories on a large Bristol board. The difference of line weights is noticeable. At first, yes, I wanted to redraw the whole book for consistency and uniformity, but I decided to leave it as is to show the stages of my growth as an illustrator. It's fascinating to look at all the numerous flaws and imperfections in my panels that I could've redrawn if I wanted to. It's like looking at an old family photo album where you see yourself as a child and growing as you turn the page.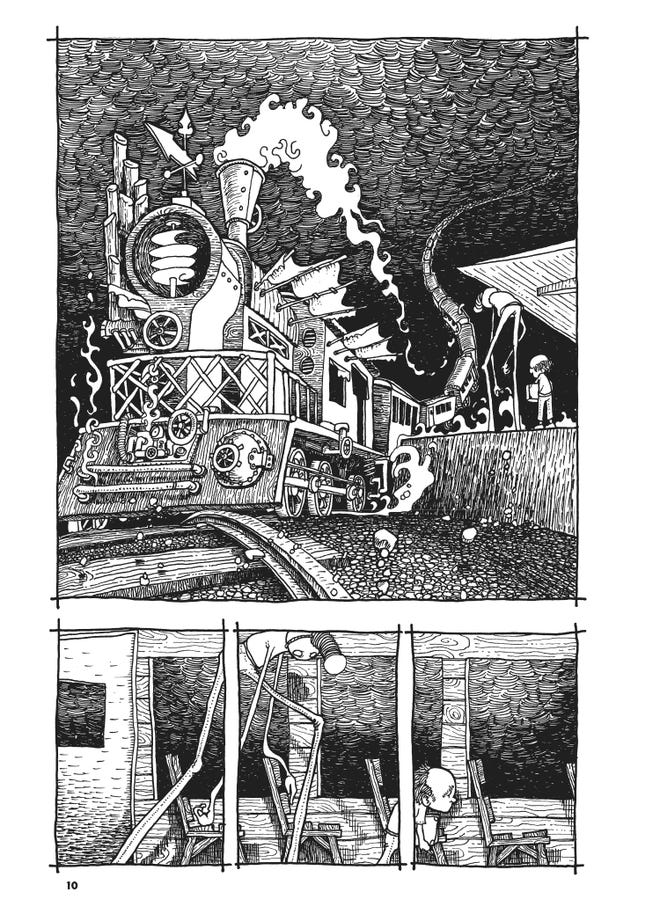 Meläg seems like a very personal story. In your notes preceding each short you explain how your own experiences and observations inspired them. Has working in comics taught you anything about yourself?
Oh, absolutely. Although I've been observant since I was a young lad, as far as I know, making comics showed me that I am more observant than I ever was. Sometimes I find myself just in a corner looking at people. Observing and reading each person in the room and making up my own stories behind those faces.
Because of the personal nature of Meläg, is there something that you can share about yourself that would help fans understand you better?
Haha! I am not sure. I am diagnosed with Tritanopia. A color vision deficiency where a person cannot distinguish between the blues and the yellows. So, the only color I see with no distortion is the color red. The world as I see it looks muddy pink. My doctor said I might've got it from a strong blow to my head. I thought maybe it was because of a car accident that happened before.
That is one of the main reasons I only work with pen and ink. Of course, I still do paint occasionally with the help of an old color guide I wrote when I was still active as a painter.
One aspect I enjoy about your upcoming graphic novel is that even though the setting has a fantasy feel, many of the stories still feel grounded. In a world with genies and gorilla men, a lot of the time there's an unexpected but humble twist. Was there a concerted effort to walk this line and present a duality of sorts?
Yes. That was the initial plan when I started writing the first story of the book. You see, I consider Meläg as a semi-autobiographical comic. It is basically a personal graphic diary that I wrote and put a fantastical element on it just to make my unexciting life more interesting.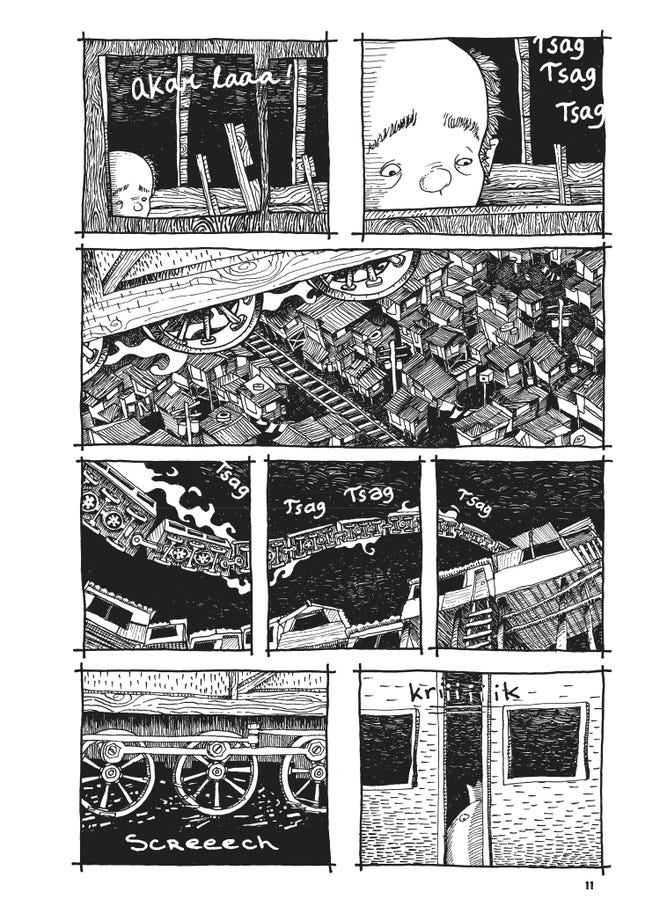 It's not overt, but Meläg incorporates elements of Filipino culture. There are the cities mentioned, the architecture of buildings, and many of the characters are wearing tsinelas (flip-flops). I appreciate all the details but why do you think the graphic novel will resonate with other people?
That's the thing. As an artist, I just had to create what I feel like creating. And I am not certain if my work will resonate to others. The town of fables is a mixture of what is out there in the real world. Some elements may look Filipiñana but it is actually subtly blended with European and African aesthetics in it. In one of the stories I wrote, which is not included in the book, it snowed in Meläg.
I guess what makes the book appeal to the reader, in a subconscious way, is the human aspect of the whole fictional town. The main reason I don't take the background details for granted and spend a lot of time planning and drawing it is because I consider the fictional little town as the main character of the book. I enjoy and love illustrating the architecture, the sky, the land, and the citizens.
Can you tell us what you're currently working on or what you plan on doing next?
There are new stories I'm currently brewing for a new book and a future project I am so excited to start working on, but I am not allowed to discuss yet. Exciting things are coming.
---
If you're interested in reading more about a building a fantastical world, check out Popverse's profile on Elizabeth Ito and her animated show City of Ghosts.