Spurrier and Bergara's Coda is coming back with a new hardcover edition (and brand new epilogue)
The acclaimed Boom! Studios title will receive a deluxe edition this June
Simon Spurrier and Matias Bergara's apocalyptic fantasy series Coda was a hit with critics and fans alike during its initial serialization in 2018-2019 — but just as magic found a way to live on in Hum's world, so has Coda found a way to continue to exist. Popverse can exclusively announce the Coda Deluxe Edition will arrive in stores this summer.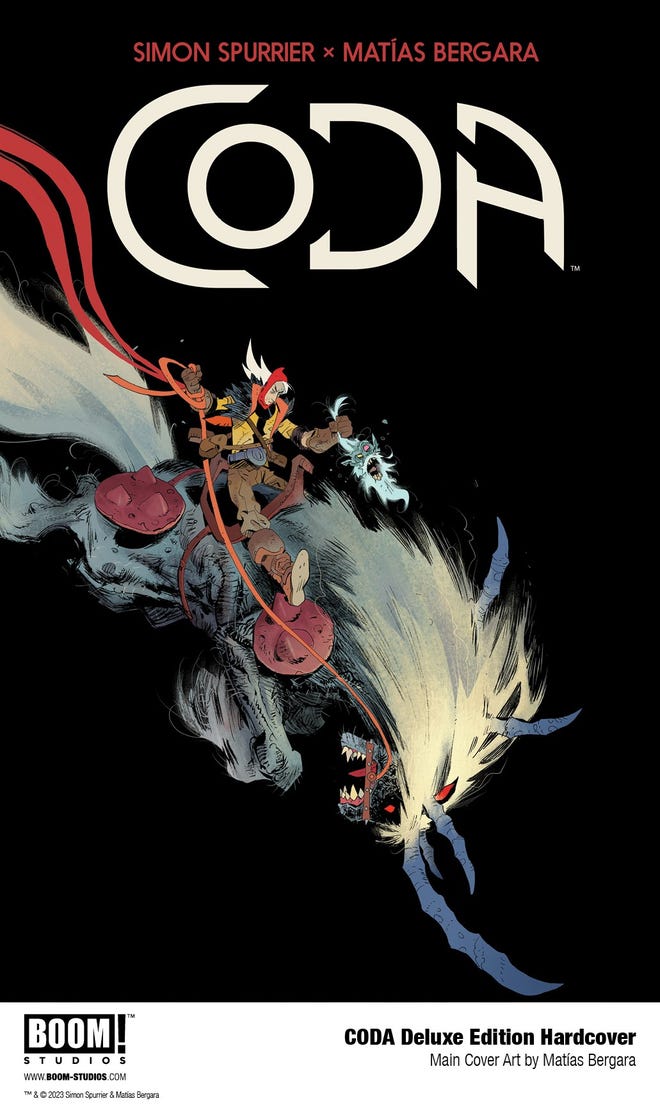 For those who didn't follow the original serialization, Coda is set in a fantasy world where magic appears to have ceased to exist. Of course, things aren't quite as straightforward as they might appear, with Hum — a humble, if misanthropic, man trying to find a way to save the soul of his wife — accidentally stumbling into the middle of an existential conflict far beyond anything he's equipped to deal with. It's a dizzying, beautiful read — and, come June, it'll be available in an edition showing the story off to its best effect.
The deluxe edition won't just collect the full 12-issue run of the original series in an oversized hardcover, it will also feature previously unseen artwork from Bergara, and an all-new canonical epilogue comic.
"Coda is one of the proudest accomplishments of my career," Spurrier told Popverse via email. "A strange, funny, sad, violent, loving book about what happens when the magic is gone — literally. On its first release it exploded beyond anyone's wildest dreams, finding huge success all over the world. Given how unashamedly it brandishes its love for European fantasy comics, it's an enormous joy to see it being collected into a single luxurious, high-spec album. This format lets it breathe — and shows off Matias's mindshattering art — to the most perfect degree. A simply exquisite artefact."
Coda: Deluxe Edition will be released June 28 in the direct market, with bookstores receiving copies July 4. Pre-order your copies at Amazon, Barnes & Noble, or Bookshop.org.
---
Coda is far from the only fantasy title in Boom! Studios' line-up; the publisher offered updates on some more during its Comic-Con International panel last year.