Immortal assassins, fairies, and Sleeping Beauty at the Boom! Studios SDCC panel
Matt Kindt, Christopher Cantwell, and Michael Dialynas discuss their Boom! Studios projects
Boom! Studios is dedicated to creating world-class comic books and graphic novels. Across their four distinct imprints, Boom! Studios, Boom! Box, KaBoom! and Archaia, they develop titles for a diverse readership of all ages, working with several popular licensed properties from Dune to Buffy the Vampire Slayer to The Jim Henson Company while also championing critically acclaimed and award-winning creator owned titles such as Lumberjanes and Something is Killing the Children.
San Diego Comic-Con marked the first time the publisher attended a major event since the end of 2019. With such a long hiatus, they wanted to go all out with a booth on the exhibit floor along with hosting a number of panels. At the Boom! Studios: Discover Yours panel, they spotlighted the creators behind some of their current and future titles. President of Publishing and Marketing Filip Sablik moderated conversations with writers Matt Kindt and Christopher Cantwell, artist Michael Dialynas, and Editor-in-Chief Matt Gagnon.
Kindt participated in the Hall H panel on BRZKR the previous day but still had more to talk about the series co-written by Keanu Reeves, sharing a peek behind the curtain at their creative process. The team has been writing the final issue for two years now having an idea of how it will end, but it wasn't until recently that they produced a tight outline.
In BRZKR, Keanu obviously relates to the mysterious and violent B, but Kindt sees himself in the other characters such as Diana and Caldwell. A lot of the time, Reeves roleplays to come up with the ideas for the story while his colleague asks questions to further expand on them. Kindt always found it fascinating to see his partner acting out the scripts and to have the actor read his words out loud
Wynd is set to return this August to begin the next chapter, Wynd: The Throne in the Sky. Series artist Michael Dialynas said that his and writer James Tynion's plan was to tell the story in three books, but after reaching that milestone, they realize they have more to tell. It's been a journey the past three years creating the fantasy world, but at this point, the artist is really in tune with comic. Whenever Tynion asks him to design something new for the narrative, Dialynas just "looks into the book" to find it. For example, when a new type of fairy soldier needed to be introduced, Dialnyas looked towards the book, to gain inspiration for a new race that resembles a cross between a fairy and a moth.
Briar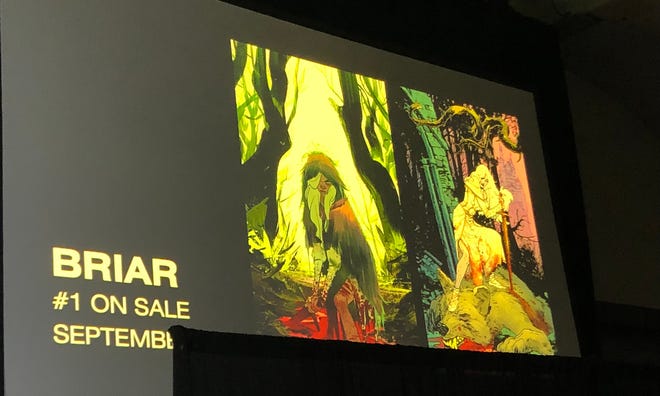 Briar is a new series arriving in September from Christopher Cantwell and artist, Germán García. It puts a twist on the classic fairy tale, Sleeping Beauty, where they ask the question: What if the princess didn't live happily ever after? In this world, Prince Charming never kisses the titular character to awaken her from her slumber. Instead, he only marries her to take control of the kingdom while his wife is still incapacitated. Under his rule, the land crumbles due to his incompetence. One hundred years later, Briar finally is revived and finds her surroundings different from what she remembered. With much time passing, the local residents have no clue who she is, and she must pave her own path.
This is a project that Cantwell began writing in February of 2020. He shares that he has never done anything with this large of a scope, and it required meticulous planning to build this world. However, he does admit that sometimes he'll throw an idea in on a whim just because he has grown so fond of it, regardless if it really fits in.
Graphic Novels vs. Comics
The panel was asked if they approached a story differently depending on if they were creating a graphic novel or comics. For Michael Dialynas, working on Wynd is a "reverse director's cut," because they kept on adding more material. After the series switched to an issue format, sometimes it was tricky because they couldn't land the narrative on the right page.
Matt Kindt expressed his preference for the graphic novel because, like Dialynas said, you can always add more. For single issues, not only is there the strict page count, but you also have to strike the balance between delivering a satisfying sliver of a story while keeping the readers interested to see what happens next.
Cantwell, who co-created the show Halt and Catch Fire, likened the issue format to television. You're creating single episodes for a season long narrative but in comics form.
Helpful Tips
Between them, the panelists have a weath of experience making comic books from different angles. When asked how to break into the industry, Matt Kindt said to just make books. If you're a writer, find a friend who is an artist to draw for you. If you're an artist, you don't need a writer-- try doing both yourself. The main importance is to take the initiative and tell a good story. It also helps if you enjoy the process.
Sometimes it can be a daunting task, so Michael Dialynas recommended taking small steps. He himself started with newspaper-style comic strips, then moving up to a single page comic and gradually increasing the page count. It made things seem more attainable this way.
From an editorial standpoint, Gagnon stressed the importance of finding a community. It's easier to find people at your own level and to come up together.
Reveals and Announcements
President of Publishing and Marketing Filip Sablik interspersed announcing new projects throughout the panel. Coming out on September 28, 2022 is Hollow, a supernatural queer romance that takes place in the legendary city known for the Headless Horseman. Shannon Watters and Branden Boyer-White will co-writer with Berenice Nelle on art duties.
This August, read volume five of Fence, the well-loved sports romance comic from from C.S. Pacat and Johanna the Mad. Released this September is Stuff of Nightmares, R.L. Stein's new horror series geared towards adults. In October, read I'm Still Alive, an autobiographical account of journalist Roberto Saviano illustrated by Asaf Hanuka. Saviano's book Gomorrah exposed the Neapolitan mafia and as a result, there were threats made upon his life. Also in October, the sci-fi adventure Eve: Children of the Moon goes on sale. Finally, though nothing is official, Gagnon shared that Boom! Studios is in talks with John Allison about future projects that could involve characters from both Giant Days and Wicked Things!
To follow along with Popverse's coverage throughout San Diego Comic Con, check out our SDCC 2022 round-up.