Acclaimed rom-com The Bromance Book Club comes to comics next month
The new series will adapt the acclaimed and popular 2019 novel by Lyssa Kay Adams
As the song puts it, love loves to love love — and romance fans love to love love more than most. In that light, webcomic platform Manta has some news romance fans will really love: a comic adaptation of the fan-favorite novel The Bromance Book Club launches next week.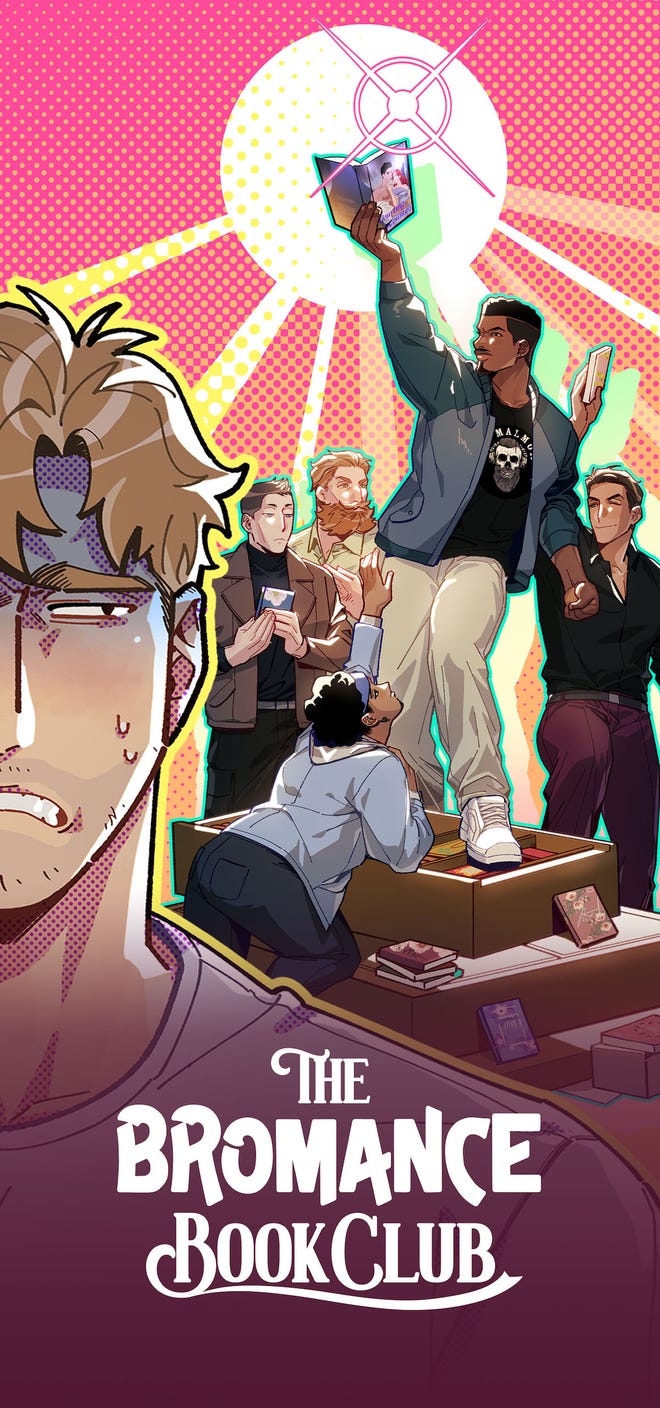 As the name suggests, the Bromance Book Club is a romantic comedy with a difference, as Gavin Scott — second baseman for the Nashville Legends, and a man whose marriage is in dire need of some help — joins a book club made up of Nashville's hottest men with an ulterior motive: getting some advice on how to make his wife happy and save his relationship from disaster. Luckily, they're reading the perfect book to make that happen… a steamy historical romance called Courting the Countess.
(As someone with a stated love for the Netflix Christmas movies, this sounds absolutely amazing, I have to admit.)
The best-selling novel by Lyssa Kay Adams won over fans and critics alike when it was published in 2019, being named the Best Romance of 2019 by Amazon Book Review, as well as one of Bustle's "21 New Rom-Coms Out in Fall 2019 to Give You Warm and Fuzzy Feelings All Season Long." Since its debut, it's been optioned for development as a movie by Netflix, with Secretariat and The Way Back producer Mark Ciardi attached.
The comic adaptation continues Manta's mission of expanding the reach of its webcomic audience by adapting material outside of the norm; the platform has already launched an adaptation of Samantha Vitale's fantasy novel The Lady Alchemist, as well as hit South Korean movies Svaha: The Sixth Finger and A Hard Day.
"At Manta, we are dedicated to bringing our readers compelling stories from around the world – whether they are created entirely by Manta Studios or based on existing books, novels, films, TV shows, video games or other formats," Moonseok Jeong, COO and head of content at Manta, said in a statement. "Lyssa Kay Adams' The Bromance Book Club is a cherished IP that has resonated with countless fans, and we are excited for Bromance fans to be able to return to the world of her novel to experience the story in a vibrant new way on Manta."
The series launches September 3 — but romance fans can check out the many love stories already running on the platform while they wait.
---
Manta is just one of a World Wide Web-full of webtoon and digital comics publishers; here are the hottest webtoons of the year so far.