Gotta catch 'em all!—Tim Allison is on a mission to collect every C2E2 badge
Tim Allison has been collecting C2E2 badges each year with the hope to gather every one ever made
Every collector knows that rush of stumbling across something you've been searching for over who knows how many years— or even better, stumbling across something that you didn't even know was out there. I met Tim Allison while I was heading out of C2E2 this year. A staff member was asking around, seeing if anyone was willing to give up their badge to a guy who collected them. I didn't have a staff badge, but I did have a 'Back of House' badge, which I offered up, and Tim happily received.
That's when I saw the binder. Tim flipped it open and slipped the badge into the kind of plastic sleeve sheet normally reserved for baseball or trading cards. It seemed like an interesting hobby, so I asked him to tell me about how he got started.
According to Tim, the story really began years ago with Tim's then-infant son Ben, just around a year old. Tim had been running a couple comics shops at the time and was opening Magic: the Gathering packs to find single cards that he could sell in the store. He didn't think that Ben had that high of a reach, considering little Ben was still in a cruiser roller. But when Tim came home one day, he found that Ben had been teething with the most expensive card in the pile (it was expensive then, but luckily for Tim, it is only worth a couple bucks now).
In 2015 Ben passed away at age 20. As Tim prepared for his funeral, the time for C2E2 rolled around. Tim and his wife decided to attend with the passes that Tim had bought for him and his son. One day, Tim was taking a look at the 3-Day passes he had saved from the previous couple years and remembered that C2E2 had only started in 2010. It probably wouldn't be too difficult to find a couple of passes from each year. There was now a new appeal to a smaller collection, since Tim's collection would likely now be passed down to a niece or a nephew and having something that could fit into a couple binders would be much more efficient for them to handle.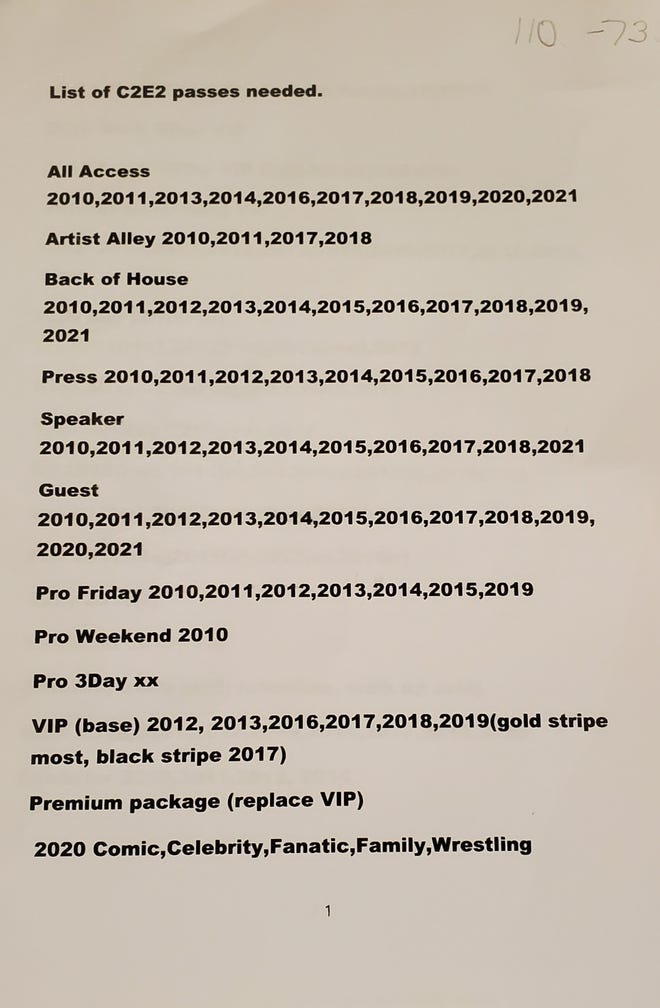 Like many collectors, Tim turned to Ebay and became intrigued when he saw the different assortments of NYCC passes that were being sold. He figured that it wouldn't be too difficult to track down one of every type of ticket for C2E2 (little did he know…). By 2020, Tim had realized that getting a real copy of every badge was going to be very difficult. He had also come across an Ebay seller who had been to every show and (probably more importantly to Tim) had a VIP badge from every show. Thus, the idea of the paper "proxy" copy of pass was born, collected by asking someone for a photograph of their badge, then edited, printed, cut out, and lovingly placed in its respective spot in the binder.
There are a lot of different types of collectors in the world. There are people who are on the hunt for only the singular most rare items. Others who are hardcore completionists with no interest in compromise. There are those who just love to look at a neat little line of those seasonal Target birds on a shelf (that's me). And then there are those who seem to collect from a meditative point of view. Tim Allison's collecting seems to be like that, about finding something fun to do, about the thrill of searching down that next big thing, all the while remembering his son through an activity that memorializes something they once did together.
---
Tim Allison is still looking for cards! Above is a recent version of his "want list," and he'll be updating his facebook with newer versions of that list.
---
Be there at C2E2 2022 from anywhere with Popverse's liveblogs, reports, interviews, and streaming panels.