Be there at C2E2 2022 from anywhere with Popverse's liveblogs, reports, interviews, and streaming panels
Popverse editor-in-chief Chris Arrant's favorite con (and he'll tell you all about it if you ask!)
Popverse was in Chicago for the the comics + pop culture convention C2E2. Emanating from the fabulous McCormick Place, C2E2 was a three-day show running from Friday, August 5 through Sunday, August 7 - and Popverse was there (and then some!) to report news, interview many talented people, and most importantly - be curious.
Popverse liveblogged big panels such as the Marvel Comics events, , interviewing the talented folk who will be there, and documenting the many curiosities found at a convention this size. We are telling our stories on ThePopverse.com with text, video, and photos, as well as on our various social media channels.
Speeding through the Show Floor like #TheFlash ⚡️ #PopverseatC2E2 pic.twitter.com/9tfGzXecm0

— Popverse (@PopverseSays) August 5, 2022
Popverse also livestreamed all of the C2E2 Main Stage panels for our Popverse members and those with a C2e2 digital ticket - this includes (but isn't limited to) the wrestling panel with Mick Foley, Trish Stratus, and Lita; the Aly & AJ spotlight panel; Billy Dee Williams' panel; the Star Wars Inquisitors panel with Moses Ingram and Rupert Friend; and the C2E2 round of the Cosplay Central Crown Championships.
Several additional panels were also filmed and published here on Popverse.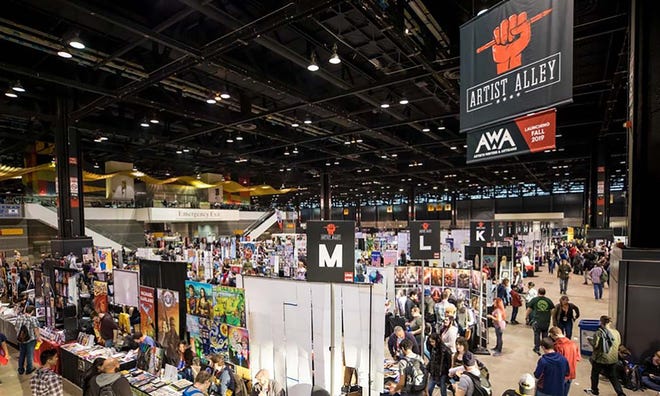 Who from Popverse was at C2E2 2022? The entire Popverse team of Deputy Editor Tiffany Babb, Video Editor/Admin Veronica Valencia, Video Producer Ashley V. Robinson, Staff Writer Graeme McMillan, and even me! Assisting us all weekend was our ReedPop colleagues, Marketing Manager Jeremy Ross and Brand Marketing Coordinator Illianna Gonzalez-Soto.
Here is a list of everything Popverse covered from C2E2 2022:
Marvel
DC
Star Wars
Comics
Anime, animation, & manga
Cosplay
Film/TV
Gaming
Miscellaneous
You can support Popverse and by becoming a Popverse member - and you get access to streaming panels, VOD panels, and long-form entertainment journalism stories from our staff.
Planning for a comic convention can be an overwhelming experience, and we're regularly publishing articles about con culture to help you understand and take advantage of all that's out there. From the best things to look for at comic con booth dollar bins, comic convention essentials, to navigating conventions when you have a disabiity, and even a personal essay on how cosplay and conventions helped one of our writers rediscover herself as a fan.
C2E2 2022 just finished, but we already have news of when the 2023 C2E2 will take place.