Ryan Browne discusses Chicago as a comic town (and also Eight Billion Genies)
Comics artist Ryan Browne in conversation with comics creator and publisher Victor Dandridge Jr.
Schedules change, sometimes they even change last minute (especially nowadays). Artist Ryan Browne (Eight Billion Genies, God Hates Astronauts, Curse Words) had planned on being on a panel with three other panelists and a moderator, but found himself on a panel alone with moderator comics creator and publisher Victor Dandridge Jr. to chat about why Chicago is a comics down.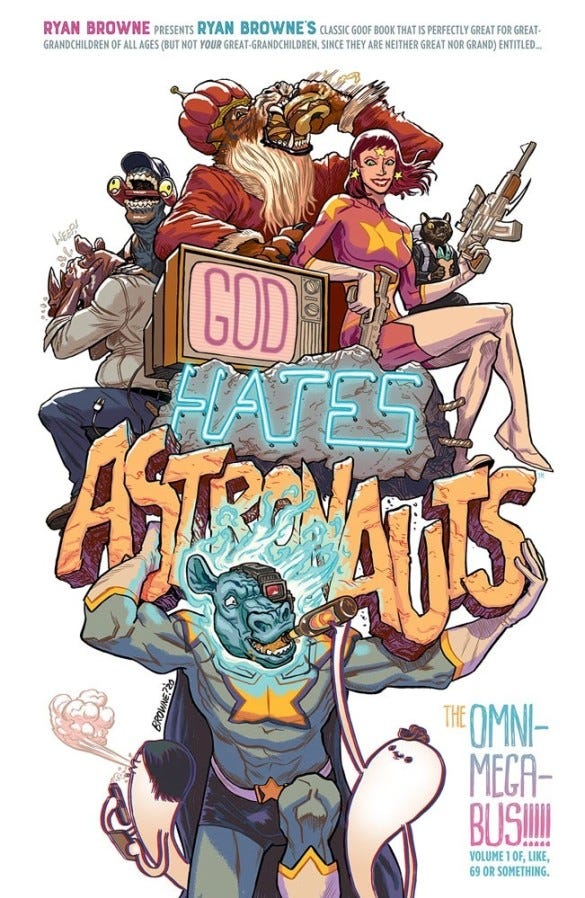 Ryan Browne, just off the announced signing of a deal with Amazon to adapt Eight Billion Genies into a film and then universe, mostly spent the panel talking about the network of pro comics creators in Chicago and how it helped him build his career. Browne joked that he had never been hired " by anybody but my friends," and how it was important to build connections through meeting other creators.
Dandridge asked Browne if he had come to Chicago with the intention of making comics. No, he had "no idea" about Chicago's comics scene. He had read a Newsarama article about a Chris Burnham book, and then had gone to Wizard World Chicago, where Burnham was there. Browne gave him God Hates Astronauts, and Burnham wrote Browne a long email in reply. Browne considered the moment "monumental" to his career and belief in his efforts, and he even used it as part of the forward for the collected edition of God Hates Astronauts. Burnham invited him to a drink and draw (a weekly meetup at a bar where you get together and draw) with other professional comics artists, and he started meeting people.
Browne made sure to emphasize the importance of mentorship and how he takes time to mentor young creators and give feedback when he can. Being a comics artist can be a lonely trade, Brown says, "Comic artists spend a lot of time alone, so we're not necessarily the best at talking with people." He talks about asking questions instead of giving compliments, making them talk instead of focusing on yourself. Browne says that he got really good at talking with professionals, and that instead of telling people that they were great, he should ask questions about what they're doing. He gives a hint that to get a comics artist to like you, buy an original comics page.
Dandridge asked if Browne had any favorite places around the city to buy art supplies for comics. Browne replied sadly that "They don't exist anymore," though he missed Genesis art supply, "an old school awesome messy" store. He mentioned the website JetPens as a place where you get everything you need nowadays.
An audience member asked Browne what he'd like to work on next, and Browne mentioned an old book he had written and hired another artists for that he'd like to draw himself called Trash Bridge. Trash Bridge is "an 80s B movie comic. In the distant future, pollution is so bad, that the seas are toxic and are filled with giant creatures." Because of this messed up ocean, there would be noo way to get to Europe from the US, so the government builds a bridge out of trash, and "The story is about the cops who police this bridge."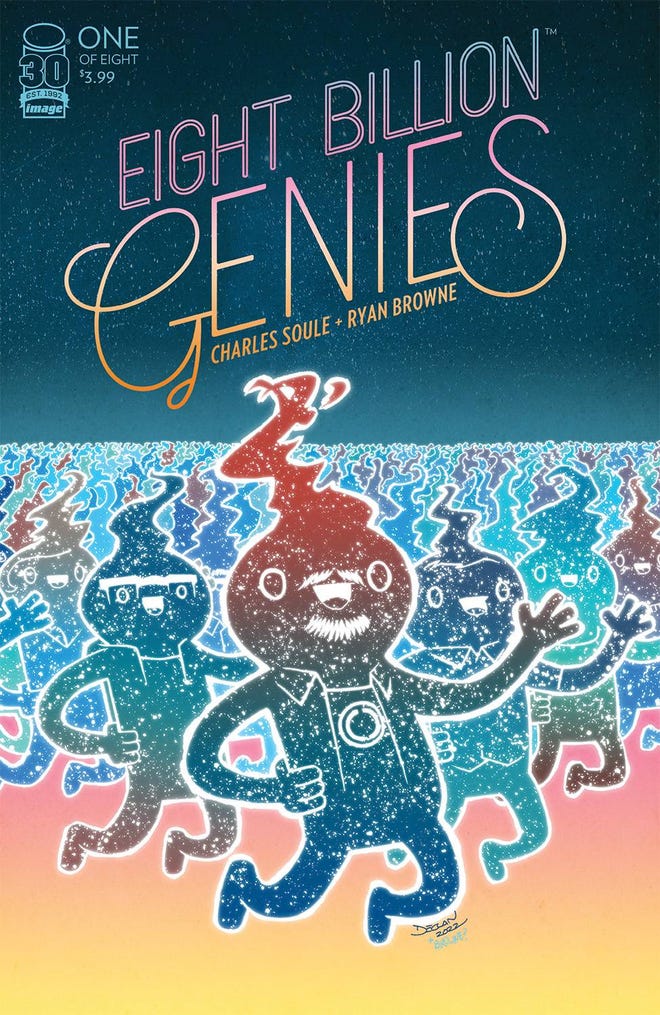 The other project that Browne wanted to work on is another 80s nostalgia piece, somewhere between Battle Beasts (his favorite dumb toy from the 80s) and GI Joe. In this book, like in reality, the Cobra-like organization is much more popular than the American government, but they need a more marketable team for the US, so they genetically engineer animal soldiers for publicity.
As for meeting his collaborator on Curse Words and Eight Billion Genies Charles Soule, Browne mentions having met him at New York Comic Con before Soule's Swamp Thing came out. The Detroit Tigers were in the playoffs, and since Soule was originally from Michigan, Soule and Browne bonded over watching them. It also turned out that Soule's wife was from Browne's hometown.
They met later on, where Soule "tried to sell me on drawing a book that sounded horrendous" about boats. That was a no-go, but "After the boat disaster, it was 'alright fine, what do you want to draw?" Then, they came up with the idea for Curse Words.
As for the buzz around the Eight Billion Genies Amazon deal, Browne seemed quite surprised that the book had hit the speculation market. "Oh it's going to be TV? That means it's 'good,'" he replied, "TV sucks." As for the future of comics, he recalled how people have spoken for years about the death of comics, through the death of the original boom and then with digital, and summed up his response to all that talk quite succinctly, "Screw you everyone. Comics aren't going anywhere, man."
---
Be there at C2E2 2022 from anywhere with Popverse's liveblogs, reports, interviews, and streaming panels