Convention essentials: Almost everything you'll need for a great convention
It's dangerous to go alone - take this! A comprehensive guide of things to bring to a comic convention
Conventions are the backbone of our community — they're a great way for like-minded fans to come together and share in their respective fandoms. Fans of all walks of life are encouraged to come to celebrate their fandoms at large and small cons, regardless if it's your first convention or 100th convention. I've been going to conventions since 1999. That includes comic book cons, anime cons, science fiction cons, and even food conventions!
Yet despite my tenure, I still have to make lists of things to bring with me to conventions — even if I'm only going for the day. Prepping for a convention a week ahead of time will save you loads of aggravation, and will also save you time the day of the con. Buying things ahead of time and keeping them together (in a "convention essentials" bag) is a great way to be prepared for any convention! Below is a comprehensive list of things you may want to think about buying ahead of time for your next convention. Everyone's convention bags will look different, and you may only need one or two items to get you through. No matter what, we want to help you be prepared for whatever might come your way!
Clothing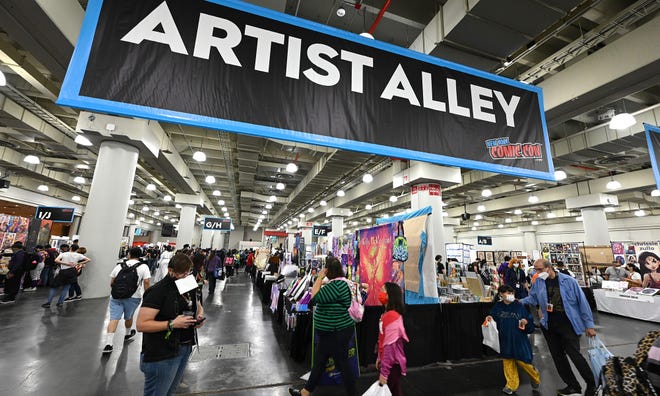 Comfortable clothing is key. If you're not in cosplay, wear something that you'll be able to move in, stand in line in, and be comfortable in for upwards of 12 hours. I personally wear leggings with baggy tee shirts or cotton dresses. I always pack a sweater or hoodie as well, just in case the hotel or convention center is cold. Breathable fabrics will also help keep you fresh and relaxed all day as well.
Shoes are going to make or break a convention. I strongly encourage you to wear shoes that are already broken in with a comfortable, breathable pair of socks. They can be athletic shoes, sandals, casual shoes, or whatever is going to feel good on your feet. My personal go-to's are New Balance, Vans, and Keds, but if you have a brand that works for you, wear them.
Compression socks are an underrated item, but one people of all walks of life need. These types of socks help with blood flow, inflammation, and pain reduction — I use them all the time and found they absolutely do help with cutting down the pain caused by my arthritis. You can also find compression shorts, tops, and just about everything else. I can not stress this enough; if you are going to a con, you will be on your feet all day, and compression socks are a game-changer.
Cosplay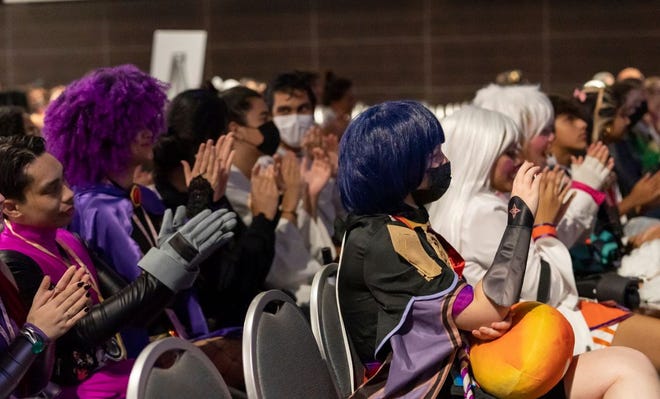 Cosplaying is a time-honored tradition at conventions across the globe. But sometimes things happen. A seam pops, a prop falls apart, any of us who have gone in costume knows the drill. Packing an emergency cosplay bag will absolutely come in handy. I have a small tote bag I throw things in, and I usually keep the bag in either my car or hotel room. When I'm not at a con, the bag sits in the corner of my closet.
Cordless hot glue guns have been a game-changer for me. I charge them the night before I leave, and usually, the battery lasts for days, if not weeks, at a time. I'm partial to Ryobi products as a whole, and while this hot glue gun may be on the pricier side, Ryobi products are built to last. You can buy glue sticks from any craft store and use them with this glue gun.
A portable sewing machine might also be worth bringing as well. Hot glue can do a lot, but being able to properly fix a seam in a pinch is downright great. Portable sewing machines are small and convenient, but might not always offer everything your full-size machine can. You don't even need a portable machine, a small sewing kit can be a life saver as well — especially if you're doing a small fix!
Want to make your cosplay look crisp and fresh on the go? A portable steamer will absolutely do the trick. You can keep these in your car or even your backpack. Steamers are also great for regular clothing as well!
If you wear makeup with your cosplay, do not forget your makeup bag. I have one I keep ready to go with backup products, including mascara, makeup remover, blush, and a neutral lip balm. I also keep a travel-size hair spray can in there as well, as hairspray can keep wigs and makeup firmly in place the entire day.
Accessories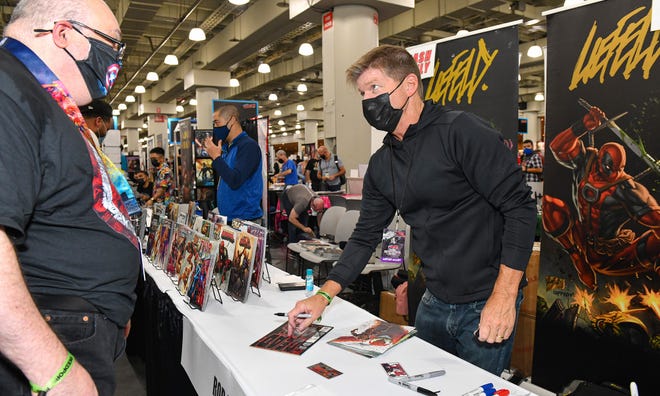 Invest in one good backpack or some kind of bag specifically for conventions. Five years ago I purchased a Swiss Gear backpack similar to this one, and it has been my go-to travel and convention bag ever since. Find a backpack that offers back support, is waterproof, and has several different compartments. I recently started wearing a fanny or hip pack as well — therefore I can grab my cellphone, wallet, and emergency inhaler with ease. I prefer slim pack designs such as this one, but any design is fine. If you'd rather avoid a fanny pack, carry an extra tote bag as well. I sometimes pack one in my backpack in case I need to carry bulkier items such as action figures or Funko Pops.
Many people I know bring rolling suitcases with them, specifically hard-shelled ones. These are a great way to keep stress off of your back and body, and they'll protect your comics (and anything else you buy) as well. If a rolling suitcase is your speed, find one which has double spinner wheels — meaning the suitcase can do a 360-degree turn. If you do go with a fabric case, make sure it's waterproof. You do not want your items getting soaked! A collapsible rolling cart is also a great option, plus these do not take up a lot of room when not in use.
If you bring cameras or other technology with you, invest in a good camera bag or backpack. Camera backpacks can still double as regular backpacks as well, but with an added layer of protection for your expensive devices. Bags such as this one come with all kinds of compartments to keep your laptop, extra clothing, and even accessories safe. If you want something smaller, most small to medium size camera bags are perfect for your camera body and one extra lens.
When not in use, I keep my convention-specific bags packed together in my closet so I don't misplace them. That way when it's time to prepare for a con, I can just grab my items.
Gadgets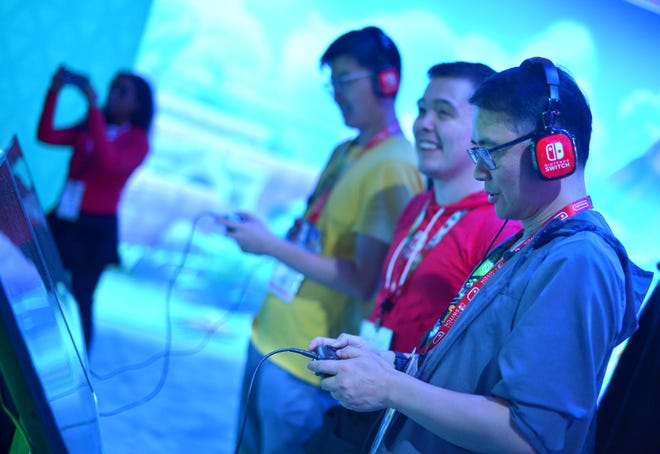 In today's high-tech world your phone can do just about everything. I've used my iPhone as a camera, recording device (audio and visual), a notepad, and sometimes I even use it as a regular phone. If there's one thing I would urge everyone to invest in, it would be a strong phone case. I personally like Otterbox cases. They're durable and strong, and they absolutely protect your phone. They come in a variety of sizes and designs so anyone with a smartphone can get one. While I do think Otterbox is worth the investment, any sturdy phone case should protect your phone just fine. It is also worth buying a screen protector as well. I'm clumsy, I drop my things all the time, and screen protectors have saved my butt from scratching the hell out of my phone. If you bring tablets to conventions with you (such as an iPad), make sure you have the proper protection for them.
But if taking high-quality photos and videos is appealing, a good camera will go a long way. I personally use a Canon 5D Mark IV with multiple lenses, but that will run you a few thousand dollars. Professional cameras like that are ideal if you want to take high-quality photos and videos, and if you want the option of multiple lenses. Point and shoots have improved since the early 2000s, and some of today's offerings even rival my Mark IV. Nikon and Canon are the leaders in cameras, and you truly can not go wrong with either brand. I'm a personal fan of the Canon PowerShot G7 X Mark II, which comes with 20.1 megapixels, great for taking great-looking photos and videos. The Nikon Coolpix B500 is also a wonderful, affordable introduction camera that does yield 16 megapixels, and an impressive 40x zoom — you can absolutely take clear photos from across a dealer's hall with this camera.
For those of you wanting to capture striking video during an event, Sony's mirrorless camera line is truly one of the best on the market. The Sony Alpha 7R III might cost just as much as a Mark IV, but this incredibly lightweight camera boasts an impressive 42.4MP with 4K HD video. Your event videos will come out incredibly crisp, colorful, and downright beautiful.
No matter what you're using, don't overlook a good microphone. Most cameras (and all cell phones) have some sort of mic on there. However stock microphones aren't always the best, and they tend to pick up everything around them. When I'm just using my cellphone, I rely on wireless microphones such as this one. When I'm filming with my cameras, I stick with Rode — but most external microphones will due just fine. These mics have made a huge difference in my audio quality.
If you want to just record audio, investing in a good audio recorder is key. I use this Sony ICD-PX370, and found that it captures crisp and clear audio, even during a panel. The battery life on this recorder is outstanding and has lasted me on a full charge for over two weeks. It does have 4G of memory built-in, but you can add memory thanks to the micro SD slot. Most audio recorders can be found for under $50, and are well worth the price!
Of course with all of this technology, you may need a backup power supply. Most camera batteries have a significant charge life; my Mark IV can hold a full charge for a week straight. Bringing extra batteries is always a good idea, but if you just need a little charge on the go, external power banks are the way to go. I like power banks that can charge multiple devices at once, but you should absolutely find the one that works best for you. Don't forget to pack cords or battery chargers as well — you don't want to have to leave a convention floor to go find a cable!
One thing I've seen other photographers bring is a good tripod. If you're looking for something stable to do videos or pictures with, a tripod is a way to go. I've used tripods with attached ring lights (perfect for a dimly lit convention hall) and tripods that are ideal for a table. If you want to bring a tripod for your camera, make sure the tripod can handle the weight of both your camera's body and any lenses you may bring. While I personally do not like to bring tripods to shows with me as they add weight, I can certainly understand why many people do bring them.
I've also seen people wear GoPro's at cons, capturing every moment of what it's like at a convention. If this is something that interests you, it may be worth the investment. I've personally never used a GoPro, but I've watched countless convention videos that were recorded on them. The video quality is striking, and the audio isn't terrible either.
First Aid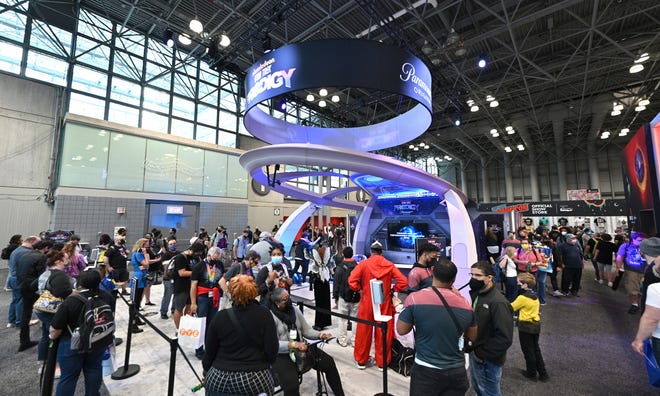 Whenever I'm getting ready for a convention, I always double-check the first aid kit that I keep in my backpack. You can buy a ready-to-go pack from just about everywhere, and they come in a variety of sizes as well. Most conventions have a first aid station, but if you're in need of a bandaid or a pain reliever, it's handy to have one with you. For myself, I always keep extra bandaids, Tylenol, alcohol wipes, and antacid in a small compartment in my backpack. If there's only one thing you take from this list, bring bandaids. I've still managed to get blisters on my feet from shoes I've worn countless times before, and not being able to cover them quickly has saved my butt.
If you have a medical condition (for example, I have asthma), make sure you have some kind of medical alert card on your person — like in a wallet. If you're already used to carrying medications with you this should be second nature, but triple-check that you have any emergency medications you may need in your bag.
One item I would urge everyone to bring are these Zyrtec Allergy Face Wipes. I use these all the time on days when pollen is just too much. Combined with a regular antihistamine, you can keep allergies at bay during a convention.
Product Protection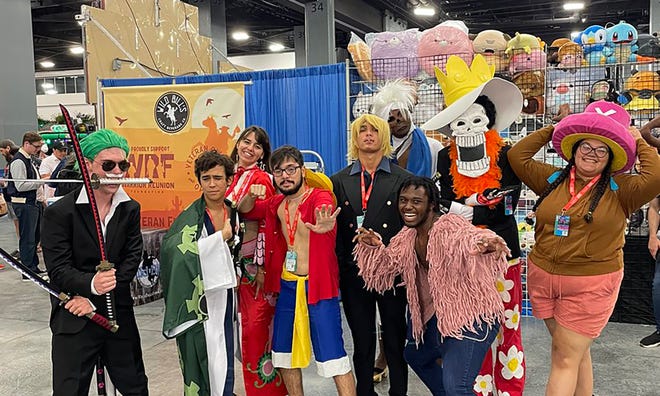 Are you bringing comics or items to a convention to get signed? While your items will be somewhat secure in a backpack or back, there's still a chance a corner can get dinged or even worse — the comic bending. Comic Book Stor-Folios has been a life saver for myself and my fellow collectors. I only own three, but they absolutely make a difference in how I bring books to conventions. You can find them in a variety of designs as well. One of mine has Vampira on it. If that adds too much bulk, or you're only bringing one or two books, consider buying a few of these thick, plastic top loaders. I would still have the book in a bag and board for an added layer of protection. If you are getting a book signed and don't want to mess with taking it out of a bag repeatedly, consider cutting a window into the bag (but make sure you do this when the comic is not inside the bag). That way you can just point to where you want your book signed without taking it out of a bag.
For Funko Pop fans, you also have a few options for protecting your Pops at cons. You can buy a pack of plastic containers that do offer a fair bit of protection, but if you have a Pop that truly has value to you, it would be a good idea to invest in a Vinyl Plastic POP Protector. They do add some bulk, but if you want to ensure your Pop stays safe in transit, this is the best way to protect it.
Another item some people overlook is poster tubes. While they are designed to hold posters, you can easily roll up and protect all kinds of one-sheet items, and you can usually fit more than one item in here at a time. While I would not suggest putting autographed photos in here, you can carry original artwork, posters, and any other smaller pieces of paper in here. If you are buying autographs at a con, bringing an 8" x 10" hard plastic top holder will save you money and time at the show. Much like comic book top holders these are sleek and lightweight, and won't take up space.
While this item isn't a necessity, if you do a lot of traveling to conventions an RFID blocking wallet is a great layer of added protection. At some point, most of us have had information stolen from us. Why not try and prevent it at the places we hold sacred.
Food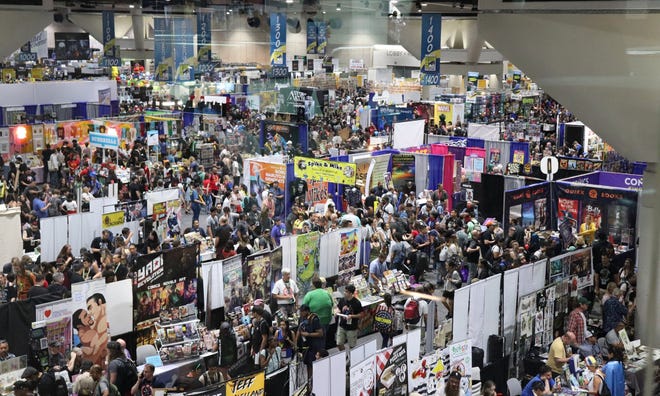 While it is easy and convenient to grab food at a convention center or hotel, sometimes bringing snacks or even lunch is a better option. I personally spend a lot of time outdoors, so I usually have a small cooler somewhere within reach. I like the convenience of Igloo's 7QT Playmates – they keep my drinks and lunch fresh and cold. Plus you can find them in all kinds of rad designs. These fit snug in the back of a car or in a hotel room, but if you are relying on public transit, you may want to skip getting an Igloo for a convention.
If you're bringing a backpack or a bag, you can always bring snacks with you. I always urge people to at least bring a water bottle so they can stay hydrated through the day but bringing some snacks — such as granola bars, crackers, and even cut-up fruits and veggies can be a life saver. You don't even need a fancy water bottle either, a $1 bottle of water can absolutely be reused throughout the day.
For fans who are staying at a hotel, going grocery shopping prior to a con will ultimately save you tons of money. In the past, I've purchased bread, peanut butter, cereal, a case of water, instant foods such as ramen or mac and cheese, and if I know I'll have access to a mini-fridge, I'll even bring milk and deli meats. Always double-check with your hotel to see what comes in a room.
Hygiene
Staying fresh and clean at conventions can sometimes be daunting. Halls and rooms can become hot due to all of the people in them — especially video game areas. While basic stick deodorants are great, I also buy spray deodorants as well. You can easily find travel-size versions of these at most big box stores. I always keep one in my convention backpack so I can stay fresh the entire day.
Hand sanitizer is an absolute must, especially in this COVID-19 world. You can find all kinds of hand sanitizer just about everywhere. If you're looking to save room in a bag, buying sanitizer with a clip-on makes it easier to reach for on a busy show floor. Antibacterial hand wipes are also a great option if you want to wipe off more than just your hands. Bringing a travel-sized Lysol isn't a bad idea either. You honestly never know when you may need Lysol.
If you're staying at a hotel, you may want to pack your own shower supplies. You can buy pre-made travel kits with the essentials, but you can also make your own with products you already know and trust. If you're only at a con for a day but want to keep your hair looking great, dry shampoo will go a long way. Keep a spare brush in your convention bag as well, I can't tell you how many times just brushing my hair between panels made me look and feel 100% better. I usually bring my own toothpaste and brush from home, but there's nothing wrong with a travel-sized version for when you're on the go. If you're a fan of mouthwash but don't want to deal with mini bottles of it, do not overlook mouthwash strips. These fit in any bag and come in handy in almost any situation.
Bringing cleaning supplies for clothing may not always be an option, but a travel-size Tide Pen and Febreze to Go might come in handy – especially if you're staying over. I sometimes will spray out my shoes at the end of the day, especially at conventions such as San Diego Comic-Con.
If you wear glasses, bring wipes for them. If you wear contacts, do not forget contact solution or eye drops. It may be worthwhile to pack an extra pair of contacts as well.
And don't forget...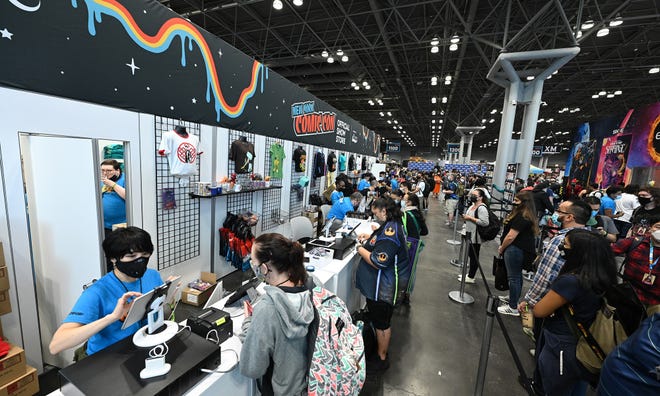 There are always going to be odds and ends you'll want to pack for yourself. I personally can not go to a con without a supply of Sharpies. While I don't really do the whole autograph thing, plenty of my friends do, and I'm always prepared in case they aren't. Bringing regular pens and paint pens isn't a bad idea either.
Prior to going to a con, set certain friends and family as emergency contacts on your phone. You can also make a handwritten list of emergency contacts (parents, close friends, other relatives, doctors, medical info, allergies), or print one out and put it in your wallet.
Bring a small journal with you. If your phone is acting weird and you need to take down someone's contact info, a journal can go a long way. Plus you never know when you might need a piece of paper.
Headphones or earbuds can be extremely useful when you just need to zone out from the convention. After all, they can be overstimulating for some people. Being able to melt into your favorite music can help a ton. Fidget toys are also very useful in this, and are great for fans of all ages.