C2E2 staff and fans open up about the weekend, why Marvel and DC were absent, and plans for 2023
ReedPop executives faced the fans as this year's C2E2 ended to answer questions and hear comments
As unlikely as it might seem to those who aren't regulars, one of the most commonly-asked questions from fans during this year's C2E2 was about carpets – specifically the red carpet that used to adorn the show floor at McCormick Place Convention Center, until it was removed in 2021 to no small amount of fan uproar. At the start of Sunday afternoon's C2E2 Team Spotlight, ReedPop's VP of Global Comics Portfolio (and, therefore, the head cheese when it comes to comic conventions) Kristina Rogers came prepared to respond.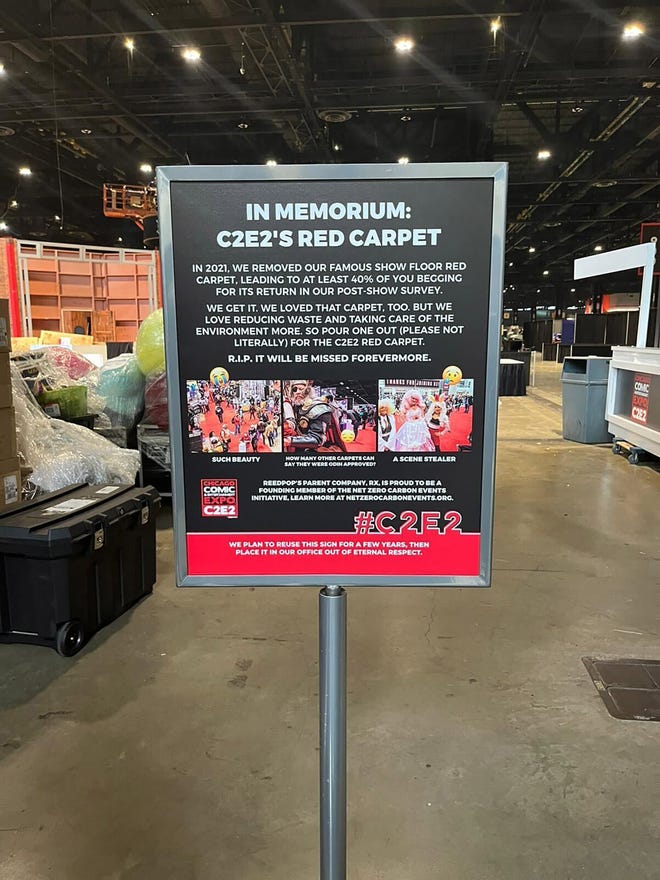 Beyond the environmental cost of carpeting the con floor every show – something that had to be done with new carpeting each time, due to the amount of foot traffic across the show's three-day period each year – Rogers explained to the crowd that the red carpet cost in the region of six figures every convention, turning it into the double whammy of being bad for the environment and too expensive to be sustainable.
"We're not mean, we're not trying to be mean," she promised attendees. "Please don't yell at us about the carpet." No-one did, although the subject was raised again during the hour-long session. People in Chicago really care about carpet.
A note from Popverse Editor-in-Chief Chris Arrant: Popverse is owned by ReedPop. However, neither Graeme McMillan or the rest of the Popverse editorial staff were given any instruction to cover ReedPop-owned events different than non-ReedPop events. Popverse's goal is to be journalistically and ethically sound in covering anything we cover, including projects by ReedPop and its business partners.
Absent Friends and Accidental Overlap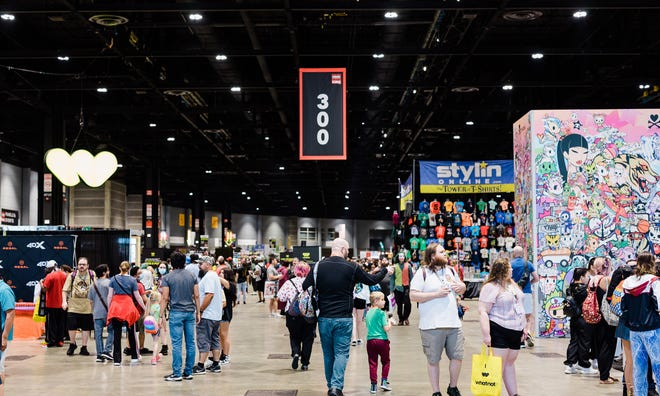 >
Perhaps a more serious recurring complaint during the good-natured panel came from those who felt as if this year's convention suffered from a lack of advance notice about guests and exhibitors alike – and, in a few high profile cases, a lack of specific exhibitors altogether.
"Yes, [guests] locked in super late this year," Rogers admitted, quickly adding that ReedPop was happy with the show's final line-up. Her reason for the lateness was straightforward: "Unfortunately there is still a bit of a pandemic happening." The lack of certainty made guests understandably nervous, delaying final decisions about attendance until the last minute. "I promise you, we didn't wake up a month ago and go, 'oh, right!'" she joked.
More complicated was the lack of larger comic publishers on the show floor. In response to one fan asking where Marvel and DC were, Rogers replied, "You should probably tell Marvel and DC that you want to see them at C2E2." Another panelist, Senior Director of Global Sales Ryan Will, offered more detail: "The easy answer is that [Comic-Con International: San Diego] was two weeks ago and they couldn't make it," he said. "That's true, but the comics industry is in a bit of flux right now." That flux, he went on to explain, impacted publishers' ability to exhibit at every convention.
"It's a bummer, because most of the time [pubishers say] we want to go, we love that show, but we can't do it," he continued. "Marvel specifically, they wanted to be here... It just didn't work out. DC, not a very different story. But at the end of the day, there's a lot that goes into their decision making. We can influence that to a degree, [but] this would have been a situation this year where we would have had to have the stars align." For next March's C2E2, he promised, "I will have a much more enhanced focus on staying on top of this."
There was, however, an upside to the absence of larger publishers at big shows like C2E2, Will argued. "This whole disruption, this glitch in the matrix, has paved the way for smaller publishers who might not have otherwise been able to take advantage of that because [the opportunities] didn't exist."
Smaller publishers mentioned by Will and fans who were praised for exhibiting included Vault Comics, Devil's Due Publishing, and Zenescope. "Make sure you give some love to the [smaller] guys because they're out there too," Will said.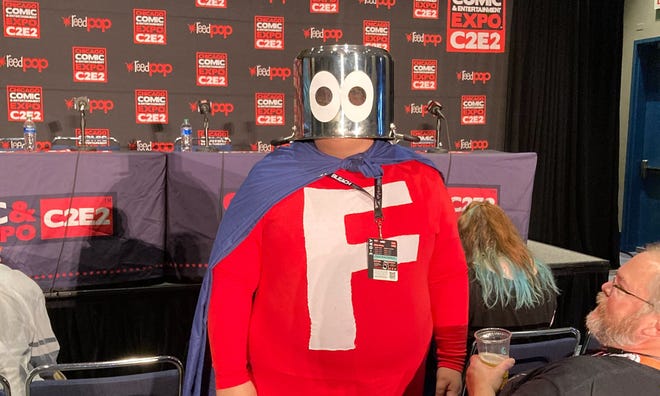 The absence of certain anime and manga exhibitors was brought up, with Content Manager, Panels & Programming, Chris D'Lando pointing out that Crunchyroll Expo was actually running at the same time as C2E2 in San Jose, drawing a lot of the core companies (and fans) to California instead of Illinois. That wasn't the only convention taking place at the same time as C2E2 this year; gaming show Gen Con was also taking place in Indiana on the same weekend, but panel attendees said they were surprised by the amount of gaming exhibitors present at C2E2 nonetheless.
Explaining the unfortunate overlap with other shows, Rogers explained that organizers had been given the option of three potential dates for C2E2 2022, and that the "other two dates sucked." "McCormick's a really busy building," she said.
Quiet Rooms and New Music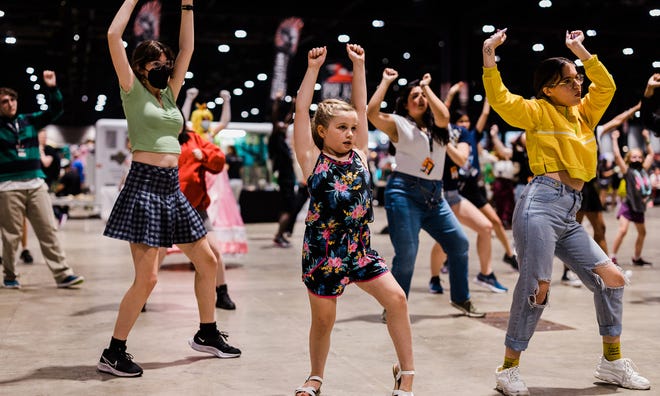 Other topics covered during the feedback session were both varied and, at times, extremely granular. Questions were asked about the lack of comedy programming this year in comparison with the past – "We love the Chicago comedy scene. We lost a lot of our contacts in the last couple of years, to be upfront," explained D'Lando. He added that efforts are being made to rebuild the program for the future, and to expand the After Dark programming block in general – as well as the possibility of adding a music track for future shows. ("The feedback was definitely noted," D'Lando said, after sharing that musicians have been on a to-do list for some time.)
There were even discussions about previous speed dating programs at earlier conventions and the likelihood of their return. "We stopped doing that in 2018 because of pretty low attendance overall," D'Lando said, adding, "I haven't seen any kind of change in seeing how that would go. I love the idea of a singles meet-up, that's more loose." There are, however, Facebook groups for C2E2 singles, one of the audience shared to the panelists' surprise and delight.
Fans brought up the possibility of moving the quiet rooms and family rooms to make them more useful for their intended audiences; one went so far as to suggest the possibility of adding stim toys and noise-canceling headphones to the quiet rooms to help with those overwhelmed by the experience. "It's on my to-do list," Rogers said, adding as a joke, "I'd have to make sure people don't steal everything." D'Lando was impressed by one attendee's suggestion of a "kid decompression zone," saying, "We can definitely work on something like that in the future, for sure."
Along similar lines, the suggestion of creating spaces specifically for teens looking to make connections and learn skills who don't feel well-served by the kid-centric zones or the adult programming was gratefully received, with D'Lando telling the fan who'd brought it up, "That's a great idea; there are so many great organizations that attend the show, there are definitely opportunities to do something like a career fair. I'm going to steal that idea, thank you."
Complaints from fans at the panel included a lack of ASL translators on main stages – "I noticed that, I agree, and we'll have to do a better job in the future," Rogers said, adding, "I didn't put two and two together. That's on me" – and the new metal detectors installed this year that slowed down lines entering the show. That last item was somewhat ironic, given that the core problem was that staff weren't used to the new detectors installed specifically to speed up line movement. "Technically, they're quicker. Next year, they'll be much quicker," Rogers promised.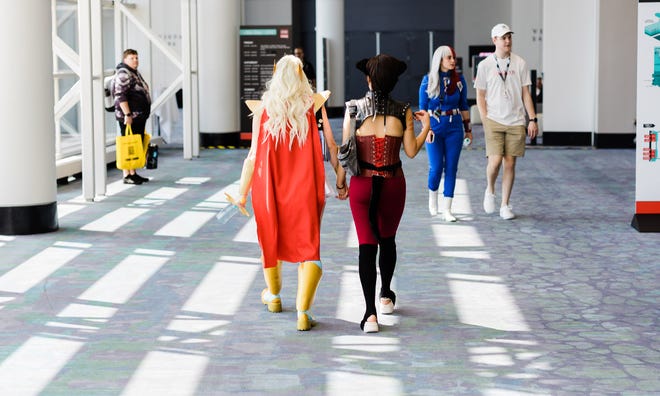 One of the more interesting responses came when a fan asked if any consideration had been given to doing more with the show's wrestling guests. "We definitely could have maximized our opportunities," D'Lando admitted, going on to say that some of the guests weren't open to appearing on panels, while other opportunities simply didn't come together in time for the show. "It's totally my fault," he said, before dropping a fun tease: "We are going to work really hard to get a AEW show back here in the near future. Hopefully we can make it work."
During the hour-long session, there were no questions or comments raised about the C2E2 health and safety policy, specific to the 'masks encouraged but not required' rule.
Overall, the Team Spotlight panel proved to be a fun, friendly back-and-forth that made for a happy ending to the C2E2 weekend. Rogers summarized the feeling in the room when she brought the panel to a close, telling everyone that they were "the nicest group of people" and thanking everyone for coming. Speaking about the Team Spotlight panel in particular, and C2E2 more widely, she said, "We do this because we love it."
---
Wondering what talkback sessions at other conventions have looked like? Popverse also made it to a similar session for this year's San Diego Comic-Con.