Our Flag Means Death's Con O'Neill and Nathan Foad spends an hour with fans in a C2E2 '22 panel
Con O'Neill and Nathan Foad from Our Flag Means Death talk about the show, season two, and some surprises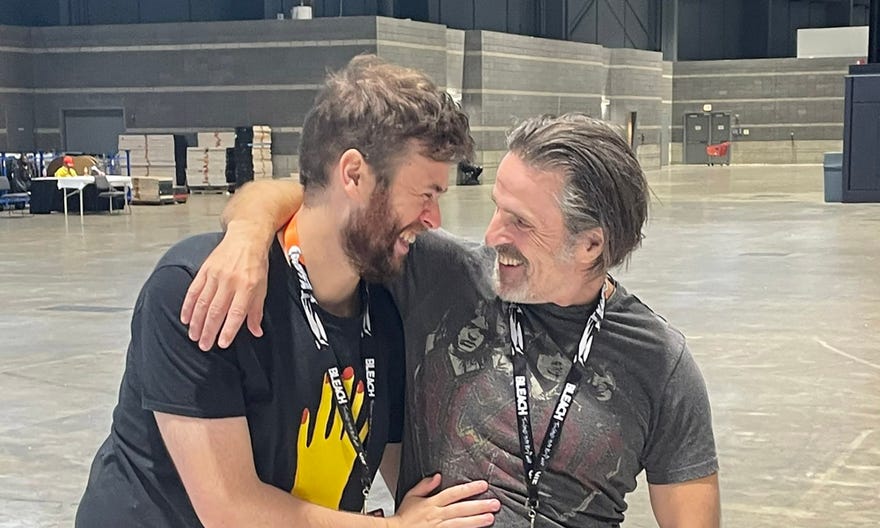 Our Flag Means Death has a pretty energetic fan base—but its cast is totally ready to match that energy. For an example of that energy, at the very beginning of the Nathan Foad and Con O'Neill panel at C2E2 on Sunday, Con O'Neill joked "I did keep threatening to take my top off yesterday," to whoops and hollers. From the great energy from the crowd and the great energy from the stage, it was pretty obvious that everyone had a good time at the panel on Sunday.
Most of the panel consisted of rapid audience questions with O'Neill and Foad responding with their trademark wit and fun. To start of the panel, Nathan Foad regaled the audience about his "nontraditional route" of being cast on the show. "I wasn't an actor before I did this show. I'm a comedy writer." Taika Waititi had followed him and reached out about his work. A year later, he was surprised to be asked to audition for the show. The rest is (recent, but beloved) history.
The panel moderator asked if the panelists had any thought on being on a show of this importance, on being a part of "the rom com we didn't know we needed." O'Neill responded that, "I've done a lot of shows because I really am that old, and when we were shooting this, it felt kind. 'Kind' is an underused word now, because we're not… I think people embrace kindness. And I fucking rock leather pants."
More whoops.
Then the panel was opened to the fans, who were very much ready with a host of diverse questions (and had the opportunity to show off their cosplay while on camera). One fan asked Con O'Neill, "Do you think Izzy is in love with Blackbeard?" to which O'Neill responded, "I don't think Izzy has the emotional maturity to identify love. He obviously fancies the pants off Edward, because who wouldn't?"
Another audience question led to the interesting fact that Foad has come up with a "sad" backstory for his character that explains why Lucius is where he is since he has these other skills. Foad has no plans to share the backstory since he's not sure if the writing for the show might contradict it later. O'Neill similarly has a backstory to the ring that he wears around his tie that he will not share, though he does share that the choice of the stone was centered around his loss of his mother around the time of the costuming.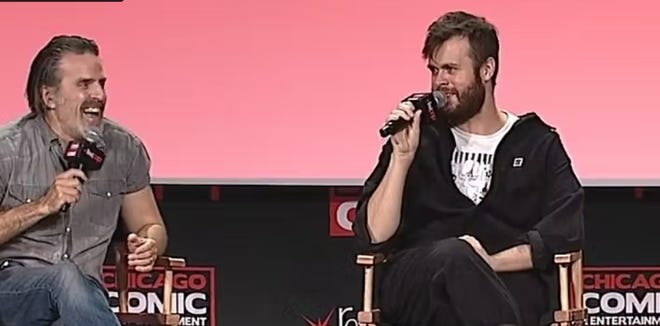 A fan asked if the found family vibe with the cast in Our Flag Means Death was special to this project or if it happens on most sets. Foad responded out that the filming of the project was the height of the pandemic, and because of the travel pauses, everyone was away from their family. "It was quite a lonely time, so it did quite facilitate that family bond." O'Neill adds that, While they were doing their training "boot camp-y type day," he took a look at his colleagues and realized that— "we haven't got a single ab between us." He continues to share that, "Because we are all playing social orphans to a degree, the community within the show was quick and quite profound… there was a link to us all that you can see in the show."
The audience questions at this panel weren't all about deep character moments though. One fan asked if there was a musical episode of Our Flag Means Death (and if Lucius isn't dead), what song would Foad and O'neill like to perform. Foad mentioned that he would love for Lucius to sing 'Somewhere that's Green' from Little Shops of Horrors or 'Don't Rain on my Parade' from Funny Girl. As for Izzy, O'Neill brought up a memory of his first meeting with Taika Waititi who shared that he thought of Blackbeard and Izzy as Jesus and Judas from Jesus Christ Superstar. "I think anything Izzy would ever sing would have to be tragic, and I would kind of lean towards Freddie Mercury 'Who Wants to Live Forever'."
Another fun question from a fan asked what each character would have as a regular order at Starbucks. O'Neill answers "Double espresso with a shot… and a toe" for Izzy. For Lucius, "a pink drink." O'Neill and Foad were also asked what Lucius and Izzy's drag names would be. Foad's personal drag name would be "Pat Down" but for Lucius, he has chosen "Miss Ingfinger." According to O'Neill, Izzy "Doesn't have the vernacular to be able to come up with something." But for now, from O'Neill's brain, it would be "Miss RapierWit." Foad pitched the idea of "Izzy?"—question mark included.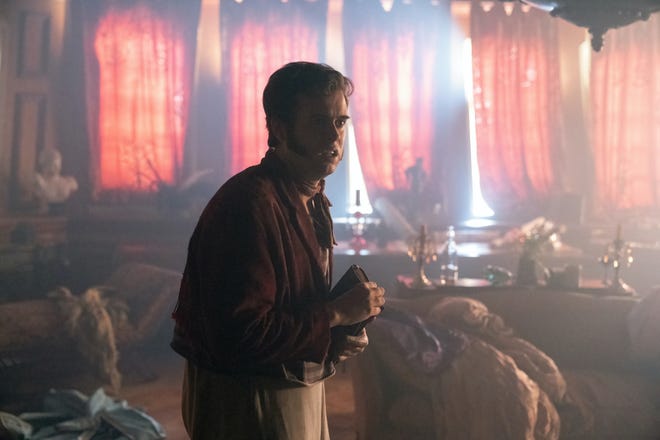 As to the question of if there is some 'tension' between Lucius and Izzy, O'Neill immediately responded, "In his dreams!" but then followed up more honestly with, "Yes, there is… There's two people he's bamboozled by and that's Lucius and Jim."
And of course, last but not least, a huge part of the Our Flag Means Death fan reaction includes fan art. After an audience member asks if there is any fan created content that has really stuck with the actors, Foad responded, "I lose my mind when anyone does Lucius drag… that always really really excites me." As for what he thinks of all of the Our Flag Means Death fanart floating around, O'Neill turned to the crowd and says, "Thank all of you who have given me abs."
---
Waiting with bated breath for the next season of Our Flag Means Death?
Check here to make sure you're up to date on all the news there is to know about season two of Our Flag Means Death
.
---
And if you like Our Flag Means Death, you'll love these queer comics recommendations.
---
Missing out on C2E2? We're collating everything going on at C2e2 into a comprehensive C2E2 2022 coverange round-up.