Moses Ingram, Rupert Friend, and Vivien Lyra Blair chat Star Wars and love overpowering the "fandom weenies"
A C2E2 Saturday chat with the stars of Obi Wan Kenobi
Saturday at C2E2 saw more than a little bit of Star Wars joy with a Billy Dee Williams spotlight panel and a panel featuring the Inquisitors-- Moses Ingram and Rupert Friend, from the recent Disney+ Star Wars series Obi-Wan Kenobi as well as a a surprise appearance from young Princess Leia herself-- Vivien Lyra Blair, answering fan questions about their experience on the set of Obi-Wan Kenobi.
The questions from the audience were quite wide ranging from the broad (How is playing a baddie different from other roles?-- answered below) to the miniscule (What did you like to eat at craft services? -- Friend couldn't eat or drink much due to his costume. Ingram's trainer was on set, but was often snuck fruit snacks, which she would store in her booths. Vivien ate goldfish, green apples, and sometimes fruit yogurt, if her mother made her), but overall a good time was had, and it was nice to see so many fans (dozens, really-- the panel was going a full clip) ask their Star Wars questions to the actors who make Star Wars real.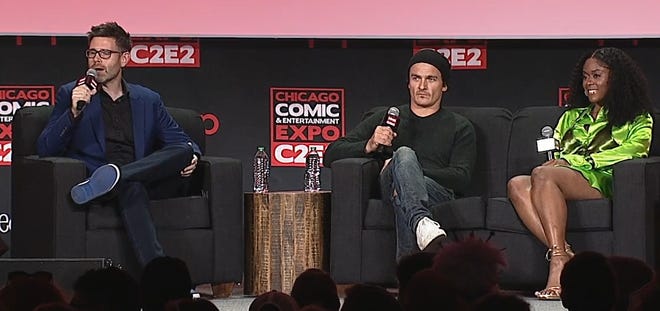 As for what it's like to play a baddie versus another type of dramatic character, Ingram responded about her character Reva, "I don't think I see it that different. I think with any character, I don't think anybody sees themselves as a villain. I think they see themselves as doign what needs to be done." Rupert Friend agrees, "The baddies don't think that what they're doing is necessarily bad, they're just doing their thing."
When asked what other Shakespearan projects she'd like to be on (Ingram had recently played Lady Macduff in the Tragedy of Macbeth), she answered The Winters Tale. Another question directed to Friend focused on whether or not he had watched the animated version of his character to prepare for the role. Friend responded that he had began with his own instincts to flesh out the character and then looked to the other interpretation. He shared in a funny aside that "Jason [Isaacs] basically gave me shit over text throughout the process about why he was better and that everyone wished it was him... He's not going to let me forget that one."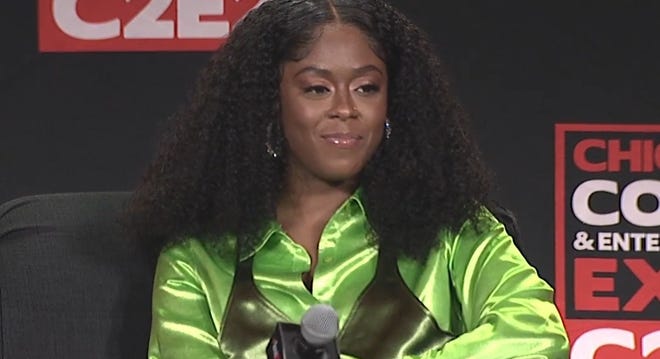 As for what was it like to be joining the prequel that's been together for 20 years? Friend joked that "For them, it was an amazing reunion... they did this first 20 years ago... I think they were more creaky then they were [back then]. We're like the fresh meat, in a way."
As for final messages for Star Wars fans, Vivien Blair starts, "I can't think of a more amazing fanbase to be in the family for, so thank you all." Rupert Friend continues that he appreciates how the fans have accepted him in his role, "Sometimes it is a little bit hard to accept a character from an animated beloved series like Rebels and bring that character into live action. I know that was a rocky transition for some of you, so thank you all for letting me go ont hat journey and letting me be your Grand Inquisitor." As for Ingram, who has dealt with some of the more frustrating areas of the Star Wars fandom, she shared "It's a really tough fanbase, but I'm so grateful to the people who show up at the booth and show up in the room and really show love in a beautiful way that really overpowers the fandom weenies."
Wish you could've seen this live? We filmed the entire Star Wars panel from C2E2 2022, and it's available for our members.
---
Vivien Lyra Blair will be a guest at Star Wars Celebration 2023 in London! If you're thinking about attending, check out our coverage roundup of last year's Star Wars Celebration.