Calvin & Hobbes - coming soon in books you can fit in your backpack (OR your bookshelf)
The new Calvin and Hobbes release will consist of seven two-volume sets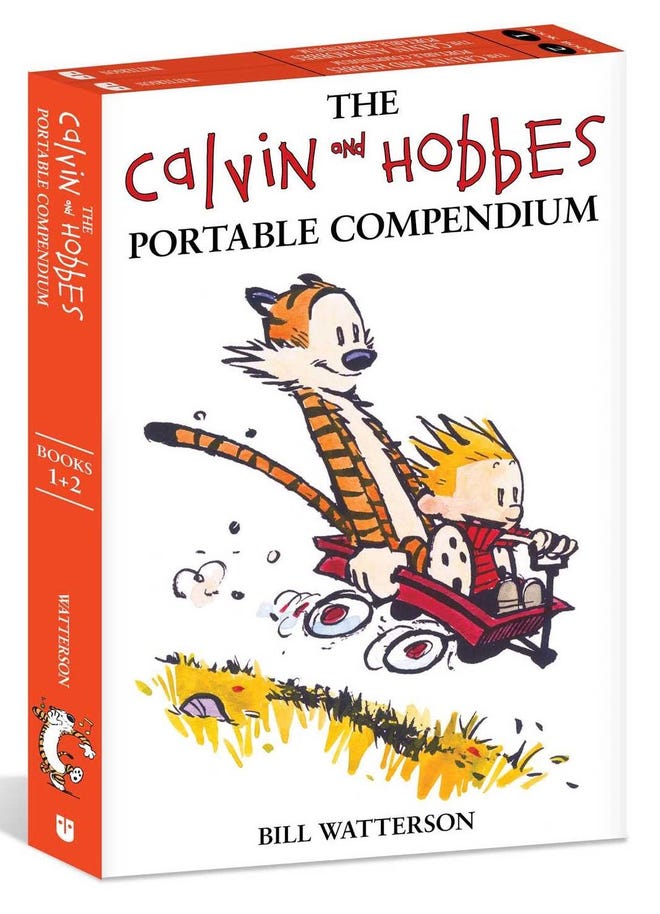 Calvin and Hobbes is getting a new, more portable, format release from publisher Andrews McMeel (the same publishers of those beautiful - but heavy - three-volume complete collections). According to the publisher, this new design is meant "to introduce the timeless adventures of Calvin and Hobbes to a new generation of readers, and will fit easily into backpacks as well as on the collector's shelf."
It's easy to imagine that these sets will make popular gifts around the holidays and for birthdays.
This reimagined Calvin and Hobbes compedium will consist of seven sets of two (that's 14 volumes total!), with the first set coming soon at the end of the month. The first set of two volumes (titled The Calvin and Hobbes Portable Compendium Set 1) will cost only $19.99 and will be available on August 29, 2023. Set 1 will include Calvin and Hobbes strips from the comic's debut in 1985 to March 1987 and feature different covers for each volume as well as a vertical format slip cover for the set.
The Calvin and Hobbes Portable Compendium Set 1 will hit shelves on August 29, 2023. Pre-order your copy on Amazon, Bookshop.org, or Barnes & Noble.
---
Calvin & Hobbes creator Bill Watterson is collaborating on a new book. Read all about it here.