Marvel Comics' Captain America ending explained: Inside the finale of Jackson Lanzing, Collin Kelly, and Carmen Carnero's run
Jackson Lanzing, Colin Kelly, and Carmen Carnero's epic Captain America run has come to an end. Where does that leave Steve Rogers and his allies?
For the past year, Jackson Lanzing and Collin Kelly have been telling an epic espionage story in the pages of Captain America: Sentinel of Liberty. From the secrets of Captain America's shield, to a surprise betrayal from Bucky, this run has been full of shockers. Now, Captain America Finale #1 (written by Jackson Lanzing and Collin Kelly, penciled by Carmen Carnero) brings this thrilling run to a close. What went down, and what does it mean for Captain America's future? Let's break it down.
Warning: Spoilers ahead for Captain America Finale #1!
What happened in Captain America: Sentinel of Liberty?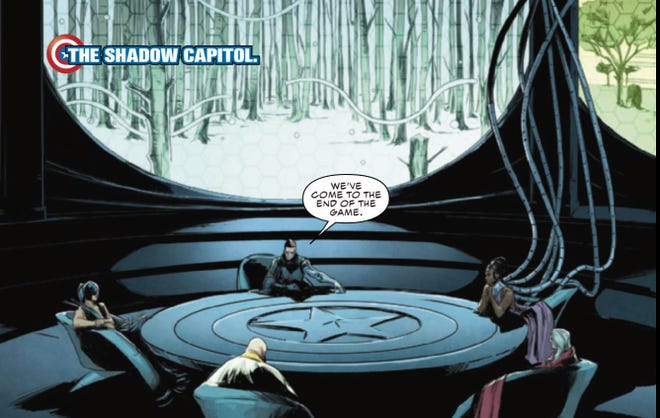 This Captain America arc has focused on a clandestine organization known as the Outer Circle. Dating back to 1922, the Outer Circle has manipulated many key events in human history, such as the fall of the Soviet Union, World War II, and the creation of Captain America. (In fact, the outer circle on Cap's iconic shield was secretly designed as a reference to the shadowy organization.)
At a certain point in the arc, Steve thought that his partner Bucky had betrayed him to join the Outer Circle's leadership. However, it turned out that Bucky was working to take the organization down from within. This came to a head in Captain America: Cold War, an epic storyline that saw Steve Rogers and Sam Wilson take on the Outer Circle. Now the Cold War is over, and the Outer Circle is preparing for their final stand.
How does Lanzing, Kelly and Carnero's Captain America run end?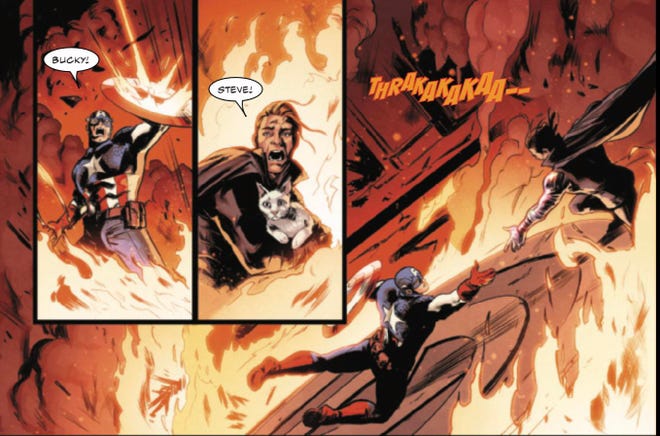 Captain America Finale #1 is the climax of the Outer Circle storyline. Captain America, Sharon Carter, and Nomad launch a final assault on the organization's headquarters, while Bucky plays some mind games with the leadership council. The Outer Circle is left in shambles, but Bucky is left with a moral dilemma when Bucky is tempted to kill Wulfgang Fortunov, one of the Outer Circle's masterminds.
Instead of trying to stop Bucky, Steve tells his partner that he trusts him to make the right decision. Bucky decides to send Fortunov to Latveria and let the country's justice system have its way with the villain. (In case you didn't know, Doctor Doom is Latveria's sovereign ruler, who also acts as the nation's justice system. In other words, Fortunov is in for a world of hurt.)
Does anybody die in Captain America Finale #1?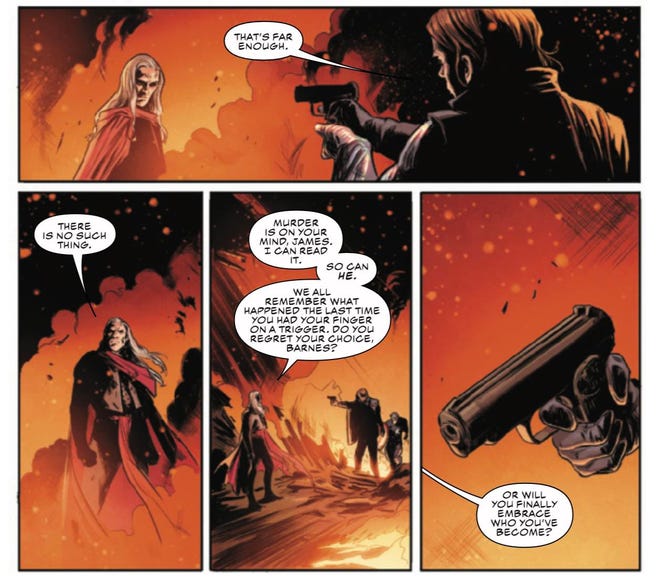 This is a good question. It appears that some members of the Outer Circle met their end during the destruction of their headquarters. However, Marvel villains have survived explosions since the Golden Age. As mentioned in the previous section, Wulfgang Fortunov tries to goad Bucky into killing him, noting that it would prove he's still a killer. Using this context, we can assume that the other members of the Outer Circle weren't killed during their skirmish with Bucky and Steve. They either escaped during the explosion or were imprisoned off-panel.
Although everybody made it out of this issue alive, the shadow of death still looms over this storyline. Roger Aubrey, the superhero known as the Destroyer, died battling M.O.D.O.K. in Captain America: Sentinel of Liberty #10 (2023). This death hit Steve and his allies hard. As a tribute to Roger, Sharon Carter has recently adopted the Destroyer moniker.
Is Bucky Barnes still going to be the Revolution?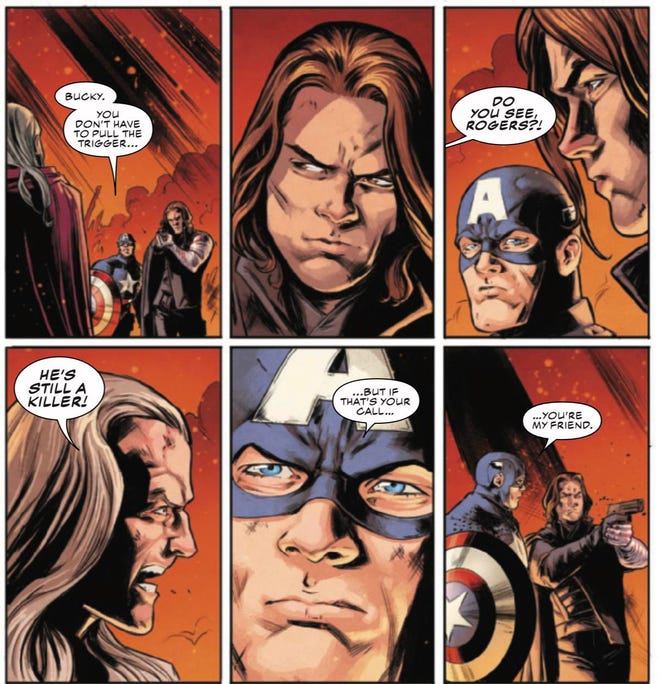 With the destruction of the Outer Circle, there is no need for Bucky Barnes to use the Revolution identity anymore. However, it doesn't look like Bucky will be going back to calling himself the Winter Soldier.
As for what's coming next for Bucky and his name, Marvel will be launching a new Thunderbolts series in November 2023, which features Bucky teaming up with Contessa Valentina Allegra de Fontaine to form a new black ops team. The solicitation for Thunderbolts #1 (2023) refers to Bucky as the Revolution, which is puzzling, especially considering that the new Thunderbolts series appears to be trying to capture some synergy with the Marvel Cinematic Universe, which will see Bucky and Fontaine form a Thunderbolts team in the 2024 film Captain America: Brave New World.
If synergy is the goal, why have Bucky call himself Revolution, when the film will most likely have him go by the Winter Soldier or another title? Is it possible the film was planning on calling him the Revolution as well? It's also possible that Bucky will drop the Revolution name sometime in the first Thunderbolts arc. For now, we will wait and see.
What's next for Captain America?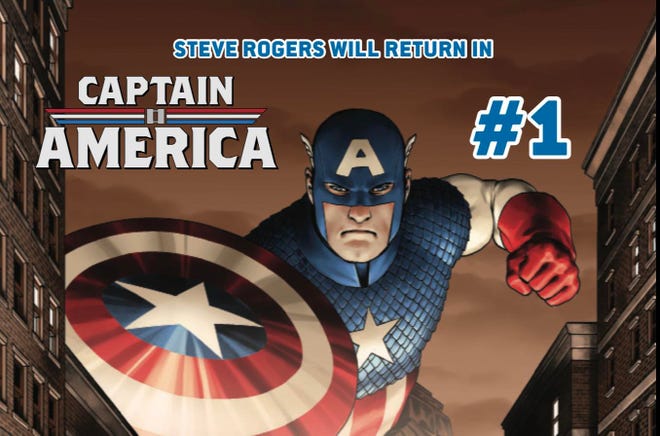 Marvel has big plans for Captain America. On September 20, 2023 the series will be relaunched with J. Michael Straczynski as writer, and Jesus Saiz as penciler. During the Marvel's Heroes panel at San Diego Comic-Con, JMS revealed that his run would deal with rent control in New York City, as Steve Rogers will be evicted from his apartment and forced to borrow money from Tony Stark.
While researching the timeline of Steve's childhood, JMS realized that Cap came of age as the Nazi Party was rising in New York City neighborhoods. Therefore, the run will feature extended flashbacks exploring Steve's past. "I wanted to figure out what made Steve Rogers the character he would become," Straczynski said during the panel.
What's next for Jackson Lanzing and Collin Kelly?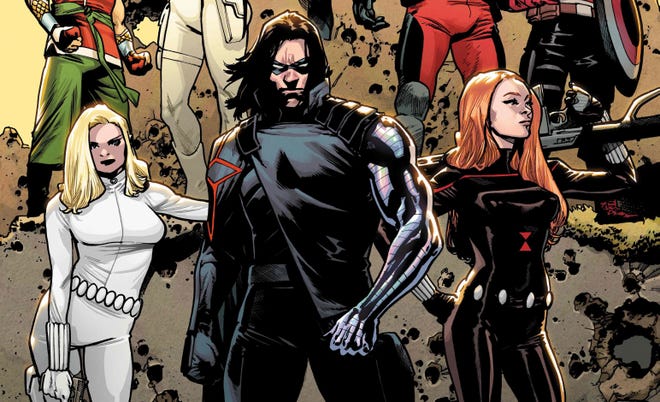 Captain America Finale #1 contains a farewell message from Lanzing and Kelly, who thank the various creators who helped make their run so memorable. "Nothing about Sentinel of Liberty would have been possible without Carmen Carnero. A brilliant collaborator and a constant source of excitement about the story we were all telling, she turned every page into a gift. And if our constant emailing in the last few weeks is any indication, we'll not be parted for long."
"Nolan Woodard's colors brought Carmen's pages to life brilliantly (Nomad's metal 'skin' is a wonder) while master letterer Joe Caramagna rose to every challenge (see issue #3's 'rotating spread'). A toast to Tochi Onyebuchi, our partner in the shield, who finally gave Sam Wilson his due as Captain America. And of course, our fearless editor Alanna Smith and assistant editor Kaitlyn Lindtvedt – who built and maintained a team worth fighting for."
Remember that Thunderbolts ongoing I mentioned? That will be the next big Marvel project from Jackson Lanzing and Collin Kelly. The writing duo will script the series, while Geraldo Borges handles the artwork. According to a press release from Marvel, "The new THUNDERBOLTS lineup includes Black Widow, Sharon Carter AKA Destroyer, White Widow, Red Guardian, U.S. Agent, and Shang-Chi. Allied together under the command of Bucky and the one and only Contessa Valentina Allegra de Fontaine, readers can expect high-stakes missions in each issue as this crew sets out to dish out long overdue justice throughout the Marvel Universe!"
"Bucky Barnes, the Revolution, just inherited a mountain of covert intel and he has one objective: justice… like lightning! He's going after the establishment, the people no one else is willing or able to take down, and he'll do whatever it takes to win. Teaming with the mysterious Contessa Valentina Allegra De Fontaine, Bucky assembles a team of black-ops heavy hitters to pursue high-profile targets like the Red Skull, Kingpin, and even Doctor Doom himself. No one is safe from the Thunderbolts!"
This gives Lanzing and Kelly the opportunity to continue the Bucky Barnes character arc they began during their Captain America run. By the time this is all finished, it's possible that Lanzing and Kelly will be the most consequential writers for Bucky since Ed Brubaker.
---
Captain America Finale #1 is written by Jackson Lanzing and Collin Kelly, and penciled by Carmen Carnero.
---
Marvel's G.O.D.S. sees Jonathan Hickman redefine magic in the Marvel Universe