Marvel's G.O.D.S.: Everything you need to know about Jonathan Hickman & Valerio Schiti's new comic
Marvel's G.O.D.S. aims to redefine Marvel magic and cosmology the way House of X redefined the X-Men
For all that the Marvel brand identifies itself as being the world outside your window, the Marvel Universe is far stranger — a collision of different dimensions, science gone wrong, and magic beyond imagination. That truth is at the heart of Jonathan Hickman's next major work for Marvel: a new series with AXE: Judgement Day artist Valerio Schiti called G.O.D.S.
"When I came back to Marvel a few years ago, I wrote two series bibles. The first was House of X and the other one was G.O.D.S.," Hickman said in a statement about the project when it was first announced. "To say that I'm excited to finally be able to share this story with everyone is a massive understatement. G.O.D.S. takes place in its own special corner of the Marvel Universe — in the cracks that lie at the intersection of science and magic — and revisits some characters and concepts that we've reimagined for a more modern, continuity-driven audience."
Series artist Valero Schiti said at the same time, "When I was given a chance to work with Jonathan on a new project, I accepted right away. Then I discovered that we would be reimagining gods in the Marvel Universe: how they work, what they do, and how they interact with each other and humanity. It's the kind of project that makes you weak in the knees when you think about it. Luckily, Jonathan has the gift to make even the most complex stories surprisingly simple and understandable. His pitch inspired me almost immediately. The core of the story is so perfect and clear that it swept away my anxiety and turned it into a burst of creativity."
"I've had the pleasure of working with Valerio Schiti on this for the last year, and watching him bring this to life has been a total joy," Hickman added. "G.O.D.S. is my favorite kind of Marvel comic: one that feels like something old, but pushes the Marvel Universe in an exciting new direction."
Preview pages from the first issue have been released by Marvel. Click through the gallery below to read them.
Marvel G.O.D.S.: Meet the new gods (Not those New Gods)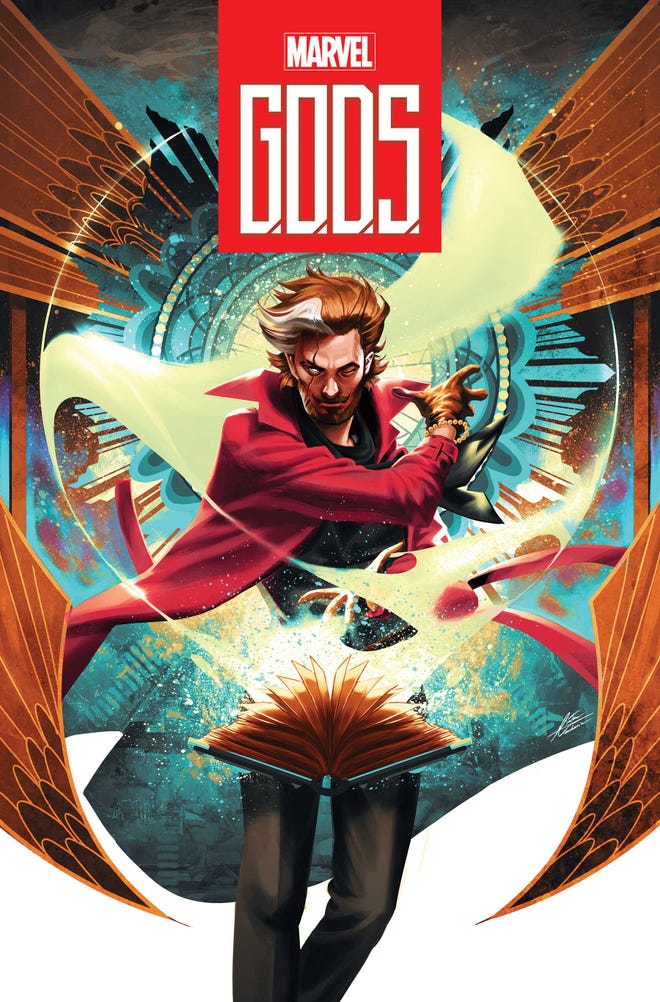 The series centers around Wyn — described by Marvel as "a mysterious player in a war that exists outside of the orders we know" — whose meeting with Doctor Strange reveals that the rules of Marvel magic are very different from what everyone currently believes… and might in fact be rooted in a conflict that exists beyond reality as anyone in the Marvel Universe understands it. But Wyn is just one of a cast of new characters appearing in the series. Marvel has released a guide to those newcomers:
Wyn is described by the publisher as "a powerful magic expert who's operated in secret for thousands of years and is now forced to come out of the shadows."
Aiko Maki, meanwhile, is "a high-ranking agent brutally loyal to the ways of science and willing to do anything to keep the building blocks of creation in balance."
Wyn has a partner called Dmitri the Science Boy, "Wyn's reckless partner who has a secret mission of his own to discover the dark truth of his past," according to Marvel.
If there's a Science Boy, it only makes sense that there's a Magic Girl, so Mia the Magic Girl is described as "a young sorcerer struggling to achieve her full potential."
Finally, there's Cubisk Core, whom Marvel calls "a mysterious being of pure corruption seeking to shatter the existing systems."
Marvel has released preview images for each of the new characters, featuring artwork from the first issue of the series. Look at the gallery below to see your new favorite characters.
Marvel G.O.D.S.: Meet the new old gods
Speaking to retailers as part of a press conference in late August, it was revealed that G.O.D.S. won't just introduce new characters; it'll also redesign and repurpose existing Marvel characters that embody cosmic, or abstract, concepts to make them easier for other creators to use in their own comics.
"It's very cool when a giant head shows up and issues some proclamation here... but we also wanted to do a more street-level version of the character so it could be easier for Doctor Strange to run into him and have a character interaction between two everyday kind of people," Hickman explained at the time. "In the Marvel terms, there's a Peter Parker version of these characters, and there's a Spider-Man version. My belief is that it will make these characters more usable."
Although Marvel has yet to reveal just which characters are going to get this treatment, an image of the new In-Betweener — as redesigned by Schiti — was shown to retailers.
The Marvel G.O.D.S. checklist
Despite what was originally assumed when the series was announced, G.O.D.S. is neither a miniseries, nor an event book. As Jonathan Hickman told Popverse, he's already written the first eight issue, and "obviously, Marvel wants to do a lot more, but that will depend on whether people like it or not."
Here is a current rundown of the G.O.D.S. release dates announced so far, along with Jonathan Hickman's "cryptic clues" that Marvel has released as official descriptions of each issue:
October 4, G.O.D.S. #1: "The infinite détente between THE-NATURAL-ORDER-OF-THINGS and THE-POWERS-THAT-BE nears an end. Old acquaintances are reunited during a Babylon Event. The Lion of Wolves throws the worst parties. Don't look under the table. There's a John Wilkes Booth penny on the ground."
November 8, G.O.D.S. #2: "The Centum normally has twenty-five Primes, now only three remain. College isn't worth the time or the money. There's a hidden book in the hidden library that hides a hidden door. Cubisk Core is from Georgia, like that matters."
December 20, G.O.D.S. #3: "Cassandra is cursed with knowing the future, but no one believes her. There are Black Swans in the bar. Oblivion wants to drink alone, but kids these days don't respect authority figures. Most of the ingredients are illegal outside of Hell's Kitchen."
January 24, G.O.D.S. #4: "That guy in the Beekeeper suit is holding a thing that's freaking everyone out. A Skinner box is bigger on the inside than the outside. The Avatar makes an enemy on the Axis of Power. If you save the universe and no one remembers, is it worth it? Maybe."
Main covers for the series come from artist Mateus Manhanini; variant covers for the first issue come from Ejikure, Mahmud Asrar & Matthew Wilson, Peach Momoko, and Skottie Young. You can see all the covers released to date in the gallery below.
---
Will this someday be among our best Marvel Comics stories recommendations? We'll see.