Meet the big comic of the 2022 holiday season: Cat Kid Comic Club Vol. 4
Dav Pilkey's Cat Kid Comic Club returns this November and will be a prized gift to many children (and adults too!)
Popular cartoonist Dav Pilkey is returning to the Cat Kid Comic Club clubhouse this fall with an all new original graphic novel anthology titled Cat Kid Comic Club: Collaborations. Scheduled to debut worldwide on November 29, Cat Kid Comic Club: Collaborations has all the makings of being a (or THE) big holiday gift for kids (or anyone who loves kids' comics) this holiday season.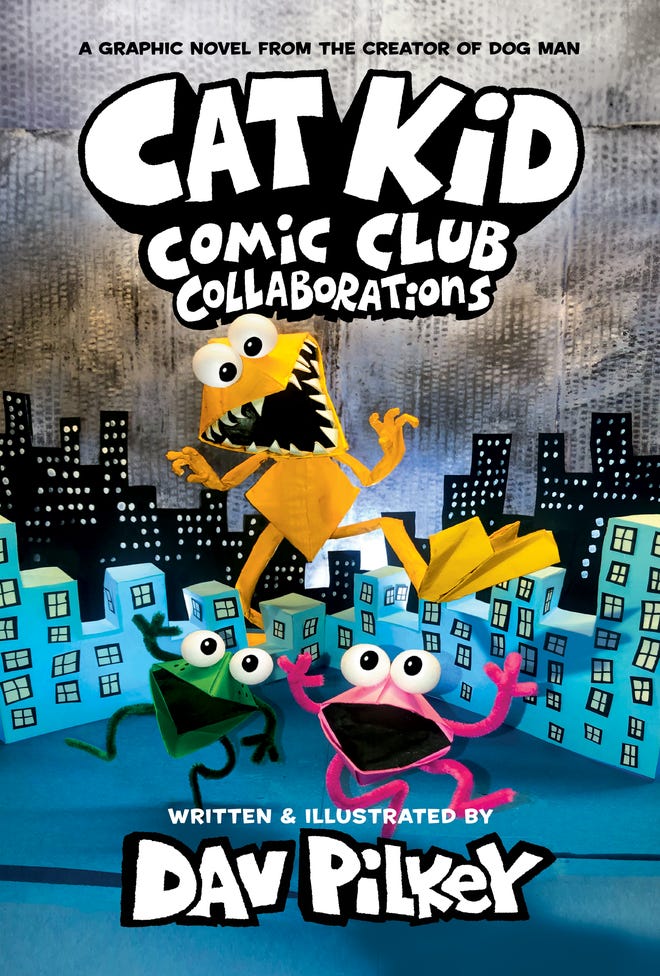 "Excitement and imagination run wild as Naomi, Melvin, Poppy, Gilbert, Curly, and their siblings get back to making comics with originality and laughter," reads the book's description from Scholastic/Graphix. "But wait -- have they cleaned their rooms yet?! After their chores, the rambunctious group presents even more amazing mini-comics: an action-packed romp in 'Frogzilla,' reflective haikus in 'In the Autumn Pond,' a thrilling ride and candy-coated mystery in 'Mallo Cop,' and much, much, more. By working together, the baby frogs discover that small things can have a huge impact."
(Somehow, I'd like to think these baby frogs are related to the Frog Lady from The Mandalorian - and they some how escaped Grogu's appetite unscathed.)
Even if you aren't the 'type' to read Cat Kid Comic Club (maybe you should re-think that), any comics fan has to appreciate the franchise for its ability not only to connect to millions of children but also to teach them the fundamentals of making comics.
Between the Cat Kid Comic Club books and its mothership Dog Man books, Pilkey's comics acount for 30% of all comic sales in 2021 according to Publishers Weekly (that includes DC, Marvel, and everyone else as well).
November 29's Cat Kid Comic Club: Collaborations is the fourth book in the series, following Cat Kid Comic Club, 2021's Perspectives, and April 2022's On Purpose.
---
Can't wait til November to buy your next graphic novel? Check out
our Summer 2022 comics guide
for your next favorite books.