Your guide to all the big summer 2022 comics and graphic novels
Summer is here, and the time is right for reading comics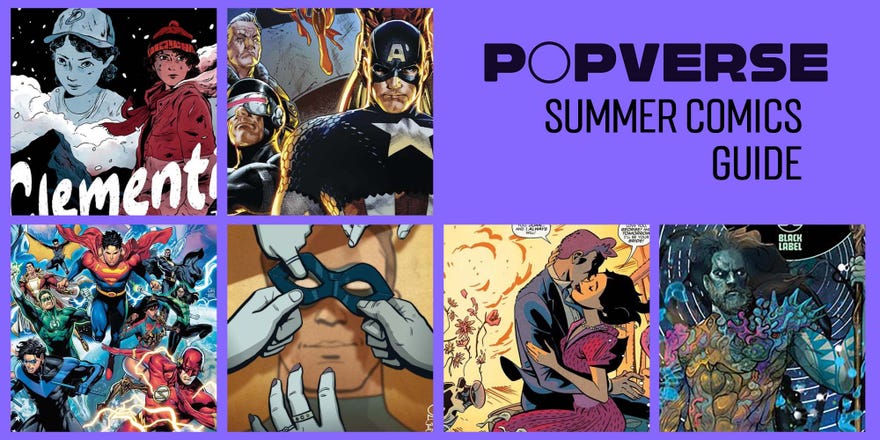 As both the calendar and the thermometer tell us, it's finally summer, dear readers, that time of the year when one's thoughts turn to one thing: comic books!
Okay, maybe not; it's possible that people think about other activities to cool down when the temperature's rising, as surprising as that might be. If you're planning to lounge around the pool or finally work on your tan, though, don't entirely count comics out as a summer pastime this year, especially considering what publishers have lined up for the season. Instead, read on and start planning out what to keep on hand as you're enjoying the sun, sand, and sequential art of the next three months.
DC and Marvel
If it's summer and it's superhero comics, that can only mean one thing: crossover events. Both Marvel and DC are pushing big storylines involving their biggest characters this summer, although in DC's case, Dark Crisis (#1 released June 7) begins with the absence of those characters, following their deaths in May's Justice League #75. Things only get more dramatic from there, as Deathstroke – fresh from the dramatic climax of the 'Shadow War' storyline – declares war on the remaining superheroes for reasons that, I suspect, have a lot to do with the existential threat of the Great Darkness. The storyline continues through the central Dark Crisis series, as well as a number of special spin-off limited series and issues of The Flash throughout the summer. For more on DC's big summer 2022 event, check out our Dark Crisis primer.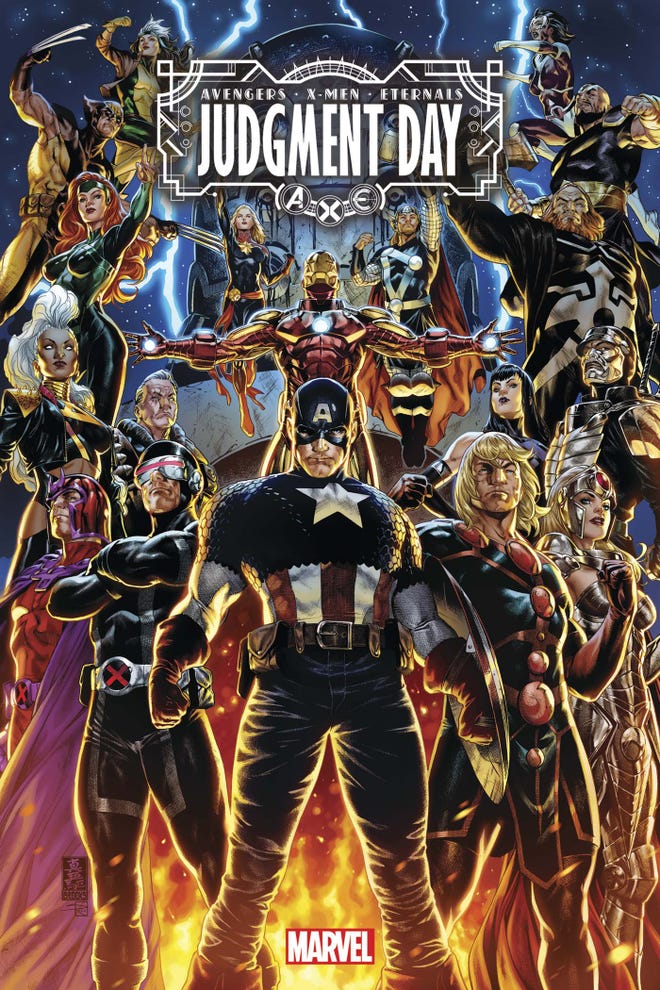 Over in the Marvel Universe, however, it's time for A.X.E.: Judgment Day (#1 out July 20), the first crossover event named after a body spray since 1996's X-Men: Elizabeth Arden's Sunflowers. Pitting the X-Men against the Eternals – with the Avengers stuck in the middle – it's the latest Marvel event to find success in pitting heroes against each other to expose ideological differences and sell comics in the process. Unlike Dark Crisis, this storyline spills across the wider Marvel line as the summer continues, in addition to getting a spin-off mini or two. My money's on the X-Men, by the way; they've got an entire island full of cannon fodder if it gets really nasty, after all. Read Popverse's massive interview with series writer Kieron Gillen about A.X.E.: Judgment Day.
Both companies have more up their sleeves for the summer than just crossovers, though; in addition to movie-friendly launches like Jane Foster & The Mighty Thor #1 (June 8), Ant-Man #1 (July 27), and Edge of the Spider-Verse #1 (August 3), Marvel is also bringing a new Predator series to stores as of August 3, and indulging in two different types of celebrations, with X-Men: Hellfire Gala #1 (July 13) marking the second annual social event of the season, while Amazing Fantasy #1000 (August 31) marks the 60th anniversary of Spider-Man's debut with an all-star cast of creators including Dan Slott, Neil Gaiman, and Veep co-creator and British comedy icon Armando Iannucci.
Such is Marvel's reach that one of the most high-profile Marvel releases of the summer isn't actually coming from Marvel: Fantastic Four: Full Circle (September 6), a full-length graphic novel featuring Marvel's first family written and drawn by Alex Ross, is technically an Abrams ComicsArts title. Ignore the logo on the front, though; it'll still be one of the most visually compelling books of the season.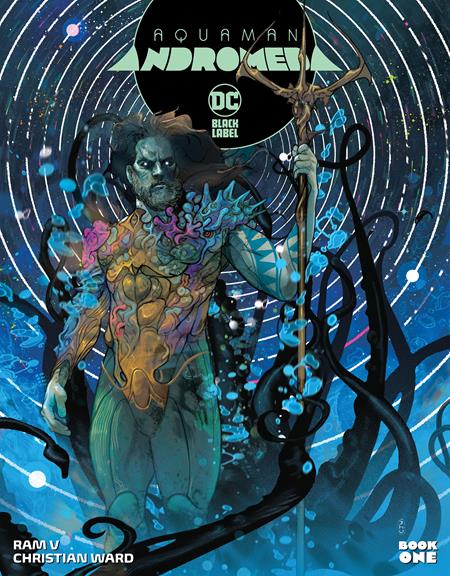 DC, meanwhile, is focusing on a new generation of Batman creators when Chip Zdarsky takes over writing the core Batman title with Batman #125 (released July 5), with writer Ram V and artist Rafael Albuquerque taking over Detective Comics that same month (#1062, out July 26), Elsewhere in Gotham, Tom King and Mitch Gerads launch a series of one-shot issues focusing on different Bat-villains with Batman: One Bad Day - The Riddler (August 16), while Mark Russell and Mike Allred head for the skies for a new out-of-continuity series about the Last Son of Krypton with Superman: Space Age #1 (July 26). Milestone Media continues to put out some of DC's most thought-provoking titles with the oversized non-fiction one-shot Milestones in History #1 (June 21), but those looking for the sleeper hit of the summer should check out Aquaman: Andromeda #1 (June 7), a DC Black Label title that might just be a new high-water mark for the undersea hero.
Image Comics
Without a doubt, Image's big book of the summer is The Walking Dead: Clementine Book One (June 22), bringing together critically acclaimed creator Tillie Walden (Spinning, On A Sunbeam) and Robert Kirkman's The Walking Dead; the combination of the two is one of the most eagerly anticipated titles of the year for good reason, and has the potential to be a breakout hit beyond anything we've seen anytime recently. It's simple math: Walden's indie credibility + The Walking Dead's brand name awareness + a character from the Walking Dead videogame franchise making her comic book debut + the first release from Kirkman's new YA imprint Skybound Comet = …well, that's what everyone's on the edge of their seat waiting for, isn't it…?
Two of Image's other big summer books come from artists arguably better known for recent DC and Marvel work who return to their indie roots to demonstrate that they can write just as well as they can draw: Starhenge, Book One: The Dragon & The Boar (#1 out July 6) sees Liam Sharp (The Green Lantern, Wonder Woman) go full sci-fi fantasy with a series described as The Terminator meets The Green Knight, while Old Dog (#1 released August 24) lets Declan Shalvey (Moon Knight) indulge his love of all things espionage in a six-issue run that he's writing, drawing, coloring, and providing design for.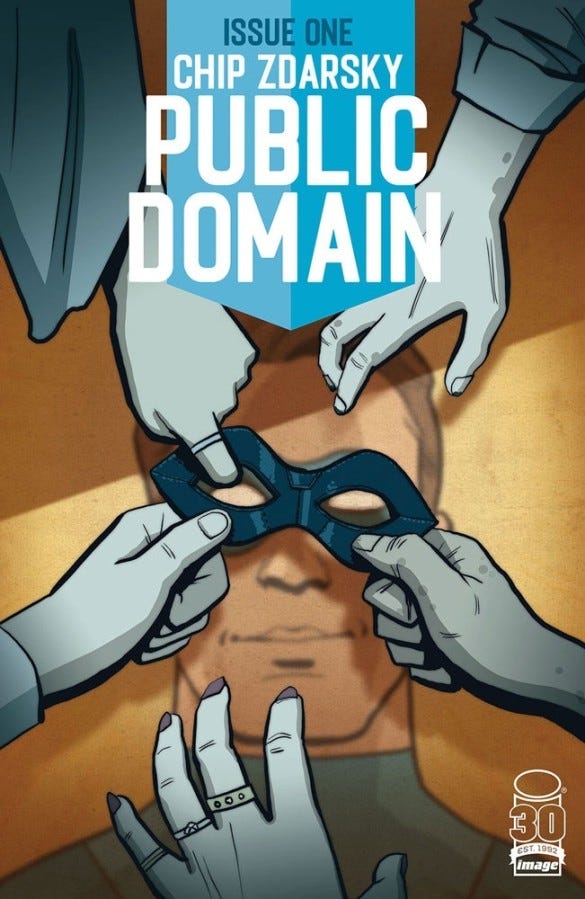 2022 marks the 30th anniversary of Image Comics, and two of the company's founding fathers are marking that by returning to the scenes of their respective crimes. The Last Shadowhawk #1 (August 17) revives Jim Valentino's '90s hero with Philip Tan and Brian Haberlin taking everyone into a dystopian future to see just who is going to stand up for the little man. Rob Liefeld, meanwhile, has both Prophet #1 Remastered Edition (July 20) and Brigade #1 Remastered Edition (August 17) on deck, which see a host of contemporary artists including Jim Rugg, Ed Piskor, Clay Mann, and Liefeld himself offer up their takes on the original scripts for each of the '90s series' debut issues.
The publisher isn't just looking to the past, however; it's also got an eye on the future, as evidenced by bringing three titles created by writers and artists subsidized by email newsletter company Substack's Pro deal – James Tynion IV and Gavin Fullerton's The Closet #1 (June 1), Chip Zdarky's Public Domain #1 (June 29), and Tom King and Elsa Charretier's Love Everlasting #1 (August 10) – to print for the first time.
Then again, maybe there is something about the past worth exploring – especially when it's not our past. Created by Deniz Camp and S. Morian, the six-issue 20th Century Men (#1 out August 17) is already getting a lot of buzz for its speculative fiction, alternate history take on how the end of the last century might have played out. (You can read more about this in Popverse's exclusive announcement of the book.) Think of it as the secret history of the last 100 years, but stranger.
The Familiar Faces
Across other publishers, summer 2022 sees a new beginning for a number of beloved pop culture properties. Christopher Priest and Ergun Gunduz provide a new origin story for Drakulon's favorite daughter in Vampirella: Year One #1 (July 27; Dynamite Entertainment), while Action Comics and Marvel's Alien writer Philip Kennedy Johnson takes on James Bond in 007 #1 (August 3; Dynamite Entertainment), with the help of artist Marco Finnegan. Continuing to celebrate the 25th anniversary of the fan-favorite TV series, Max Bemis and Marianna Ignazzi transform the Scooby Gang into sitcom stars in Buffy '97 #1 (June 22; BOOM! Studios), while fellow '90s icons William S. Preston, Esq. and Ted Theodore Logan have to play for their souls in Bill and Ted Roll The Dice #1 (June 15; Opus Comics).
As if that's not enough, Fred Van Lente and Aubrey Sitterson lead the creative charge to prove that Riverdale's finest can do it all with The Best Archie Comic Ever Special #1 (June 15; Archie Comics), a one-off anthology special that puts Archie, Jughead, and the other pals and gals through their paces in a series of stories spanning the superhero, fantasy, and spy genres. Whatever happened to just hanging out down at Pop's with a milkshake, you guys? (Oh, that's right; the CW.)
The Familiar Names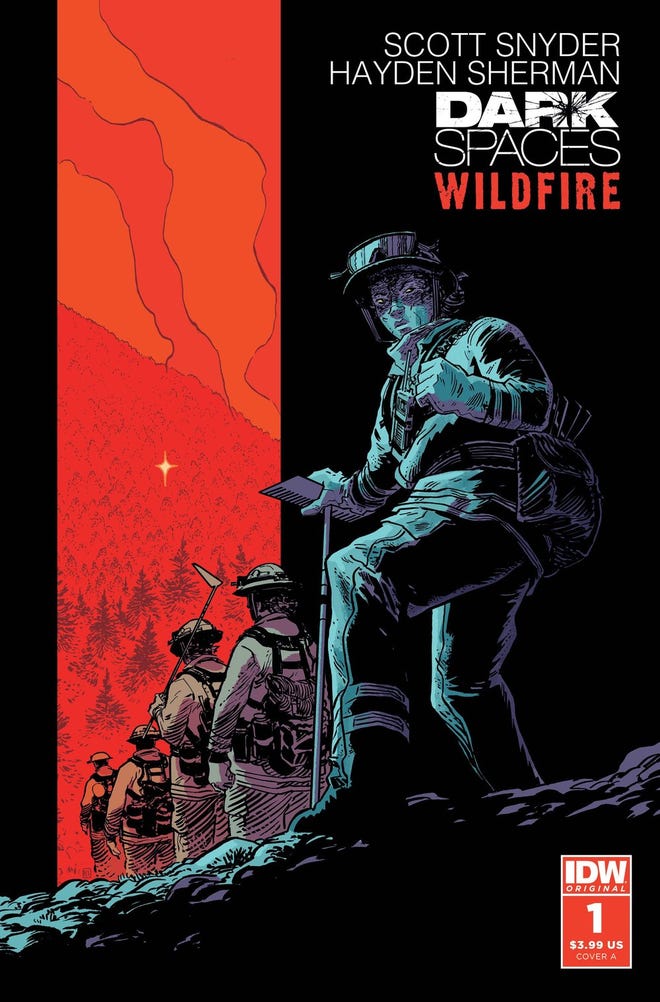 Perhaps this could be the season to check in to see what old favorites are up to; after all, summer sees Scott Snyder – making a strong play to be named Comics' Hardest Working Man this year – launch new heist series Dark Spaces: Wildfire #1 (July 13; IDW Publishing), while Garth Ennis revisits and reboots some classic British comics of his youth in the hardcover anthology Battle Action Special (July 6; Rebellion Publishing), alongside a murderer's row of artistic talent. (Kevin O'Neill's in there, drawing Kids Rule OK!, in which rebellious teens basically destroy polite society; it's going to be great.)
Two award-winning indie creators are also back with new projects this summer: the Acting Class hardcover (August 17; Drawn & Quarterly) is Nick Drnaso's follow-up to the amazing Sabrina, as a group of strangers are brought together under mysterious circumstances by a leader known only as John Smith, while Simon Hanselmann's Below Ambition (August 9; Fantagraphics) lets Megg the Witch and Werewolf Jones leave the Crisis Zone and form the self-proclaimed worst band in town; expect to feel surprisingly moved by some genuinely hilarious self-depreciation along the way.
The New New
Of course, perhaps you're looking for something entirely new to enjoy while soaking up some rays. In that case, feel free to consider any of the following: The amazing Tyler Crook teams a retired monster hunter with an unprepared novice in Lonesome Hunters (#1 out June 22; Dark Horse); a group of minor supervillains realize that it's up to them to save the day in Minor Threats #1 (August 24; Dark Horse), co-written by Patton Oswalt; found footage horror comes to comics in Blink (#1 released July 20; Oni Press), while regular superhero horror is the flavor of the day in Book of Shadows #1 (July 27; Valiant Entertainment), which brings together the publisher's various supernatural characters; Action Journalism #1 (August 17; Oni Press) begins a genre-jumping series where the only constant is Kate Kelly, an investigative reporter who'll stop at nothing to get the scoop on the story of the day; Vault Comics goes hard with the one-two punch of tech-companies-discover-mind-control thriller Mindset (#1 out June 29; Vault Comics) and romance-in-a-demon-apocalypse Heart Eyes (#1 out July 27; Vault Comics).
For those really looking for the new thing, though, look no further than A Calculated Man #1 (June 15; AfterShock Comics); not only is Paul Tobin and Alberto Alburquerque thriller about a former mob accountant on the run from his former employers going to be a thrillride in its own right, but it's already been optioned for a TV show, all but guaranteeing that this is what everyone else is going to be talking about a year or two from now. What better way to keep cool this summer than knowing that?