On Next Week's Chucky, [spoiler] Dies! (And so does a long-time legacy character, sort of!)
At NYCC Syfy/USA aired the next episode of Chucky, and it's gonna be a bloodbath!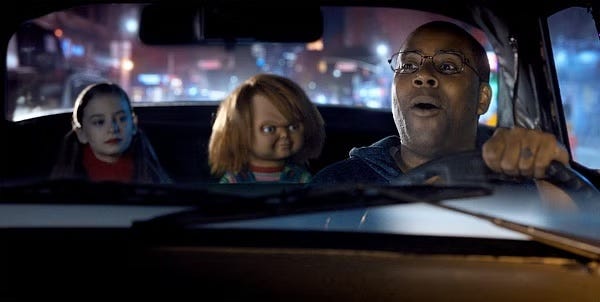 At NYCC last week, Syfy/USA aired tonight's third episode of the third season of Chucky, "Jennifer's Body." It's an episode that brings back Tiffany, as she shares fashion tips from prison - you can see that in the video below - and also deals a bad hand to a franchise favorite. But we'll get to that soon enough.
It should go without saying, but consider this a spoiler warning for "Jennifer's Body." Anyone reading past this, know that you might learn things you wish you hadn't!
Firstly, there's a new clip available featuring Jennifer Tilly's return to the series, as an unexpected guest visits Tiffany in jail. ("Unexpected" unless you'd seen the trailer for the season, which used elements of this scene, that is.)
It's not just Jennifer Tilly who'll grab some attention in the episode, however: Kenan & Kel and Saturday Night Live fans will be pleased to find none other than Kenan Thompson at the start of the episode, playing the taxi driver who picks up Chucky and his new "friend 'til the end," Charlotte.
It would be safe to say that things do not go well for Thompson, and in a characteristically Chucky way. (I'll just say, it gave me a whole other reason to hate rain gear.)
Chuckie 303 also saw one of the longest-lasting characters of the Child's Play canon, original "friend" Andy Barclay, brutally hacked to death by everyone's favorite murder doll (sorry, Clarabelle).
A last second twist reveals this is not quite what it seems. But given the insanity we've seen in the Chucky TV show so far, and the other legacy characters that have shown up, I'd say keep your eyes peeled for more Andy soon.
Chucky airs on Syfy Wednesdays at 9PM EST/Pacific, 8pm Central.
---
Want as much Chucky in your life as possible? We've got a watch order to help make that happen.