Comics adaptations done right: Alice Oseman's Heartstopper on Netflix
Why Netflix's Heartstopper is a great comics adaptation
It's not easy to capture the tone set by a static medium like comics in the more sound-based, movement-focused, and time-locked mediums of television and film, so it's worth celebrating when an attempt hits it out of the park.
This ongoing column will dive into some of our most beloved comics-to-screen adaptations and why they work so well— starting with Netflix's newest comics adaptation, Heartstopper.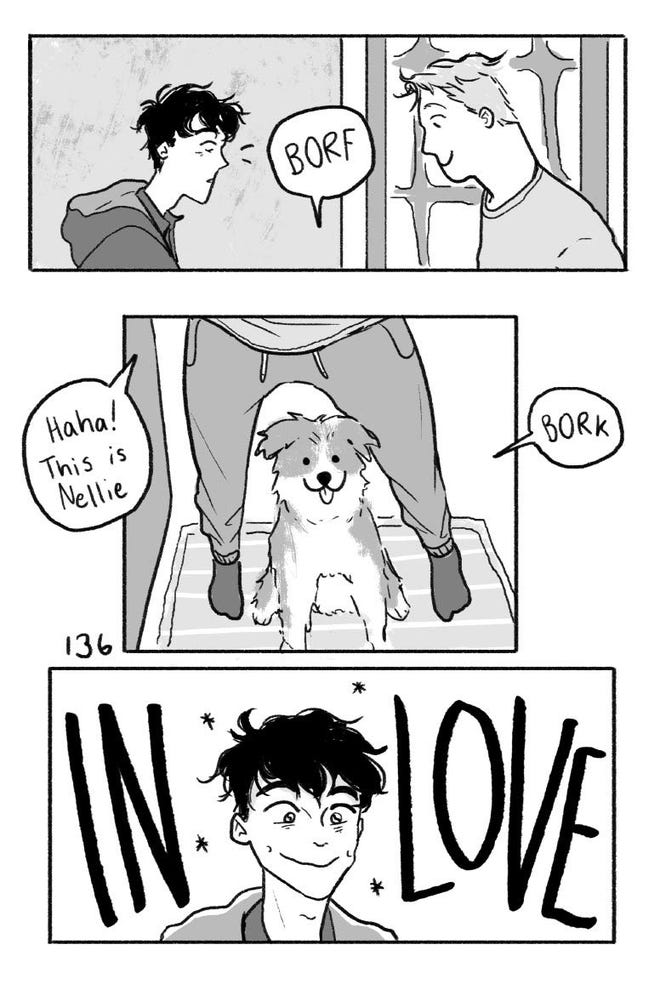 This black-and-white 'slice of life' comic written and drawn by Alice Oseman tells the story of two high schoolers, Charlie and Nick, as they meet and slowly (but surely) fall in love. The comic is quiet and thoughtful as it follows not only the romance between Charlie and Nick but also the effect that their romance has on other, oftentimes more stressful, parts of their lives.
Oseman's ability to control both the pace of the story (through her plotting) and the pace of each moment (through her expressive art and her letters) gives the book a rare organic quality which really draws you into the world of the comic. Her characters are instantly loveable, and the tone that she sets with her writing and art is a tender one.
Originally published in 2019 as a free webcomic on Tumblr and Tapas (you can still read it for free online), Heartstopper took the webcomics world by storm, leading to a successful Kickstarter print run, later being picked up by Hachette for wider publication in the UK and Scholastic/Graphix for wider publication in the US. Scholastic/Graphix is also publishing a Hearstopper yearbook, out later this year.
Heartstopper is a great first comic for those romance readers who want to dip their toes into reading webcomics or print comics and don't know where to start.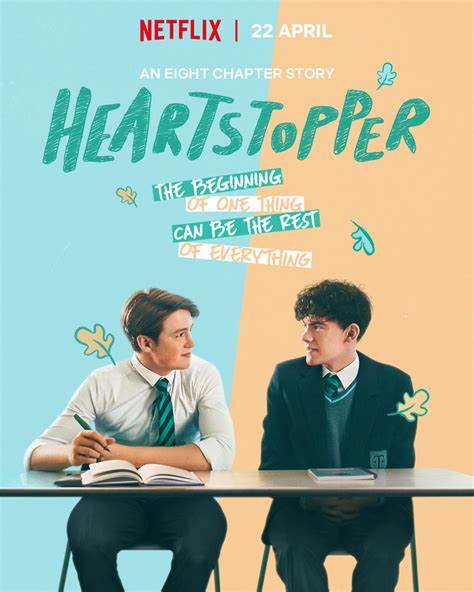 Heartstopper the series is a celebration of young queer love, as hesitant, hopeful, and beautiful, as it is slightly terrifying. While the show plants itself firmly in the genre of romance (like the comic), it is not simply light and fluffy (though there is quite a bit of fluff involved), as it also deals with issues like bullying, coming out, and homophobia.
At the center of it all is the relationship between Nick and Charlie (played by Kit Connor and Joe Locke, respectively), which is heartstopping at all levels.
Heartstopper season 1 was released on Netflix April 22, 2022 and included eight 30-minute episodes which garnered almost 24 million hours of streaming in one week. The season covers the events of the first two volumes of the print version of Heartstopper (up to episode 68 of the webcomic). Heartstopper has already been renewed for two more seasons, though there hasn't been any news on when they will air.
The show is great and a wonderful watch for romance fans who like their romance with a little more real-life drama thrown in.
What Went Right
There are moments in Netflix's Heartstopper that look like they're straight from the comics, but that isn't what makes Heartstopper one of the best comics-to-screen adaptations in the past few years. The show takes advantage of TV tools that wouldn't work on a comics page like tonal performances, awkward silences, music, light, and color. The leaf motifs (leafmotifs, if you will) that swirl through Oseman's panels during romantic moments are now live animations, floating across the scene, as a dynamic and heartfelt expression of the characters' interior lives.
Cartoonist Alice Oseman was directly at the helm of this adaptation as the show's writer, and often lifted dialogue and full scenes directly from her comic. While Heartstopper is a faithful adaptation of the comic, it doesn't expect the screen to get us the interiority that we'd get in the comic, and it takes advantage of tools of the small screen to tug at our heartstrings. With the extra narrative space provided by a full season of a television show, we also get to spend more time with side characters like Elle, Tao, Tara, and Darcy, as well as see more background into the bullying that Charlie faces at school. The series also has a great soundtrack, filled with the exact kind of music you'd want to listen to if you were (or are) a high schooler falling in love for the first time.
---
Netflix's LGBTQ romance Heartstopper is returning for two more seasons.