Cosplay Wig guide: Tips and tricks to get the best cosplay wigs if you're a cosplayer or crafter
Whether you are new to wig styling, have a love-hate relationship with wigs, or are a pro wig styler, this article is for you.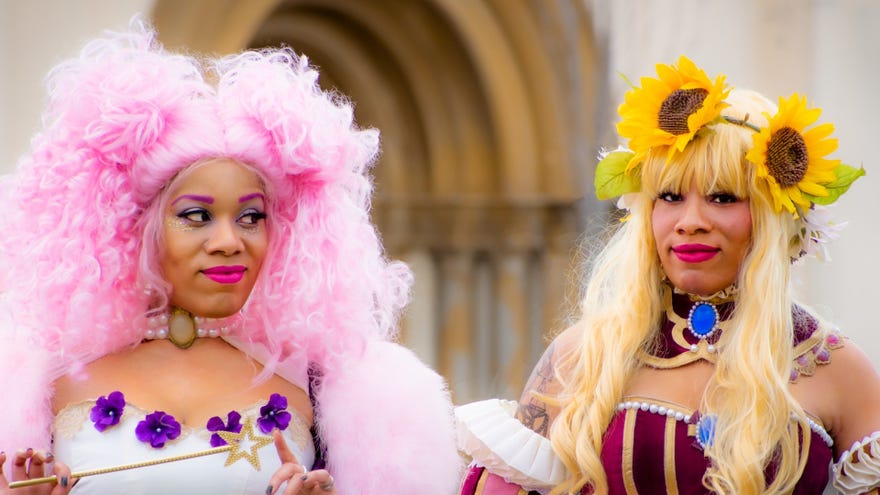 One of the most intimidating and crucial parts of cosplay is wig styling. Fictional characters like Cruella De Vil, Kirishima, or Starfire have unrealistic hair expectations that only a wig can fix. Plus, having the perfect wig can completely alter your appearance to help transform into the character. Using your own hair can work, but a wig is recommended because it will stay styled, look polished, and reduce your hair damage.
The variation of wigs you can purchase is vast, and if you are new to the cosplay circuit, it can be daunting. Especially if the cosplay is Goku, most wigs don't come completely styled, or if they do, they may cost you an arm and a leg. To avoid breaking the bank, some cosplayers have learned how to sew and style wigs on their own time.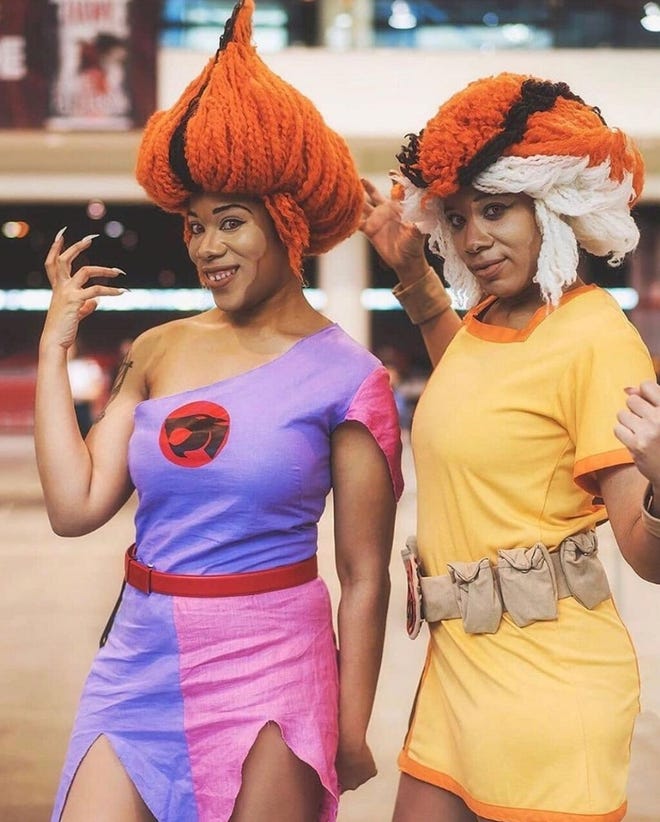 Two cosplayers, in particular, caught our eye. They are twin cosplayers from Missouri who share a joint Instagram account called @prosandconscosplay. After going to a local convention called Naka-Kon, where they thought they had to cosplay otherwise they'd look weird, they fell in love with the cosplay scene and have been cosplaying ever since. Prosandconscosplay are mostly known for their duo cosplays like Wily Kat and Wily Kit from Thundercats, a Sakizo styled Evil Queen and Snow White, and the Dora Milaje from Black Panther.
For this article, we talked to Con from Pros and Cons Cosplay since she does most of the duo's wig styling. Her first major wig styling was Rikku from Final Fantasy X. On account of hating that process, she swore off styling wigs until cosplaying Pidgeot from Pokemon, where she tackled an incredibly complex wig. After successfully completing that, she renewed her interest in styling wigs and has experimented with wig styling and techniques ever since.
She gave us plenty of tips and tricks to make wig styling less intimidating and more achievable. Here's our in-depth interview with ProsandConsCosplay for more insight on how to style wigs like a pro.
Pro tip: At the end of the day, styling wigs comes down to personal preference and what makes you look great and feel comfortable. You got this!
What products are a must-have for styling?
Essentials:
Exceptionally nice, but always not essential:
A steamer (great for quickly creating curls or generally straightening)
Crimping iron (great for adding texture and volume)
Lots of time on your hands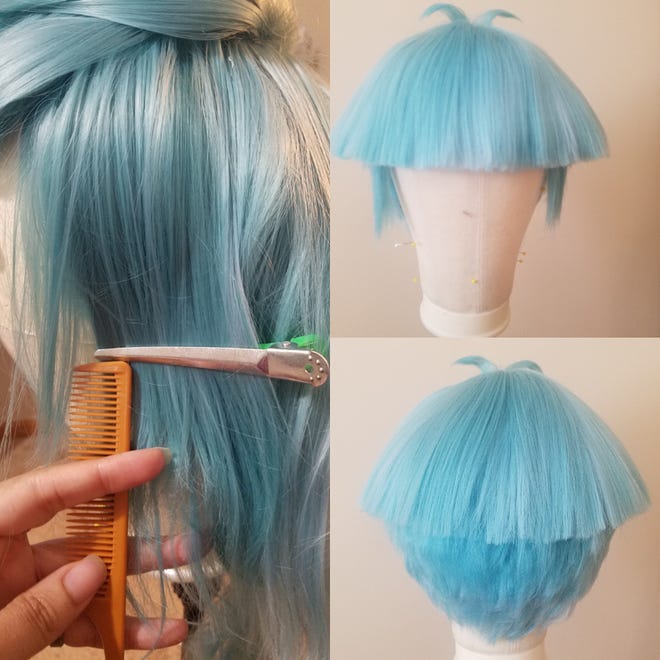 When cutting a wig, what are some tips to make sure you don't overdo it?
Whenever I start something that I'm worried about, wigs or otherwise, I think about how difficult it will be to fix it if I mess something up. I immediately plan out a safety net, haha. The good news is that depending on how bad you butcher your wig, you can sometimes fix it by adding in more hair/replacing wefts, but the best way to avoid issues is practice. If you can, get a junk wig to practice basic cutting techniques.
When starting a new project, I usually start cutting in the back first to get into the feel of it before going after a part that will really show. Sharp hair cutting shears are a great investment. You want good, sharp scissors. Never just cut horizontally straight across, but instead, use feather cuts or point cuts to create the shape. It will keep the hair from looking blunt and chunky. Try your wig on and use clips to mark your desired length. Don't just guess!
For straightening or curling a wig, what are the steps you use to ensure not to harm the wig?
Always check to make sure your wig fibers are heat resistant! That's the most crucial step. If it isn't heat resistant, you should not use heated styling options. Test a piece in the back if you aren't sure. Wait until the fibers have completely cooled if you are using curlers/ a curling iron so the fibers hold the shape and you don't have to keep going over the section repeatedly.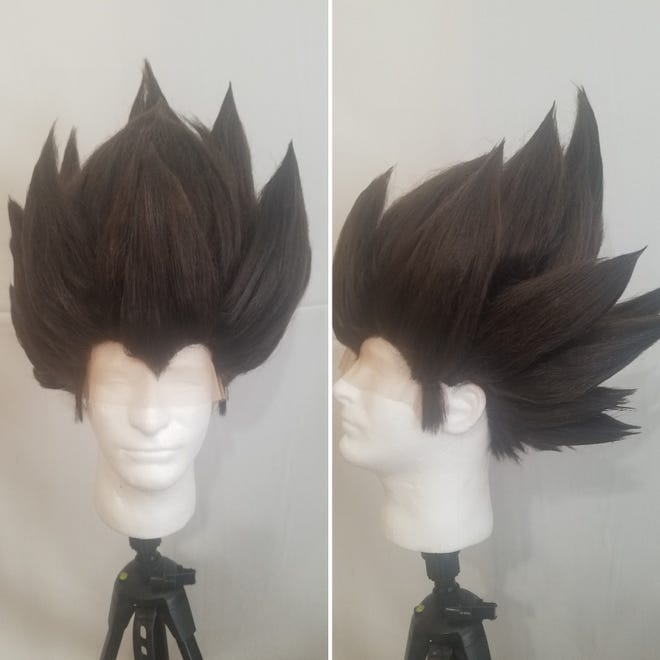 Best tip for flyaways?
To manage flyaways, some good old hairspray will help keep them down. Smooth the fibers with your fingers or a fine-tooth/rat tail comb, then hit it with freeze spray. You can also clip them away with your scissors. I like Got2B Glued, but others work well too. You just want to make sure it is strong-hold hairspray. If you have quite a few, sometimes I use a flat iron to keep all the hair together.
What are your tips for combining wigs to make one wig?
Try your wigs on first! I recommend getting two wigs from the same company so that the sizing will be similar. Mark where you would like to cut your wigs and where you would like your second wig to start. When cutting, use small scissors and only cut the connection points (be that the elastic, the lace, the skin cap, and/or the netting), not the fibers themselves. Cut your other wig after taking the same measurements, and stitch together securely with good thread. You can trim the hair a bit near the join sections to help blend everything together nicely.
What is the best way to create a widow's peak for a wig?
Personally, I prefer creating or buying lace front wigs for widow's peaks. Creating a lace front is time-consuming, and buying is generally more expensive than your average wig for a good reason (You'll very quickly see why if you try to make your own!). You'll need swiss lace that is a similar color to your skin tone, a ventilating tool (a hook or a needle), and additional fibers. It requires you to individually tie hairs in the lace to create a more natural-looking hairline.
False hairlines are a great way to achieve this look too. They look a bit less natural-looking, but they are much faster and easier. You can create a new hairline by gluing additional hair along the hairline of the wig using a flexible glue such as tacky glue or silicone-based glue.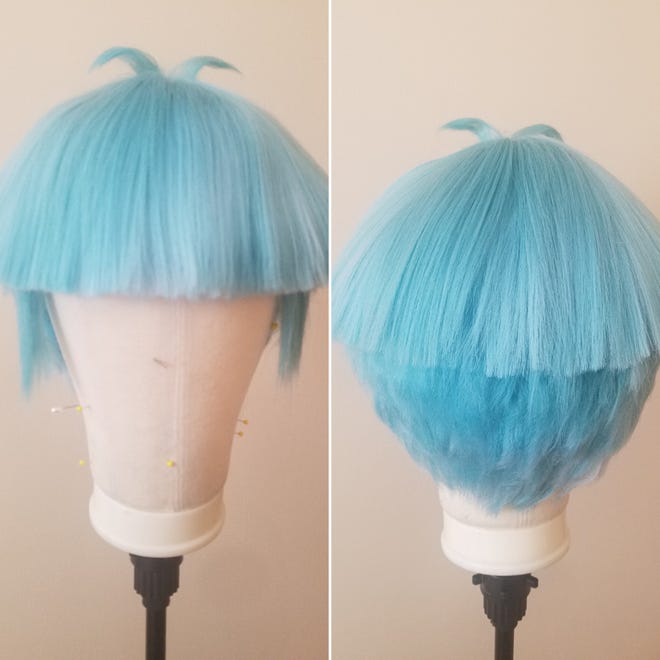 When styling a wig, how do you keep the wig in place? Is there a head stand that you recommend purchasing?
I recommend getting a wig head that is the same size as your head. The more feminine-looking Styrofoam heads are smaller than a typical human head. The masculine-looking Styrofoam wig heads are a bit closer to size, but I have a giant noggin, so I needed a bigger one. I purchased one online for about $25. You can also pad a Styrofoam wig head with duct tape, batting, or even rolled-up socks in a bag to create enough additional padding to get it sized to your head.
This is especially helpful when styling wigs with ponytails or that will require some size-specific heavy-duty gluing. A wig stand is also an excellent investment. I have a tripod-style wig stand with a leveling gauge I purchased from Amazon for about $30. However, Arda Wigs sells both wig stands and wig heads that are also very good!
To keep the wig in place, I use long quilting pins since they are easy to remove, but T-shaped pins are great if you plan to do any rough styling. I have a separate set of pins that I use in my wig head than what I use for my sewing projects since these tend to take quite a bit of a beating.
When pinning lace front wigs to a wig stand, place a piece of bias tape over the lace and then pin to keep the lace from tearing as you style.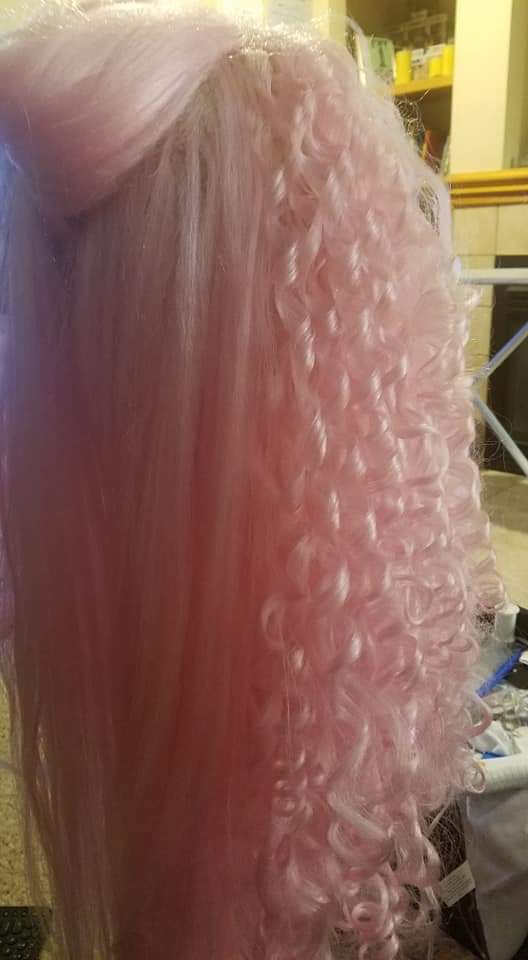 Can you walk through a step-by-step process of putting a wig on and securing it into place? (Wig cap, wig glue, bobby pins, etc.)
The most crucial step is to flatten your hair. The technique you use will depend on your hair type and length. I have extremely thick 4C hair, so I usually cornrow my hair in 8-7 braids and use a nylon wig cap. The key is to get your hair as smooth and close to your head as possible. If I have my hair straightened, I sometimes just wrap it around itself and secure it with the wig cap. Others may prefer to use a mesh wig cap instead of a nylon wig cap. These are a bit more comfortable but aren't as helpful if you have thick hair.
You may opt for no wig cap at all if your hair does not need to be pressed down, and/or you need exposed hair for wig clips in the wig to hold to your head. Make sure the hair is evenly distributed around your head (no obvious bumps and lumps).
You may consider using a wig grip for extremely heavy wigs, which will keep the wig in place.
Once your hair is squared away, hold the wig from the front, and slide it on starting from the back. Line the wig up in the back and front before fully pulling it on. If you have a lace front, you may need to put the wig glue/ wig tape on first before putting on your wig. Apply the glue close to your hairline on your forehead, and trim the lace down a few millimeters from the hairline of the wig. Slide the lace front onto the glue. You'll need to be careful not to pull much on the lace. Instead, slide the lace forward.
Next, you can add any accessories, use hairpins to keep the wig in place if needed, and make any additional adjustments. If you have sideburns you would like to hide, use a washable glue stick over this area and lay the wig hair sideburns on top, and let it dry.
What is the best way to detangle a wig?
Begin by assessing the damage. You can use some silicone spray to help the hair as you comb, but the best method I've used to date is just to use a wide-tooth comb. Start from the end of the hair and carefully detangle without pulling the fibers too much. Once you have removed most of the tangles, go back over the wig again, and get out the remaining tangles. The wig will likely look frizzy. To fix this, use a flat iron on a medium-low setting and a rat tail comb to straighten the fibers. You may need to trim a bit off the ends.
How do you keep your wigs looking fresh after wearing them a few times?
I wash my wigs with baby shampoo to freshen them up. The best way to keep your wigs looking good is to store them properly. Detangle the wig before storage. If it is long, I do a single loose braid or twist down the back, stuff the cap with tissue paper, and store them in wig bags. If it is heavily styled, I pin them to a wig head. Wigs might need a bit of TLC, such as additional hairspray to fix any fallen spikes or a re-curl. Don't be afraid to give your wigs some love. If it has been in a bag for a while, leave the wig pinned to a wig head overnight so the fibers can relax.
What is the most common misconception for wig styling?
That there is no way to fix a wig if you make a cutting mistake. Believe it or not, there are a few creative ways to cover up your cutting sins. If you cut your bangs too short, for example, you might be able to buy a bang clip to cover it and start over. If you overcut the side, you can remove wefts that are too short and replace them with additional wefts if you have leftovers and try again. Other cutting errors can be fixed by getting creative with where spikes are placed. If your ends are all over the place, turning the ends under slightly with a flat iron can visually smooth everything out.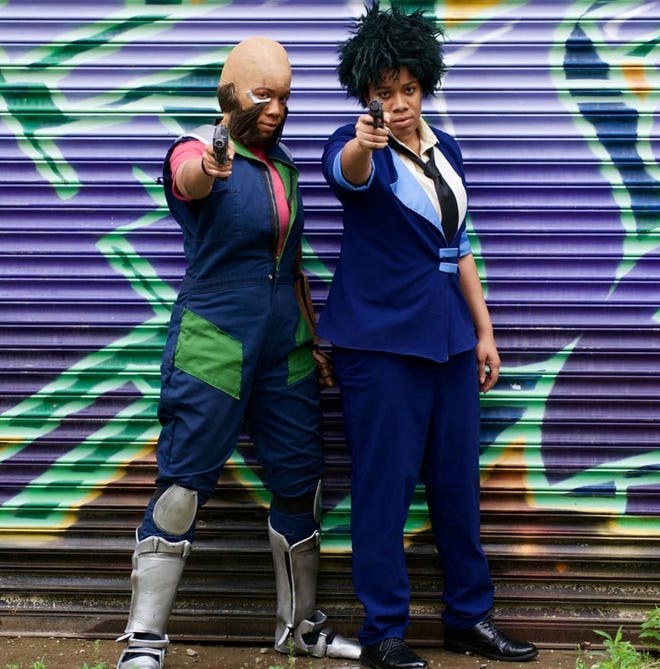 Do you have any advice for beginners who want to get into wig styling but are intimidated?
Don't let a bunch of plastic strands scare you! It is like any new technique you've had to learn. Wig styling just takes practice, and many styles go through quite the ugly duckling stage before they look good. You just have to see the beauty beyond the rat's nest (especially when you are creating spikes). Keep trying, get some super cheap wigs to practice cutting on, and go for it! They can really make your cosplay pop.
To see more of their cosplays, be sure to check out their Instagram, Facebook, and Ko-fi, as well as their online events POC Creati-Con and Stop. Drop Cosplay.
---
10 best online Cosplay stores for your next big event.