With over 14 years of Disney pin trading, this collector has made a whole new family
What happens when you follow the urge of "I need this pin!"
Jeanette Burton is a 60-year-old disabled vet who runs a photography studio out in Moreno Valley, California, and over the past 14 years, she has also been an avid Disney pin trader.
The hobby began when Burton's daughter wanted to get into pin trading. But, of course, kids can be fickle. According to Burton, "My kids, they get in, and they get out." Though Burton's daughter dropped her new hobby not too long after starting, Burton stuck with it and became hooked (or pinned, if you will).
Burton originally began her collection by hunting down Nightmare Before Christmas related pins. Her Nightmare Before Christmas collection is still her primary collection, consisting of over 400 pins with some prototypes that are only four of a kind.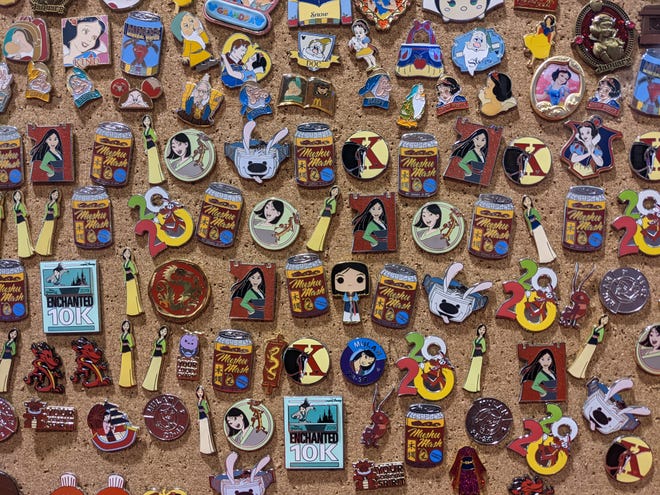 When you have a brand, people tend to know you for it, and it wasn't long until Burton was known for collecting Nightmare Before Christmas pins, with even the children of her friends pitching in to find her pins when they came across them. Some of these pins go into collecting books, which have sleeves to hold them in place. Other pins are used to decorate elaborate themed lanyards—Burton's Nightmare Before Christmas lanyard has two configurations, one for daytime and a glow in the dark version at night (when I spoke to her, Burton was wearing a Maleficent lanyard).
Over the years, Burton has made many friends with many other pin traders, mostly through trading and waiting in lines, sometimes even overnight (Burton recalls a warm memory of having a group of pin trading friends camp out in her truck one night, waiting for a particular pin to go on sale). She mentions that she has a "pin trading husband" and a "pin trading son" who she collects with and goes on to say that pin traders are "some of the greatest people," helping each other with their collections whenever they can (Burton has an eye out on a pin at D23 for another pin collecting friend who couldn't make it). For Burton, these friendships have gone far beyond just the shared interest of pin trading—"it's like having an extra family."
---
Interested in what else Popverse has been up to at this year's D23 Expo?
Check out this roundup of our coverage.