D23 Expo 2022: A recap of our coverage of Disney's marquee event
Popverse was in Anaheim to explore D23 and bring the best of the expo home to you!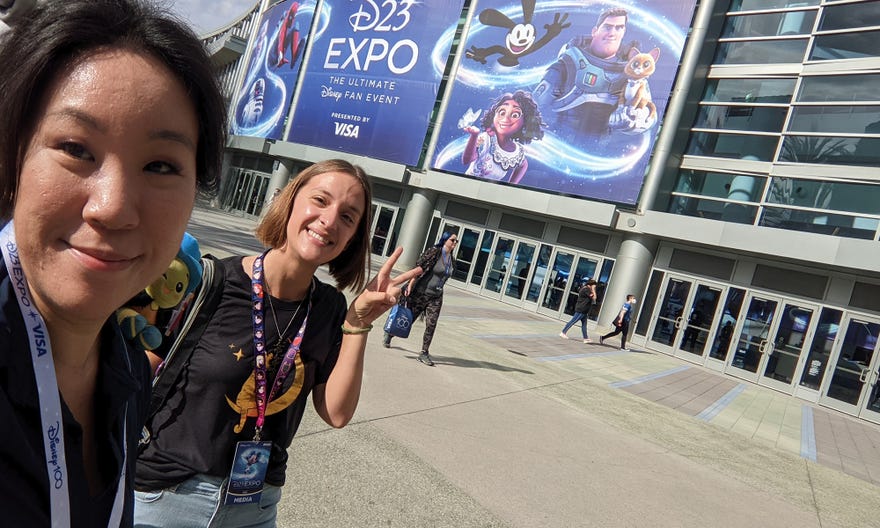 It's D23 season! Popverse is at our very first D23 Expo this year. We're in Anaheim Convention Center - the home of our first convention, Star Wars Celebration, but this time talking all things Disney. We're in the midsts bringing you some news, a couple liveblogs, and some on-the-ground reporting from Disney's very own expo just a mile or so away from the Magic Kingdom itself.
We're updates and links to our adventures and the exciting things we see throughout the weekend. There's sure to be a lot of news announced (rumors abound about the next Disney, Marvel, and Star Wars projects...), so keep an eye on this page to stay up to date with what's happening at D23 this year.
In some ways, D23 Expo is a three-day live version of Disney's streaming service Disney+. TV shows, movies, and specials from Disney, Pixar, Marvel, Lucasfilm, 20th Century Studios, National Geographic, and more are on the streaming service.
What does D23 Expo look like from the showfloor? Wonder no more, as Popverse's @AshleyVRobinson took it all in. Watch our speed walkthrough! #POPVERSEatD23EXPO pic.twitter.com/BEr98OzI1B

— Popverse (@PopverseSays) September 9, 2022
Pre-Coverage
Friday - September 9
Here is a brief tour of the Willow area from D23 Expo. #POPVERSEatD23EXPO pic.twitter.com/efFgBTNzD6

— Popverse (@PopverseSays) September 9, 2022
Saturday - September 10
Here at #D23Expo, it's @DarrenCriss singing a Disney montage including 'I'll make a Man Out of You'. #POPVERSEatD23EXPO pic.twitter.com/g254r8GU09

— Popverse (@PopverseSays) September 10, 2022
Sunday - September 11
You can support Popverse by becoming a Popverse member - and you get access to streaming and VOD panels from ReedPop shows, and long-form entertainment journalism stories from our staff.
Planning for a comic convention can be an overwhelming experience, and we're regularly publishing articles about con culture to help you understand and take advantage of all that's out there. From the best things to look for at comic con booth dollar bins, comic convention essentials, to navigating conventions when you have a disabiity, and even a personal essay on how cosplay and conventions helped one of our writers rediscover herself as a fan.
Stay tuned to www.ThePopverse.com and this page in particular, as we'll be updating it with all of our D23 stories.
---
Did you miss Emerald City Comic Con this year? Check out Popverse's coverage roundup of that event (including a ton of streaming panels!)