Star Wars' Bad Batch season 2 trailer, episode release dates, and more revealed
The second season of the fan-favorite Star Wars animated series will begin in January 2023
Get ready, clone fans: Lucasfilm has unveiled a new trailer and key art for the second season of the Disney+ series Star Wars: The Bad Batch, the fan-favorite spin-off from the animated Clone Wars series.
Set months after the first season finale, the new season follows the Bad Batch as they continue to travel the galaxy and avoid the Empire after the fall of the Republic — of course, that's not going to be as straightforward as it seems, with Lucasfilm promising both familiar faces and brand new threats in the upcoming episodes. Returning voices for this season include Dee Bradley Baker — who voices all of the clones in the core cast — and Michelle Ang as Omega, with Rhea Pearlman and Noshir Dalal also returning to voice their guest roles (Cid and Vice Admiral Rampart, respectively). Wanda Sykes also joins the voice cast this year, as guest star Phee Genoa.
Take a look at the trailer below.
As revealed by Dave Filoni during D23 Expo Lucasfilm presentation at D23 Expo 2022 in Anaheim, California, the second season of the show will debut with a two-episode premiere on January 4, 2023.
In addition, Lucasfilm has announced the episode titles and air dates for the new season:
Jan. 4 — Episode 201 'Spoils of War' & Episode 202 'Ruins of War'
Jan. 11 — Episode 203 'The Solitary Clone'
Jan. 18 — Episode 204 'Faster'
Jan. 25 — Episode 205 'Entombed'
Feb. 1 — Episode 206 'Tribe'
Feb. 8 — Episode 207 'The Clone Conspiracy' & Episode 208 'Truth and Consequences'
Feb. 15 — Episode 209 'The Crossing'
Feb. 22 — Episode 210 'Retrieval'
March 1 — Episode 211 'Metamorphosis'
March 8 — Episode 212 'The Outpost'
March 15 — Episode 213 'Pabu'
March 22 — Episode 214 'Tipping Point'
March 29 — Episode 215 'The Summit' & Episode 216 'Plan 99'
Look below for a gallery of art from the new season — and try to pick out potential spoilers in the images. Not least of which: is that a Wookiee with a lightsaber...?!?
There's also a new poster for the season, too: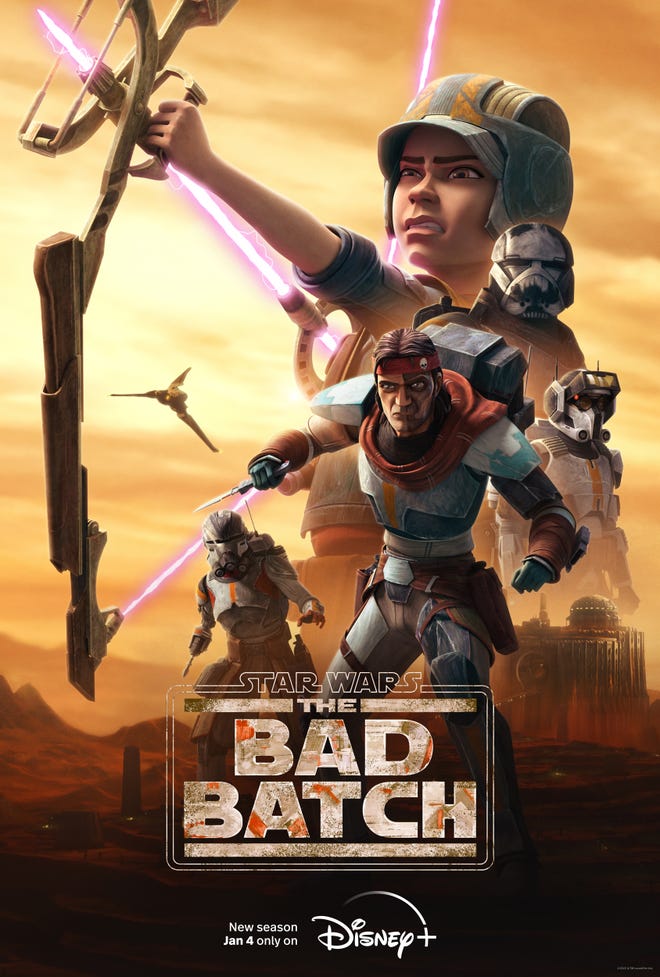 ---
Where does this fit within the Star Wars canon? Here's our Star Wars watch order.