Wish: Everything we know about the upcoming Disney animated film
An all new major Walt Disney Animation Studios film is coming in just a few months
It's finally time for another original Disney animated film, and just in time for Disney's 100th anniversary too. To coincide with the celebration, this new film has plenty a classic Disney feel, with a new style of animation and plenty of classic callbacks-- all the way back to the wishing star.
Walt Disney Animation Studios' Wish is a Disney animated musical that will explore that familiar wishing star seen in films such as Pinocchio, Princess & The Frog, and Tangled. Read more below to check out everything we know so far about Wish.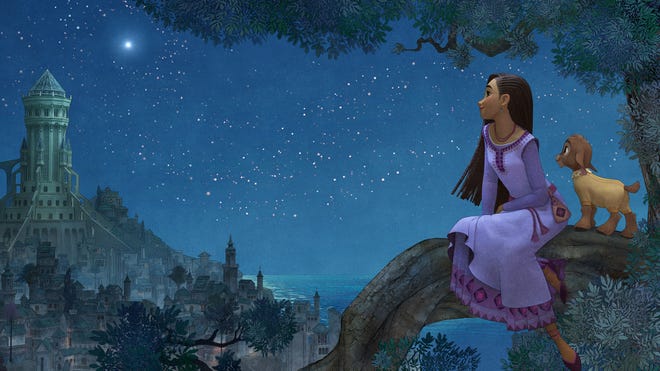 What is Wish about?
At D23 2022, Disney first introduced Wish to the world by asking the question, "How did the wishing star, upon which so many of our beloved characters wished, come to be?"
The story centers around a moment when one human connects with the magic of the stars. The heroine will be named Asha, who is 17 and a leader in the making. Asha sees a darkness in her kingdom, and makes a wish to the stars, wishing for guidance. Her wish calls down an actual star from the sky, named Star. Star is made from possibility and hope! (and is also a beacon of chaos)
On April 27, 2023, Disney released a few more details about the project, saying, "In "Wish," Asha, a sharp-witted idealist, makes a wish so powerful that it is answered by a cosmic force—a little ball of boundless energy called Star. Together, Asha and Star confront a most formidable foe—the ruler of Rosas, King Magnifico—to save her community and prove that when the will of one courageous human connects with the magic of the stars, wondrous things can happen."
Is there a Wish poster?
Yes there is! Check it out below.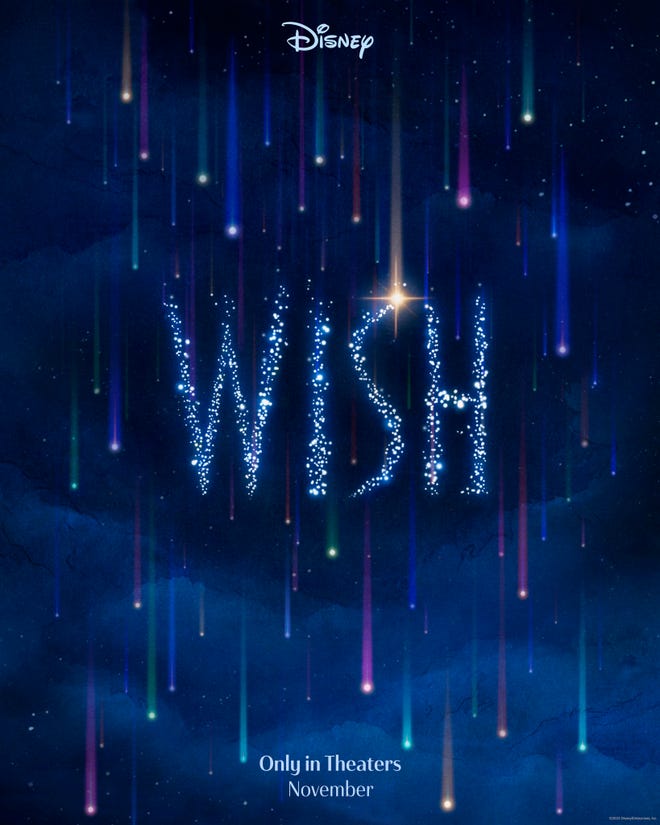 Is there a Wish trailer?
Yes! Disney released their first trailer for Wish (which also showcases a snippet of the original song "The Wish" sung by Ariana Debose) on April 27, 2023. Watch it below!
What style of animation is Wish?
Walt Disney Animation Studios will employ a watercolor style and 3D animation in Wish to show the magic of the kingdom of Rosas. In fact, those of us in attendance at the panel were shown a short test of Asha interacting with Star in this watercolor/3D style.
Who is in the Wish cast?
Ariana DeBose stars as Asha, and will be joined by others including Alan Tudyk as a goat named Valentino. Wish is directed by Chris Buck and Fawn Veerasunthorn. On April 26, 2023, it was announced that Chris Pine will be joining the cast as King Magnifico.
Who are the creatives behind Wish?

Wish is directed by Chris Buck (Frozen) and Fawn Veerasunthorn (Raya and the Last Dragon). It is produced by Peter Del Vecho and co-produced by Juan Pablo Reyes. Jennifer Lee serves as executive producer. Lee and Allison Moore are writing the film. The songs in Wish will be written by Julia Michaels and Benjamin Rice, with score by composer Dave Metzger.
What is the Wish release date?
Wish is scheduled to debut on November 22, 2023.
---
When is Disney's D23 Expo? Looking into the future of Disney, Marvel, and Lucasfilm's landmark event .