Sorcerer's Apprentice collector sells pieces of his legendary collection, so other people can enjoy it
Spreading joy by selling off a legendary collection—bit by bit
On the D23 Expo show floor, Steve Waldman's booth The Magic Sorcerer is crammed to the brim with all sorts of Sorcerer's Apprentice collectables from watches to thimbles to original art-- all pieces taken from his very own beloved collection.
Steve Waldman began his legendary collection of Sorcerer's Apprentice collectables in 1989, though the collection had pretty humble beginnings. When Waldman started, he had been working in construction, and a client who he had built a house for found out that his favorite song was 'When You Wish Upon a Star' from Pinocchio. As a thank you, they gifted Waldman a Sorcerer's Apprentice music box which played the classic tune. Waldman didn't know where to put it, so he placed it at the end of a counter in his office. The next time a client asked his secretary what to buy him as a gift, she pointed at the music box, and one item became two, and two items soon became over 10,000, the biggest Sorcerer's Apprentice collection in the United States.
Around 2009, Waldman realized that most of his collection was spending its time simply gathering dust in boxes, which wasn't sitting well with him. "That's not why I bought this stuff," he said to me. Where most collectors like to keep building their collections to be more and more comprehensive, Waldman decided that he could spread more joy by breaking his collection up. He made the decision to start to sell off pieces of his collection, so other people could enjoy what he had collected.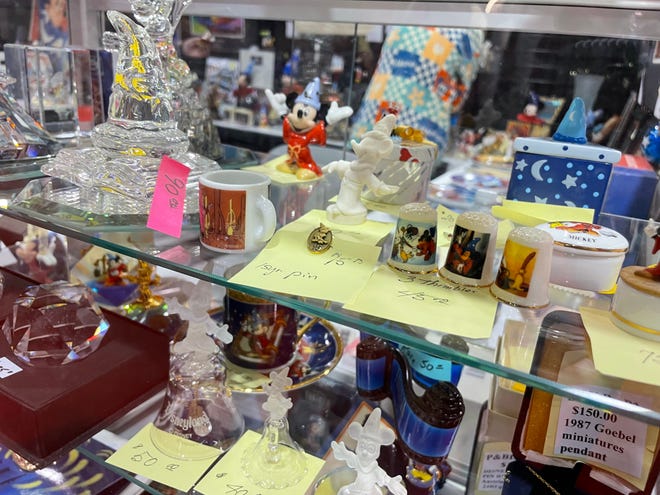 And Waldman's booth does seem to spread that joy. As we chatted, multiple people stopped to peer at his cabinet of Mickey-osities, some leaving with a few well-loved items like a small figurine and a book. With the large variety of collectables and prices (and the perfect location to find Sorcerer's Apprentice fans) Waldman's booth has become a place where anyone can take part in the fun of building a collection, and Waldman couldn't be happier about that.
---
Interested in what else is going on at D23? Check out this roundup of all of Popverse's coverage of the weekend.
In some ways, D23 Expo is a three-day live version of Disney's streaming service Disney+. TV shows, movies, and specials from Disney, Pixar, Marvel, Lucasfilm, 20th Century Studios, National Geographic, and more are on the streaming service.